All crochet patterns written by Kim Guzman at CrochetKim are in US terms. All photos not copyright to Kim Guzman are posted with permission. This website contains affiliate links. Any purchases through affiliate links will provide me with the income necessary to keep this site available at no extra cost to you.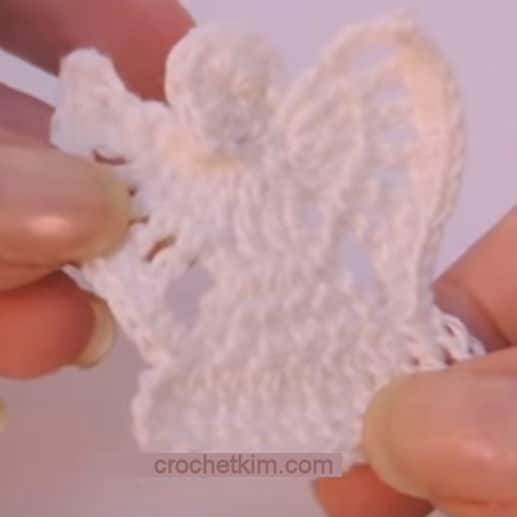 Angel Pin
designed by Kim Guzman © Nov. 2013
Please read my Terms of Use
Technique: Regular Crochet
Materials
Size 10 bedspread cotton with size 7 steel hook, or
Size 3 cotton with size B crochet hook, or
Aran weight with size K crochet hook (small amounts used)
Video Support
Instructions
Round 1: Ch 4, sl st to first ch to form a circle, ch 2, 10 hdc in circle, sl st to top of ch-2. (Begin working in rows.)
Row 2: Ch 3, 5 dc in same st as joining, ch 2, 3 tr in next hdc, ch 2, 6 dc in next hdc, turn, leaving remaining hdc unworked.
Row 3: Ch 4 (counts as first dc plus first ch 1), sk first dc, [dc in next dc, ch 1] 4 times, dc in next dc, ch 2, 2 tr in each tr, ch 2, dc in next dc, [ch 1, dc in next dc] 5 times, turn.
Row 4: Ch 1, sc in same dc, [sc in ch-1 sp, sc in next dc] 5 times, 2 sc in ch-2 sp, sl st in first tr, ch 4, 2 tr in same tr as sl st, 2 tr in each remaining tr (12 tr total for dress), ch 4, sl st in same st as last tr, 2 sc in ch-2 sp, sc in next dc, [sc in ch-1 sp, sc in next dc] 5 times, fasten off. Attach small safety pin to back, if desired.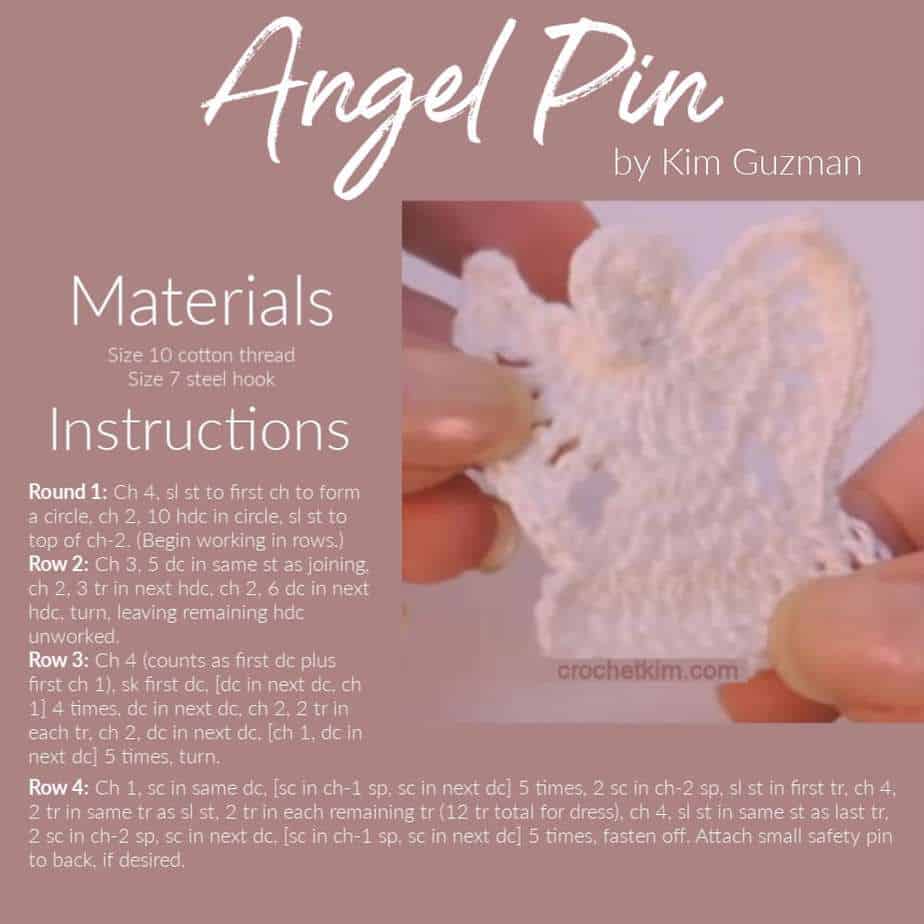 Many of you have written to me to ask how you can help support CrochetKim. A Patreon account was suggested but I thought it would be better to provide ad-free PDFs of my patterns so you would get something in return. I'm steadily working on adding PDFs to all my patterns and I've also made this compilation available at a discounted price. Thank you to all of you for your overwhelming support and kindness these many years. Enjoy!