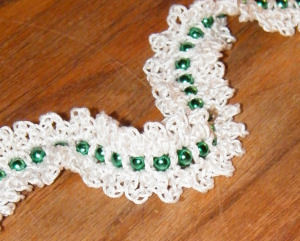 Add this project to your Ravelry favorites HERE.
To print or convert to PDF click the green "Print Friendly" button below the pattern.
Bead Garland
designed by Kim Guzman © Apr. 2009
Please read my Terms of Use
Technique: Regular Crochet
Materials
Hook: F/5/3.75mm
1 ball size 3 cotton crochet thread (Royale Size 3 Fashion Crochet Thread)
Purchased pre-strung bead garland
Abbreviations
ch=chain, sc=single crochet, sk=skip, sl=slip, sp=space, st=stitch (US stitch terminology)
Finished Size
dependent on length of purchased bead garland
Gauge
not critical for this project
Note
When purchasing a bead garland, look for garland that has a bit of space between the beads. This will not work with beads that are glued together throughout. There must be a bit of string showing between the beads.
Instructions
If necessary, cut the bead garland to form a straight length if it is purchased in a continuous circle. With the crochet hook, make a slip stitch directly onto the garland in the space between the first bead and the second bead, at one end of the bead garland length.
Rnd 1: Join thread with sl st to first space between beads, [ch 2, sl st into space between the next two beads] across entire length of bead garland, ch 2, turn the bead garland to begin working along opposite side, working into the same spaces between beads as previously made, sl st into next space between the next two beads, [ch 2, sl st into space between the next two beads] across length of bead garland, ch 2, sl st to first ch-2 sp made.
Rnd 2: Ch 1, [sc, ch 3, sc] in each ch-2 sp around entire bead garland, sl st to first sc. End off. Using yarn needle, weave in all ends securely.