Crocheting has found renewed popularity in the last couple of years. Many people pick up the hobby to relax, destress, and enjoy the mental health benefits.
When learning a new craft, an easy way to get started is to purchase an all-inclusive beginner kit. In this article, we will discuss the best beginner crochet kits available.
Top Picks
These are our all-time favorite beginner crochet kits!
Best Value
Boye Learn to Crochet Kit
The Boye I Taught Myself to Crochet Kit is our favorite learning kit since it includes the most useful tools. This kit contains five hooks and a book; it also includes a quality tape measure and pair of scissors, among many other extras.
Most Inclusive
The Woobles Beginner Crochet Kit
The best overall kit is the Woobles kit. It includes all you need at an incredible price; it also comes with video support to help you learn exactly how to make each stitch and step of the project.
Learning to Crochet Kit Reviews
---
Educational crochet kits include many tools and are designed to teach you the absolute basics of crocheting.
Boye I Taught Myself to Crochet Kit
This Boye educational crochet kit includes a complete set of tapered crochet hooks, a measuring tape, row counter, stitch markers, and yarn needles. The kit also contains a small instructional book with several patterns.
---
Susan Bates Learn to Crochet Kit
Susan Bates and Red Heart have collaborated to create this educational crochet kit.
The kit includes a set of Susan Bates hooks, stitch markers, small scissors, and a gauge ruler.
Red Heart has contributed an instructional book with right and left-handed instructions. This book includes several simple patterns to get you started.
---
Loops and Threads Learn to Crochet Kit
Loops and Threads is the Michaels store brand kit. This kit includes the least amount of items, but it is a good resource for those who already have a large stash of supplies and are just learning how to use them. This kit includes a single G/4 mm hook and an instructional book.
---
Keeping it Cute (Amigurumi Beginner Kits)
These kits are beginner-friendly but may not include the same detailed level of instructions you would get in the kits listed above.
Woobles
Woobles is an up-and-coming brand of kits for complete beginners. They are perfect for those learning since they include everything you need to make a cute little stuffed animal.
These kits include an instructional book and instructional videos to help you get the project just right.
These ultimate beginner kits even come with a project that is already started, so you can dive right in and skip the hardest part until you are ready to tackle it.
---
Crochet Bee
Crocheted bumblebees are all the rage right now since going viral on TikTok.
This beginner-friendly crochet bee kit put together by LittleMagicHouse is an excellent way to introduce crochet to someone who loves TikTok or just learn yourself with an adorable pattern.
It includes everything you need to make one big bee.
---
Crochet Flower Pot
This adorable beginner crochet kit is designed to take your skill to the next level with more advanced techniques.
The kit includes all the supplies needed, but you have the option of including a hook or not.
If you already have a sufficient supply of hooks, you have the convenience of opting out. Stuffing Stuff offers several beginner to advanced crochet kits to help you grow your skills.
---
Beginner Crochet Clothing Kits
These kits focus on helping you build a handmade wardrobe and expanding your crochet skills.
Lion Brand Cardigan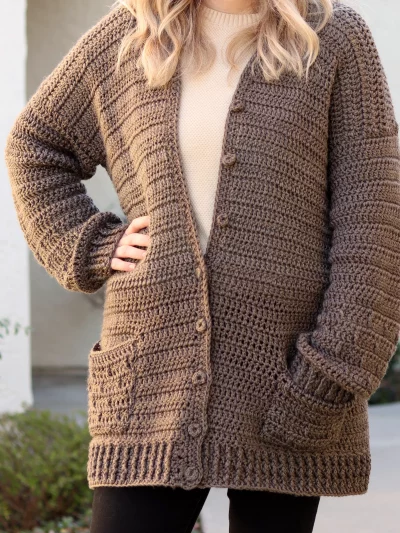 The Crochet Crew Cardigan kit from Lion Brand is a beginner-friendly and affordable kit for those who want to learn to make garments.
This simple cardigan kit includes the yarn and pattern needed to make the item. You can choose to add on other items, such as a crochet hook or yarn needles, if you need them.
The kit includes a beginner-friendly pattern but not step-by-step instructions for each detail like an educational kit would have.
---
Jonah's Hands Hat Kit
Crochet prodigy Jonah Larson has put together some kits in collaboration with Boye crochet.
In this beanie kit, you will receive everything you need to make the hat, including yarn, crochet hook, plastic yarn needle, and a faux leather tag to finish your project. Jonah's Hands offers many other cute crochet kits as well.
---
Boye Learn to Crochet Arts and Crafts Kit with Five Projects and Supplies
This super easy crochet kit includes a skein of yarn, crochet hook, pom pom maker, and more!
The kit contains five different patterns that you can choose from to make with the included materials. If you wanted to do all five projects, you would need to purchase additional yarn.
These projects are straightforward and a wonderful first step into the world of crocheting clothing and accessories.
---
What is a Crochet Kit?
Most crochet kits fall into one of the following categories: learning to crochet and beginner-friendly projects.
Learn to Crochet Kits
Learning kits often include just the tools and instructions but not the yarn. These kits are the most basic of educational kits and usually come with just the information in the kit.
You will receive several hooks, yarn needles, a detailed instructional book, and a few other accessories.
Beginner-Friendly Kits
Beginner crochet kits are more focused on taking the basic skills that you developed with the learning kit and growing them into intermediate skills.
These kits include everything you need to create the finished product, from the crochet hook to the yarn and finishing elements.
They often (but not always) are accompanied by email support and YouTube video tutorials to help you get the best-finished object.
What Should Be in the Kit?
Crochet kits usually include a variety of materials. Educational kits generally have a set of crochet hooks, an instructional book, stitch markers, and maybe a couple extra things.
These kits are usually put together by a crochet hook brand, like Boye or Susan Bates.
Project kits usually include everything you need to make the project. You typically receive a single crochet hook, the amount of yarn required, the instructions, and maybe a few extras. Some of the kits include links to video tutorials.
What to Look for
Always check the brand and quality of the materials included in the kit. If you can, check any reviews on the kit itself.
Amazon and Etsy are fantastic sources for crochet kits that are well-reviewed. Also, look for kits compiled by crocheters instead of mass-produced kits for kids – those kits tend to include lower-quality items and instructions. Red our guide to the best crochet kits for children.