Every crocheter has their favorite yarn, the one they go to when they need to create something unique and beautiful.
This article will discuss the top yarns for crocheters, why they are loved, what they are good for, and how much yarn you get for your money.
To finish, we will discuss what to look for when selecting a yarn for a specific project.
Yarn from We Crochet
---
Brava
This super-soft acrylic yarn is the perfect yarn for any project on a budget. At around $3.50-$4.00 per 100-gram skein, this yarn has the bang for your buck that every crocheter needs in their stash.
Available in a vast array of colors, including several variegated and speckled colorways, you can find exactly what you need for any project.
218 yards/skein
100% Acrylic
Available in DK, Worsted, or Chunky weights
Pros
Hypoallergenic
Many colors
Soft
Cons
Acrylic (plastic) can melt and is not very eco-friendly.
---
Alpaca Cloud Dk
I recently used this yarn to make a sweater, and I have to admit, the word "cloud" is perfect for it! The ultra-soft baby alpaca fiber will keep you cozy in cold weather, but it is also so breathable, it won't cause you to overheat.
123 yards/skein
100% Baby Alpaca
Dk weight
Pros
Extremely soft
High-quality fiber
Lots of calm colors to choose from
Cons
---
Fable Fur
Incredibly soft and fuzzy, this yarn looks like it might be an obnoxious novelty yarn but actually creates a thick and cozy fabric that is worth the effort needed to work with it.
Available in many natural colors and a few soft pastels, this yarn is perfect for fuzzy stuffed animals, sweaters, or blankets.
71 yds/skein
100% Polyester
Super Bulky
Pros
Hypoallergenic
Extremely soft
Unique finished product
Cons
Difficult to see stitches and to work with
---
Swish DK
Looking for an affordable luxury yarn for garments? Look no further than Swish DK!
This yarn is soft, warm, and of a high-quality fiber that will wear well for years to come. At $6.49 per 100-gram skein, this is a great deal for this quality of fiber.
123 yards/skein
100% Superwash Merino Wool
Also available in worsted and bulky weights
Pros
High-quality fiber will wear well
Wide variety of colors
Soft and easy to work with
Cons
May trigger wool or lanolin allergies
---
Hawthorne
Fingering weight yarns are gaining popularity in the crochet community. The unique look of hand-dyed yarns can be expensive, but with Hawthorne, you can get a similar look at a fraction of the price. This wool yarn is perfect for shawls, socks, or garments.
357 yards/skein
80% Fine Superwash Highland Wool, 20% Polyamide (Nylon)
Fine/fingering weight
Pros
Get the look of hand-dyed yarn for less
Added nylon improves durability
Many colors and styles of dye techniques
Cons
May trigger wool or lanolin allergies
---
Yarn from Mary Maxim
---
Starlette
This staple yarn from the Mary Maxim signature collection is a classic worsted weight acrylic yarn. This budget-friendly yarn is available in a wide range of colors. If you are interested in color-pooling, this is a yarn to investigate. It is also available with a strand of sparkle woven in.
180 yards/skein
100% Acrylic
Worsted Weight
Pros
One of the few yarns dyed specifically for color-pooling
Hypoallergenic
Soft on the hands
Cons
Acrylic is plastic and might melt at high temperatures
---
Mellowspun
This lightweight yarn is soft and perfect for baby items, like blankets or sweaters. The acrylic makes this a warm yarn, while the nylon component keeps it bouncy and soft. You can't go wrong with this easy-to-use yarn.
174 yards/skein
70% Acrylic, 30% Nylons
DK/Sportweight
Pros
Hypoallergenic
Affordable
Wide variety of colors
Cons
Small skeins of yarn, so you will have a lot of ends to weave in
---
Baby Blankie Yarn
This ultra-soft, hypoallergenic yarn is dyed in self-patterning colorways. One skein of this yarn will create a soft, unique baby blanket. At $12.99 per skein, you will be able to create an amazing gift at an affordable price.
695 yards/skin
100% Acrylic
Worsted weight
Pros
One skein makes an entire baby blanket
Self-patterning colors make each project unique
Hypoallergenic
Cons
---
Natural Alpaca Tweed
Alpaca is the softest of fibers for wearable items. Whether you are making hats, scarves, or sweaters, this hypoallergenic natural fiber will keep you cozy all winter long. The addition of the tweed gives this yarn a vintage appeal.
262 yards/skein
77% Acrylic, 20% Alpaca, 3% Viscose
Worsted weight
Pros
Hypoallergenic
Warm for cold weather
Extremely soft
Cons
---
Premier Anti-Pilling
After all the work that goes into a beautifully crafted crocheted blanket or hat, how disappointing is it to have it pill and wear out after only a few washes? With Premier Anti-Pilling, your projects will look like new wash after wash.
273 yards/skein
100% Anti-Pilling Acrylic
Light/DK
Pros
Hypoallergenic
Long-lasting quality
Many colors to choose from
Cons
Only available in lightweight yarn, so it will take more to make a blanket
---
Yarn from Lovecraft
---
Paintbox Cotton
With one of the widest arrays of colors, this cotton yarn is the king of variety. Available in both DK or Worsted weight, you can use it for making washcloths, towels, garments, or even amigurumi. At $3.50 per skein, it is also an affordable option for high-quality cotton.
137 yards/skein
100% Cotton
Available in DK or Aran
Pros
49 different colors
Hypoallergenic
Soft enough for baby blankets
Cons
Should not be machine dried
---
Scheepjes Whirl
A personal favorite, the Scheepjes Whirl, is perfect for delicate projects, like prayer shawls, lace mandalas, doilies, or delicate garments.
This soft yarn is available in 39 different ombre colors, each one featuring a smooth transition between colors.
1094 yards/skein
60% Cotton, 40% Acrylic
Fingering weight
Pros
Acrylic blend adds warmth and softness to the cotton
Unique colors that blend smoothly together
Lots of yarn per skein
Cons
Loosely wound and prone to splitting
---
Scheepjes Stone Washed
This cotton/acrylic blend yarn is perfect for lightweight summer tops or unique amigurumi. The stone-washed effect of the dye gives each piece a vintage, retro look.
With 23 shades to choose from, you are sure to find the right color for your next project.
142 yards/skein
78% Cotton, 22% Acrylic
Available in Sport or Worsted weights
Pros
Unique dye technique
Soft on the skin
Stitches won't stretch over time
Cons
Fewer shades in the worsted weight variety
---
Yarn from Amazon
---
Aunt Lydia's
Is there anything more classic than Aunt Lydia's cotton thread? This mercerized cotton is available in a wide variety of colors. You will need steel crochet hooks to work with this crochet thread, which is commonly used to make lace bedspreads, curtains, and doilies.
1000 yards/skein
100% Mercerized cotton
Available in thread weights 3, 10, 30
Pros
Hypoallergenic
Extremely consistent thickness
Very lightweight and delicate
Cons
So light and fine, it can be hard on the eyes and hands
---
Bernat Blanket
The ever-popular Bernat Blanket yarn has as many uses as it has colorways! It has been used for blankets (obviously), but also garments, pillows, and oversized stuffed animals. Since this yarn is so chunky, your project will work up in a flash!
220 yards/skein
100% Polyester
Super Bulky
Pros
Projects work up quickly
Hypoallergenic
Lots of inspiration available
Cons
Yarn is so bulky, it can cause wrist pain
---
How to choose yarn for a project
Buying crochet yarn online has never been easier, but different yarns work best for different projects, so here are some tips on what to look for before making your choice.
Yarn for Blankets
When choosing the yarn for your next blanket project, consider the weight of the yarn and the fiber content.
Yarn weight
Generally, blankets are made with worsted or chunky weight yarns to help the large project progress quickly; however, DK or sport weight yarns are popular for smaller blankets, like throws or baby blankets.
Fiber content
Many crocheters use acrylic yarns for blankets since these yarns are affordable.
Acrylic blankets can be very warm, but they aren't breathable, so they may cause the user to perspire. Cotton yarn is popular for baby blankets or those in warmer climates.
---
Yarn for Sweaters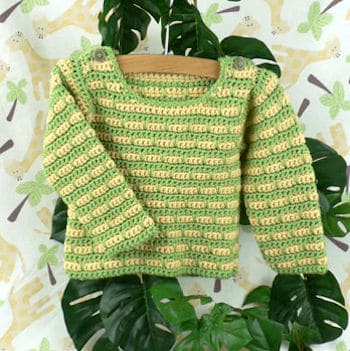 Anything that will be worn next to the skin needs to be soft. You will also want a long-wearing yarn that will not pill or fray with continued use.
Yarn weight
Sweaters can be made with any weight yarn, but keep in mind that the bulkier the yarn, the bulkier the fit.
Light weight yarns create a nice fabric that drapes gently around the body without adding bulk.
Bulky yarns are especially good for oversized cardigan sweaters, while lightweight yarns are better for more fitted designs.
Fiber content
Superwash wool is popular for garments because it is long-wearing, easy to take care of, and breathable. Other popular fibers are alpaca for its softness and cotton for its comfort in warm weather.
---
Yarns for Hats
Heads vary in size, so look for a comfy yarn that has some stretch!
Yarn weight
Hats are generally made with worsted weight or bulky weight yarns, so they can be made quickly. But many popular hat patterns also use lightweight yarns to create a slouchy look.
Fiber content
Acrylic, nylon, and wool are popular for hats because they possess a natural stretch. These fibers will ensure that the hat will fit snugly on various head sizes since no two people are the same size.
---
Yarn for Lace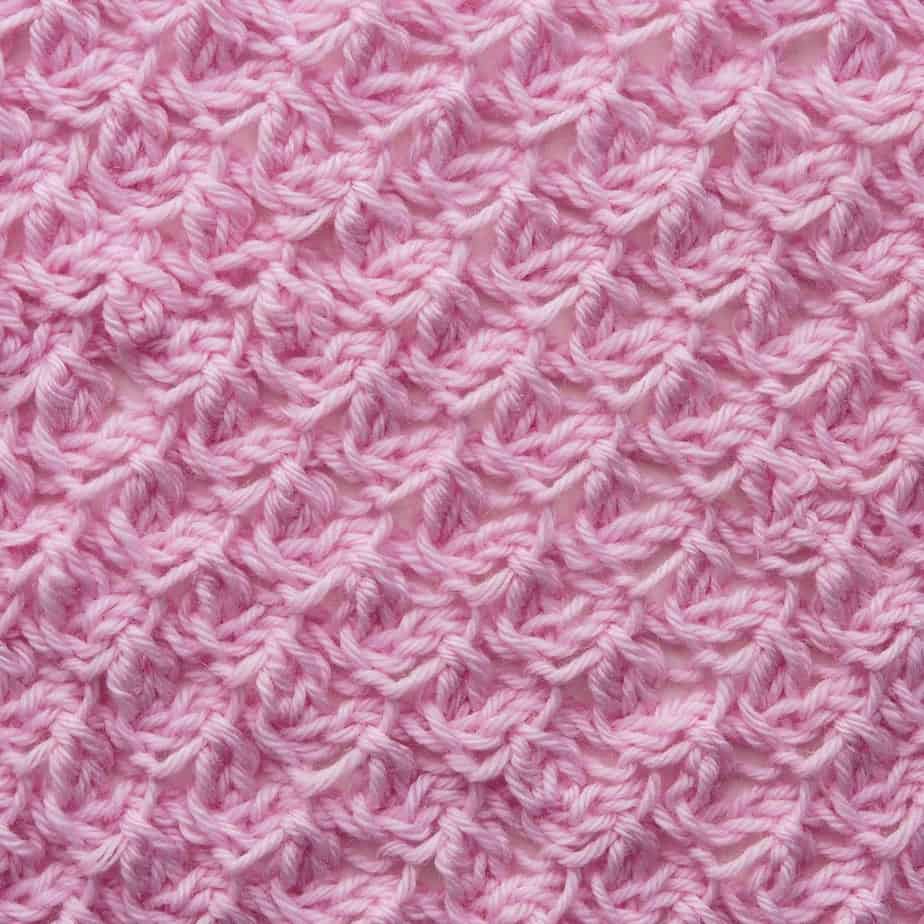 With winter around the corner, crochet lace snowflake season is here!
Yarn weight
Traditionally, lace is made with mercerized cotton thread, which is much finer than yarn. However, if you find working with thread hard on your eyes and hands, opt for a Dk weight. Your project will be much bigger but still beautiful.
Fiber content
Cotton is the best fiber for making lace since it holds its shape well over a long period.
Explore our Lace Crochet Stitch Library
---
Yarn for Shawls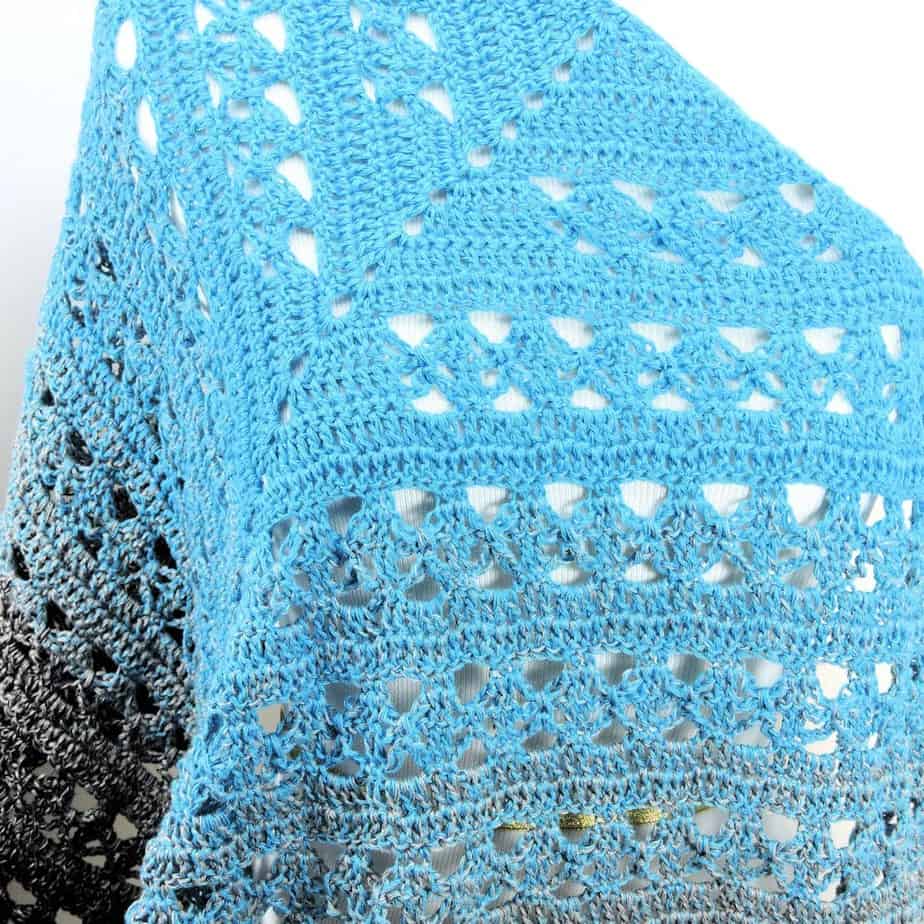 When choosing yarn for shawls, look for something lightweight that will drape nicely.
Yarn weight
Most shawls call for Dk weight yarn or lighter, with many patterns calling for fingering weight. These lightweight yarns help define the stitches and elegance of the shawl patterns.
Fiber content
Shawls can be made with any fiber. Generally, wool is used for shawls that will be used in the cooler months, and cotton is used for summer shawls.
---
Yarn for Amigurumi
When making a stuffed animal, you need a yarn that won't stretch. If you choose a yarn with more stretch and bounce, like wool or acrylic, you need to use a smaller hook to ensure the stitches are tight with no gaps between them.
Read our in-depth to the best yarn for amigurumi.
Yarn weight
Stuffed animals have been made in miniature with thread and in jumbo proportion, using Bernat Blanket yarn. You can use the same pattern with different weight yarns to get different sizes.
Fiber content
Cotton and polyester yarns generally do not have a lot of stretch to them, so they are perfect for the tight stitches of amigurumi. While you can use wool or acrylic yarn, you will need to pull your stitches tighter.
The best yarn for crochet
The best yarn for crochet is one you love to work with. Crocheting is a personal art form! Express your creativity through fiber using the yarns you love the best.