Butterfly Filet Afghan
designed by Kim Guzman © Jun. 1999
Please read my Terms of Use
Technique: Filet Crochet
Materials
Size D/3/3.25m crochet hook
Approximately 3500 yds Red Heart Lustersheen used in sample
Yarn needle (for weaving ends)
12″ x 3″ piece of cardboard (for fringe)
Finished Size
approx. 44″ x 52″ (excluding fringe)
Gauge
In stitch pattern, 28 sts and 14 rows = 4″.
Basic Filet
Each solid square is equal to 3 dc. Each open square is equal to (1 dc, ch 1, 1 dc). The dc at the end of each square also counts as the first dc of the next square. For example, a solid square followed by an open square is 3 dc, ch 1, 1 dc. Solid squares count as "solid mesh" and open squares count as "open mesh".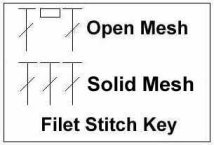 Tip: When finished with one ball/cone of yarn, attach the next ball/cone only at the beginning or ending of a row to aid in the weaving of the loose end.
Crochet Pattern Instructions
Row 1: Ch 327, dc in 7th ch from hook (counts as first open mesh), *ch 1, sk 1 ch, dc in next ch, rep from * across, turn–161 open meshes.
Following the diagrams (two included) and the Filet Stitch Key, continue until all rows are completed. Fasten off. Weave in all ends securely.
Fringe Using cardboard piece, wrap yarn around to make as many 12″ pieces of Lustersheen as necessary. Attach two piece of cut yarn in each open mesh of first and last rows. Trim fringe as necessary.
Charts
Due to the size of this chart, it is separated into two images. Click image to see enlarged version.