Shopping for yarn has never been easier with the explosion of online yarn stores.
Today we are going to look at several options but for those who want to know our top picks we recommend the following:
Where do I start looking for yarn online?
The internet is FULL of online yarn stores! I'll share my favorites and what you can expect in terms of quality, shipping times, and types of yarn available.
---
I've paired WeCrochet and Knit Picks together because they are sister companies and carry the same yarns, regardless of which you prefer to shop with.
Personally, I buy the bulk of my yarn from We Crochet and Knit Picks. They are my favorite for quality, affordability, and variety.
Check yarns on We Crochet or Knit Picks
High quality yarns
Average shipping times
Wide variety of fibers from acrylic to merino wool
Wide variety of colors in each fiber
Wide variety of yarn weights from lace thread to jumbo
Mid-range pricing on average
---
Annies Craft Store
An established online shopping forum for any craft, Annies carries a good selection of yarns. Most of the yarns they carry are common brands like Premier, Patons, Lion Brand, etc. that can be found in most craft stores.
They also carry some specialty yarns, like Sheepjes, which can be hard to locate.
Check yarns on Annie's
Familiar yarn brands
Quick shipping times
Wide variety of fibers
Low-Mid pricing
---
Amazon
In general, I don't recommend shopping on Amazon for yarn, unless you need it very quickly.
The prices tend to be higher on Amazon for the same yarn you could get cheaper in store or on a different site, except for Lion Brand. Lion Brand has a storefront on Amazon, to ensure the price is generally the same.
All the yarns
Free, 2 day shipping (with Prime)
Pricing is not always the same, often more
---
LoveCrafts
With an extensive list of brands and yarns, you are sure to find anything you might need from Lovecrafts.
Ranging from inexpensive brands like Bernat to high end brands like Malibrigo, you can't go wrong with this retailer.
Their Paintbox yarn line comes in the most extensive range of colors imaginable.
Everything from Red Heart to many European brands
Average shipping times, low cost, orders over $65 ship free in the US
Wide variety of materials
Low-High pricing, depending on the yarn selection
---
Jimmy Beans
Known for their luxury project bags and yarns, Jimmy Beans Wool is a fantastic source of high quality fiber. While they offer some lower priced options, like Sheepjes cotton, Jimmy Beans Wool is most known for the expensive, high quality wools that range from $15-$36 per skein.
Check yarns on Jimmy Beans Wool
Wide variety of fibers, including paper!
Ships free over $75
Some low price options, but a lot of high end options
---
Lion Brand
With a wide range of mid-level quality yarns, Lion Brand is a great choice for a yarn you can feel at the store but order online.
Check yarns on Lion Brand
A good variety of synthetic and synthetic/natural blend yarns
Similar options as the craft store
Fast shipping, but no free shipping option
A rewards program to help you earn free yarn
Mid range pricing
---
Mary Maxim
In addition to carrying a lot of the big craft store brands like Lion Brand, Bernat, and Caron, Mary Maxim also carries their own line of yarns that are soft, easy to work with, and good quality.
Check yarns on Mary Maxim
A good variety of yarn
Somewhat limited in color choices
Higher shipping prices, no free shipping option
Low-Mid price range
---
Hobbii
Hobbii is a Danish company that specializes in natural fiber yarn, but they also carry some acrylic yarn. I especially love their Cotton King Sultan and purchase loads of it to make shawls. They are also well known for their Rainbow yarn available in over 100 colors.
Check yarns on Hobbii
Wide variety of natural fiber yarns
Shipping is quick, especially since the yarn is coming from Denmark
Low-mid pricing
---
We Are Knitters
Best known for their incredible kits for any experience level, We Are Knitters offers beautiful wools, cottons, and more for knitters and crocheters wanting to create quality pieces with heirloom quality.
Check yarns on We Are Knitters
Higher end, all natural fibers
Free shipping over $90
Mid-high price range
---
Yarnspirations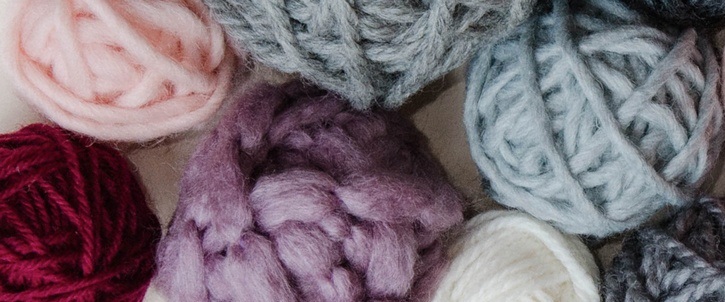 Yarnspirations, owned by Spinrite Yarns, carries the brands produced by Spinrite: Bernat, Caron, Patons North America, Red Heart, and many more.
These are the most widely distributed yarns in the United States. When purchasing from Yarnspirations, you have access to higher quantities of the yarns than you can touch at the craft store.
Check yarns on Yarnspirations
Extremely wide variety of yarns
The same options as the craft store
Quick shipping, but no free shipping options
Low-Mid price range
---
Why buy yarn online?
With so many craft stores to choose from, why shop for yarn online?
Often crafters struggle to find the exact yarn needed for a specific project. Brick and mortar stores are limited to major craft brands of yarn in limited quantities and colors or high-end yarns that can be prohibitively expensive – again, in limited quantities.
While brick-and-mortar stores are a haven for the craftsperson, online shopping offers you endless possibilities, whether you are looking for a specific color, fiber, or quantity.
Benefits of online yarn shopping
Endless quantities
How often, as crocheters or knitters, do we search endlessly for the perfect yarn, only to realize the store only has five of the ten skeins you need?
When you shop online, you have access to the entire warehouse of yarn, instead of the small shelf at your local craft store.
All the colors
Do you need the perfect skin tones for a collection of amigurumi princesses? Are you making a baby blanket and need to match the nursery?
Or maybe you want to make a beanie in your partner's team colors?
Regardless of why, you can skip the time spent hopelessly browsing the limited aisle of the craft store and find the perfect colors when shopping online.
The right fiber
Many of the major craft retailers only carry synthetic yarn. Conversely, many local yarn shops only carry the best wool.
Personally, I prefer to work with natural fibers or a natural/synthetic blend. In order to find the fibers I love at a price I can afford, I prefer to shop online. Whether you are making a wool sweater or cotton washcloths, look no further than your internet browser for the right fibers.
Read more about the different types of yarn available.
Frequent Worries about Online Yarn Shopping
"I like to touch my yarn first."
We all want to know that our finished project is going to be soft, touchable, wearable, and loveable. When we shop for yarn in person, we can squeeze the yarn to make sure it has just the right texture.
With online shopping, you are distanced from the yarn and can't touch it in person. If you prefer the comfort of touching the yarn first, shop with Yarnspirations, Lion Brand, or LoveCrafts, since you can experience most of their products in person, then order online for the best prices and quantities.
"I want to see the colors."
True, colors can vary in person from what they appear online. If you want to make sure that you know what a color will look like, you can shop in person then order online from one of the brands mentioned above.
Or, you can search the yarn on Ravelry or Instagram to see it used in different lightings. This might help you imagine what it will look like in person.
"What if I don't like the yarn when it comes?"
All of the shops listed above have extensive and inclusive returns policies. You may run the risk of paying the return shipping for some, but check the policy on each site before purchasing for your own mental comfort. Of course, I believe you will love your online shopping experience once you dive in!
Shopping for Yarn Online is an Adventure
Shopping online for yarn truly is an adventure. When you try a new fiber, color, or brand, you wait, like a child for Christmas, for your package to arrive.
The joy of diving into a box of yarn is unparalleled – and I highly recommend it!
If you are ready to expand your fiber horizon but are on a budget, head to LoveCrafts or We Crochet!
If you want to create high-quality garments, head to Jimmy Beans Wool or We Are Knitters.
Or maybe you are looking for extended quantities or colors of the brands you already know and love, stop by Yarnspirations or Lion Brand.
Each online store is a treasure trove of creative adventures waiting for you!
Also read our guide to the best yarns for crocheters.