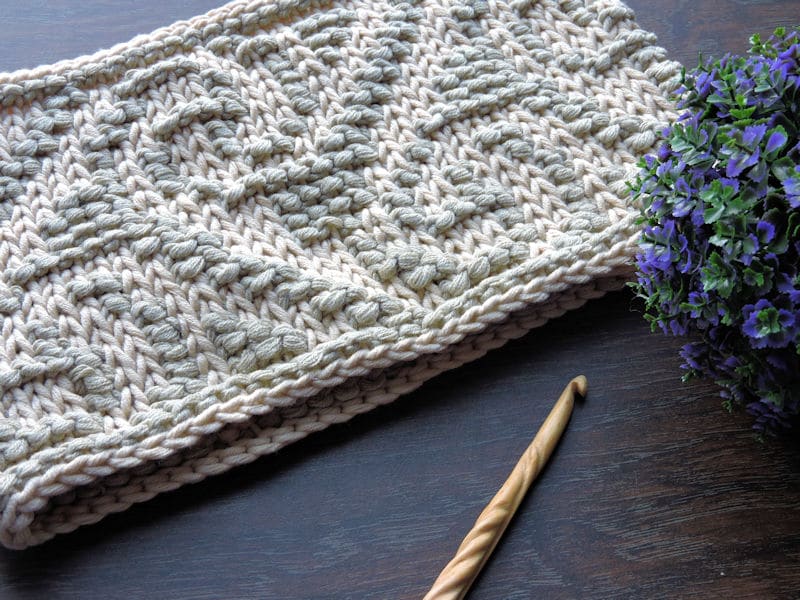 Casual Cowl
by Kim Guzman © Feb. 2017. All rights reserved.
Please read my Terms of Use
Technique: Tunisian Crochet In The Round
If you have never worked in Tunisian Crochet In The Round, please review these videos to learn the technique, then you'll be prepared for the pattern. Right-Handed Playlist | Left-Handed Playlist
Mary Maxim's "Simply Casual", 50% acrylic/50% cotton, bulky, 120 yds per 100g: one each of Color A (straw) and Color B (sage)
7mm Double-Ended Tunisian Hook
Stitch Marker
Finished Measurements: 27″ (circumference), 7.5″ high
Notice and Disclaimer: All crochet patterns written by Kim Guzman at CrochetKim are in US terms. All photos not copyright to Kim Guzman are posted with permission. This website contains affiliate links.
Read Privacy Policy here.
Gauge: 11 sts for 12 rounds = 4″ in stitch pattern
MY LATEST VIDEOS
Special Stitches:
Tunisian Reverse Stitch (trs): Insert hook in side-to-side motion under back vertical bar, always keeping hook to back of work, yarn over, pull loop through. Right-Handed Video | Left-Handed Video
Tunisian Knit Stitch (tks): Notice that each vertical bar goes up into the chain and back down the other side. For Tunisian Knit Stitch, insert hook between these two vertical bars, under the chain, front to back, yarn over, pull loop through. Right-handed video | Left-handed video
Other Helpful Videos
Tunisian Foundation Row: Right-Handed Video | Left-Handed Video
Bind Off Row: Right-Handed Video | Left-Handed Video
Free Tunisian Crochet Pattern Begins Here
Instructions
Foundation Row:
Step A: With A, ch 72 (or any multiple of 18), sk first ch, *insert hook in back horizontal bar of next ch, yarn over and pull lp through, rep from * across. Work in sections as needed pursuant to "in-the-round technique" (see below).
In-the-Round Technique: Pull up loops only to fit onto the hook easily. You do not need to pull up all loops of the round. As your hook becomes filled, turn it over to begin the closing (Step B). Repeat this process as many times as it takes to make it all the way across the row or round.
Step B: Turn work so the back is facing you, push loops to the other hook, with B, pull a loop through one loop on hook (one stitch closed), [yarn over and pull through 2 lps] until 3 stitches remain.
Repeat this In-the-Round Technique and closing (always closing by pulling through 2 loops after the first stitch and always closing only up to the last 3 stitches) until only 3 loops remain for Foundation Row.
Round 1: Place a stitch marker to mark your rounds. Move marker up as work progresses.
Colorwork Chart (filled squares represent Tunisian Reverse Stitch (see Special Stitches above) and unfilled squares represent Tunisian Knit Stitch (see Special Stitches above).
Step A: (3 stitches still on your hook) Form a circle by bringing the first stitch close to the last stitch, with A, work according to the chart for a total of four repeats, maintaining the In-the-Round Technique. You will always work according to the chart and you will pull up your loops with Color A. (Color B is only used to close the loops in Step B throughout.)
Step B: After turning, with B, close the stitches as follows: [yarn over, pull through 2 loops] throughout.
Continue working around and around (according to the chart) in a spiral until 20 rounds of chart are complete. This is a continuous spiral and you will continue to work in sections throughout until you have reached the specified height. Once you have completed the rounds, close all stitches, including the last 3. One loop of B will remain on your hook.
Binding Off: With right side facing you, with A, *insert hook under back vertical bar (as you would for trs), yarn over, pull loop through stitch and through loop on hook (slip stitch made), repeat in each remaining vertical bar, fasten off.
Many of you have written to me to ask how you can help support CrochetKim. A Patreon account was suggested but I thought it would be better to provide ad-free PDFs of my patterns so you would get something in return. I'm steadily working on adding PDFs to all my patterns and I've also made this compilation available at a discounted price. You can, of course, view, print, paste to a word processor, convert to PDF, etc. on your own. This is just an extra feature so that people help out, if they want. Thank you to all of you for your overwhelming support and kindness these many years. Enjoy!