There seems to be quite a huge interest in working from color work charts lately. I attribute this to the fun and trendy use of diagonal box stitch (C2C) for the charts.
In my FREE CROCHET PATTERNS group HERE, I've had many questions about using charts in crochet and there is a lot more to it than just diagonal box stitch.
Here are just a few uses of charts in crochet. Remember that these are just picture charts, not symbol charts. These are boxes and you count the boxes to make your stitches or combinations of stitches, but there are a lot of different ways you can do that.
Monochrome
1. Filet crochet. A combination of closed and filled blocks to form the picture. Free pattern…
2. A combination of single crochet and bobbles/clusters/puffs to form a picture. Free pattern…
3. Tunisian crochet. A combination of a flat stitch and a textured stitch to form a picture. Free pattern…
Multicolor
4. Single crochet. Changing colors throughout and even within this method, you will find different methods. It's less intimidating to start off with something small like the squares in the throw below before progressing to something large. Free pattern…
5. Tapestry Crochet. This is another single crochet method, usually worked in the round so all stitches face the front with two or more colors. You work over the unused colors instead of holding them in bobbins or stranding them.
If you want to learn about Tapestry Crochet, you should go directly to the expert, Carol Ventura. Visit her website HERE. The design below is one of her exquisite designs. Free pattern (direct PDF)…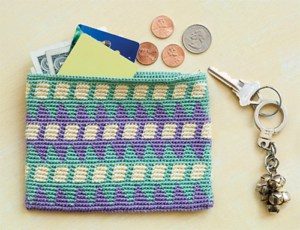 6. Tunisian Crochet with color changes. This is usually done in either Tunisian Simple Stitch or Tunisian Knit Stitch and is usually worked in intarsia method.
7. Diagonal Box Stitch. This is the popular box stitch, worked corner to corner (C2C) except that you'll be following a chart to change colors. Each "box" represents a different box in the chart. Free pattern…
8. Tunisian crochet with cross stitch. This is usually done in Tunisian Simple Stitch in one solid color, using cross stitch to form the picture. This can also be done in single crochet, but it is not as popular as Tunisian. Free pattern…
9. Joining Squares. You can make an individual square for each block in the chart and join them. Use the square of your choice, but you'll only need about two or three rounds per square. Free pattern…
Enjoy!