For some of us around the world, winter has just ended; for others, it's just beginning; and for those who live in Antarctica, it's a constant!
In these cold months, with the snow falling outside your window and a fire crackling in your fireplace, what better way to spend your time than crocheting up some warm winter hats?
Grab your hot cocoa, a basket full of yarn, your trusty crochet hook, and let's dive into 10 wonderful crochet winter hat patterns.
And if you're sitting in the summer right now, these will keep you busy until the cold winds come a-knockin'.
The Juneau Blues Beanie by the Loopy Lamb
This warm textured winter hat is a great project to learn a new stitch, make some neat color changes, and work up a nice beanie.
Not only will you get an awesome crocheted winter hat once you're done, you'll have learned a few new tricks of the trade.
---
The Adaleigh Beanie by Nicole Chase
Who wouldn't like an adorable mom-and-baby beanie set for winter? What we really like about these beanies is that not only will they keep your head covered, the texture on them reminds us of a crown. So, spend this winter like a royal once you've made yourself one of these beanies!
---
The Garter Ridge Beanie by Crochet Kim
If you've got a nice multicolored, gradient yarn, this is the perfect project for you. This is worked up in a continuous round which will flatter each color and leave you with a snug crochet winter hat perfect for your ski trips, a snowball fight, or even a walk to the local grocery store.
---
The Granite Stitch Hat by Blackstone Designs
Crochet winter hats aren't only for the coldest of months – you can make one of these gorgeous hats for the colorful autumn months too. This Granite Stitch Hat will have you all set for when the weather starts to change and if you want to pair it with a cowl, there's a pattern for that as well.
---
The Beginner Tunisian Beanie by With Alex Official Blog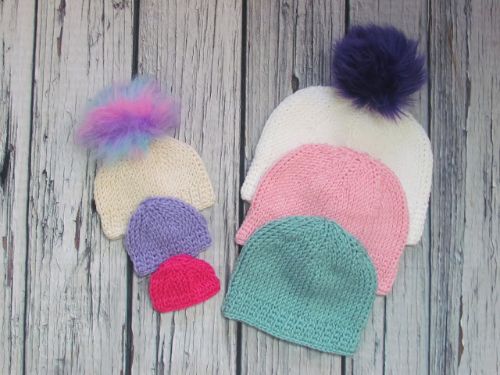 Crochet and knitting both have their perks but if you're an avid crocheter and you want to try your hand at some "knitting" without picking up an extra needle, this pattern is for you. It'll help you learn all of the basics of Tunisian crochet while you work up a fabulous winter hat.
---
Leaping Stripes and Blocks Beanies by Moogly Blog
How about an entire set of crochet winter hats for the entire family? From mom and dad to your little one, Moogly Blog presents a pattern which will have the whole family ready for winter.
What's more, you can add everyone's favorite colors to their beanie and it'll really reflect their personality.
---
Easy Channel the Mind Beanie by CrochetKim
This beanie has a personality of its own with a slouch in the back yet a firm brim to stay on top of your head. You also have the option of working it in the rounds or seaming it together after you're done so this pattern definitely caters your comfort zone. Whichever way you work it though, you'll have a marvelous winter hat at the end of it!
---
The Jelly Beanie by Loops and Love Crochet
Put away those neutrals and grab some funky yarn because these beanies are the life of the party! Jellybeans are a favorite candy for young and old but they can be a bit unhealthy too. So why not make a crochet winter hat with a texture that resembles jellybeans and you can have (or make) as many as you want?
---
The Winter Rays Crochet Hat by Ned and Mimi
Who's up for a challenge? This pattern calls for all of your basics but also lets you take a walk on the wild side as you maneuver around some new techniques and stitches. And like the name suggests, this beanie definitely looks like a warm sunrise on a chilly day.
---
The Slouchy Crochet Beanie by Jen Hayes Creations
And to conclude this free crochet winter patterns roundup, we've got this elegant number in a brilliant green which is sure to liven up any outfit. The color is fresh, the pattern is simple, and in just a few hours, you'll have a slouchy beanie to keep your hair in order and your ears warm this winter.
---