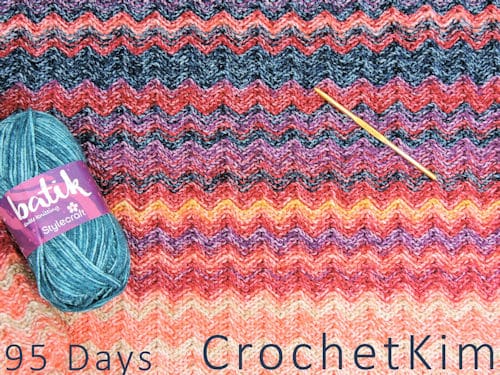 CrochetKim Birth Temperature Blanket
designed by Kim Guzman © Jan. 2017
Please read my Terms of Use
Technique: Regular Crochet
Finished size
Since this is an ongoing project, I can only give an estimate at this time. Approx. 45″ x 72″
Materials
Stylecraft Batik DK (80% acrylic/20% wool, 151 yds per 50g)
Suggested hook size: H (5mm)
Stylecraft Batik DK

Teal
Storm
Sage
Olive
Pistachio
Old Gold
Biscuit
Coral
Cherry Red
Plum
32° and below
33°-39°
40°-46°
47°-53°
54°-60°
61°-67°
68°-74°
75°-81°
82°-88°
89° and over
Notes
For more details about my color choices and how I obtained the historical data of the temperatures I'm using, see my post HERE.
Unlike some of the other temperature blanket projects I've seen, I'm not doing a current temperature blanket. I'm doing the high temperatures of my first birth year from the day I was born in the city I was born.
I decided to use some yarn that I had on hand instead of purchasing more, but it looks like I'll need to purchase more anyway. I don't know which colors yet. After working all weekend, I know that one skein of yarn makes 14 rows and I'll need 365 rows. That's about 26 or 27 skeins total. I only have 21 right now. I'll need to do some more work to figure out which colors I will need. Since I'm doing a past year, though, I could technically figure it out down to the very last skein.
Change colors for each row as you have pre-determined from your temperature. To change colors, I simply pulled up a loop of the first color in the first slip stitch of the row.
I invented this stitch pattern because I wanted to use the shortest stitch possible and I wanted a ripple. No matter how you slice it, you're dealing with 365 rows which is about the equivalent of three afghans in one. It's going to take a good deal of commitment and time.
When you think about it, the intriguing part of this blanket is the random colors which are generated by using different colors for different temperatures. To be honest, you don't have to use temperatures. You can simply use a random color generator and you'll get a completely random blanket. Choose your colors and let the app choose the order. You'll get a gorgeous project but you don't have to collect the temperatures. Try it out HERE.
Gauge
In stitch pattern, 27 sts for 20 rows measures 4″ square. My swatch is about 6″ by 6″.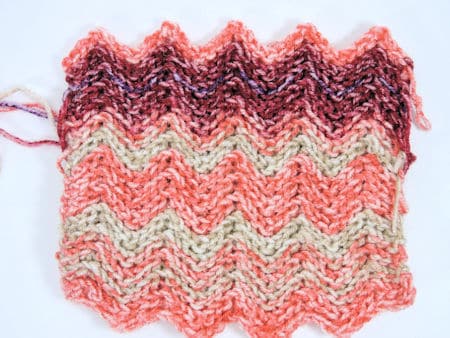 Stitch Multiple
Any multiple of 8, then add 7.
Crochet Pattern Instructions
Instructions
Note: I recommend that you make the initial chain in a hook one size larger than the hook you're using. Count the initial chain as the first day of your temperature chart, if you like.
Row 1: Ch 295, working in back horizontal bars of chain throughout, sl st in first ch and in next 2 chs, *[sl st, ch 1, sl st] in next ch, sl st in next 3 chs, sk 1 ch, sl st in next 3 chs, rep from * to last 4 chs, [sl st, ch 1, sl st] in next ch, sl st in next 3 chs, turn.
Note: When working in sl st ribbing (as this project is worked throughout), there is no ch-1 turning. You work directly into the back loop of the first stitch, but you will not chain-1 beforehand. If the last stitch of your row gets loopy, work the last stitch under two loops instead of the back loop only.
Row 2: Working in back loops here and throughout, sl st in first sl st and in next 2 sl st, *sk ch-1 sp, [sl st, ch 1, sl st] in next sl st, sl st in next 3 sl st, sk 1 sl st, sl st in next 3 sl st, rep from * to last 6 sl st, sk ch-1 sp, [sl st, ch 1, sl st] in next sl st, sl st in next 2 sl st, sk 1 sl st, sl st in last sl st, turn.
Rep row 2 throughout, changing colors for each day in your temperature chart.
Finishing
Weave in ends carefully.