"Heirloom Afghans" is a crochet pattern book with 43 different amazing blanket projects. This book is a compilation designs from many different designers. Here are just a few of my favorites.
Amanda Whorl is by Rosalie Johnston. It's made in readily-available Red Heart Super Saver.
This one is also made in Red Heart Super Saver. It's designed by Anne Halliday and is an absolute stunner!
Notice and Disclaimer: All crochet patterns written by Kim Guzman at CrochetKim are in US terms. All photos not copyright to Kim Guzman are posted with permission. This website contains affiliate links.
Read Privacy Policy here.
Here is one that I did. It's called Buttercream Afghan. i wish you could see a better photo of that border. It's extraordinary!
MY LATEST VIDEOS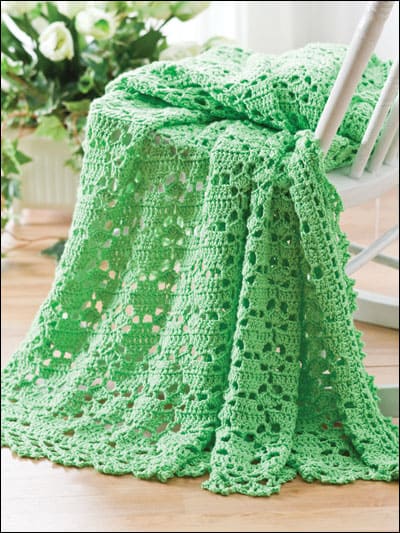 Lime Lace is by Christine Walter. Remember there are 43 designs in this book. It's quite a collection.
Please note that this book is from my personal library. It's in good condition, of course, but it's not new and sparkly.
Open worldwide only where allowed by law. Void where prohibited.
One name will be chosen randomly from all names entered prior to close at 11:59pm (CST) on January 14, 2019. Sign in through Facebook or with your email address to enter. Choose any of the other options for additional entries, including a daily bonus entry. Good luck, everyone!
The entry form will load immediately below these words. Wait for it to load. If it doesn't load, you may need to break out your laptop because some devices (I'm looking at you, iPad) strip the code sometimes.
Heirloom Afghans
Your privacy is important. Please see our privacy policy HERE.
Winners are notified by email. Unclaimed prizes will be reposted in future giveaways.
Enjoy and good luck in the drawing!
Prior giveaways and the winners can be viewed HERE.
Many of you have written to me to ask how you can help support CrochetKim. A Patreon account was suggested but I thought it would be better to provide ad-free PDFs of my patterns so you would get something in return. I'm steadily working on adding PDFs to all my patterns and I've also made this compilation available at a discounted price. You can, of course, view, print, paste to a word processor, convert to PDF, etc. on your own. This is just an extra feature so that people help out, if they want. Thank you to all of you for your overwhelming support and kindness these many years. Enjoy!