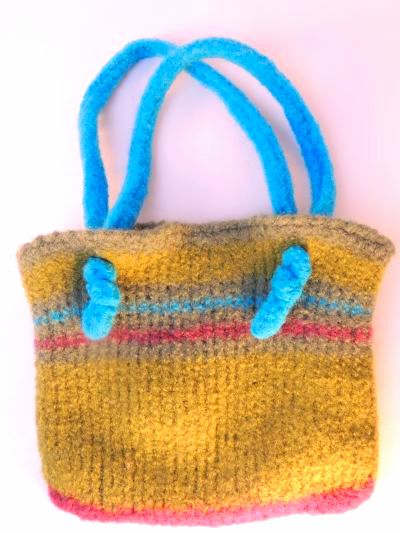 Tunisian Easy Felted Bag
designed by Kim Guzman © Jul. 2014
Please read my Terms of Use
Technique: Tunisian Crochet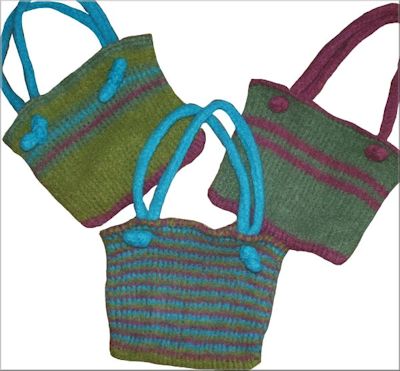 Notes: Here is your chance to learn (or practice) Tunisian crochet on a little felted bag. I've felted regular crochet, knitting and Tunisian crochet. I find Tunisian crochet to be the absolute best medium for felting and I highly encourage you to give it a try.
I've designed this quick, easy project specifically as a learning process so that you can see the overwhelming benefits of felting Tunisian crochet. You can have a bag crocheted and felted in just two days!
The bag is small so you can learn about felting without a huge commitment. You may be intimidated about felting in a washing machine, like me. So, I've been felting in my kitchen sink!
Be careful, though! You probably won't want to stop at just one! As you can see, I made three!
Finished Size (Felted)
approx. 9.5″ wide x 9″ high (not including handles)
Materials
Minimum 1 ball each of 2 different colors: Patons Classic Wool Merino, 100%, 223 yds, 100gm
Suggested hook size: Size 6.5mm [US K-10 ½] Tunisian Afghan Hook (you can also use a size L, size M or size N; the yarn felts to the yarn's size and it doesn't much matter which size you use.) AND a size 6.5mm [US K-10 ½] regular crochet hook
Needle (for weaving ends)
Gauge
Not critical
Special Stitch
Tunisian Knit Stitch (tks): Insert hook between front and back vertical bars of the same stitch, coming out at back of work, yarn over, pull up loop.
Please see my Videos for further instruction on Tunisian crochet stitches.
Changing Color
To properly change colors of yarn on this project, you change the color on the closing of stitches portion of the row. You will close all stitches normally except for the last stitch. You will have 2 loops on your hook.
Now, close the last 2 loops with the new color. Drop the old color to the side. Don't worry that the dropped color gets loose when you let it go. You will snap it right back into position when you pick it up again.
For short color row changes, you can carry the yarn along the side, picking up the old color and dropping the new one as needed. However, for large color blocks like in the top two bags, you'll want to cut off the old color.
Handles (make 2)
Row 1a: In the color of your choice, with Tunisian hook, ch 80, sk first ch, insert hook in next ch, yo, pull lp through, *insert hook in next ch, yo, pull lp through, rep from * across–80 lps on hook.
Row 1b: (Typical closing) Ch 1, *yo, pull through 2 lps on hook, rep from * across–1 lp rem on hook (counts as first st of next row here and throughout).
Row 2: Sk first vertical bar, tks across, close normally (see row 1b).
Rows 3-4: Rep row 2. (Your work may be curling. Do not let it concern you.)
Row 5: (Binding off) Allowing the work to curl naturally, binding off will join the last row to the bottom of the row 1. With regular crochet hook, sk first vertical bar and first unused ch from the bottom of row 1, *insert hook under the next unused ch and through the next vertical bars as for tks, yo, pull through through AND through 1 lp on hook (sl st bind off made), rep from * across, fasten off. With yarn needle, weave in the two short ends of the tube. Set aside.
Base of Bag
In the color of your choice, with regular crochet hook, ch 35, 3 dc in fourth chain from hook, dc in each of next 30 ch, 4 dc in last ch. Turn your work so that you are now working on the bottom of the sts you've just made, dc in each of next 30 unused lps of beg ch. Sl st to third ch of beg ch-3, fasten off.
Begin Sides of Bag (The bag is made one side at a time and seamed.)
Color Notes
With the bag on the bottom, I changed colors after each closing of my stitches. I carried the yarn up the sides. For the bag on the top right, I worked in one color for 15 rows, 2 rows in a contrasting color, 2 rows in main color, 2 rows in a contrasting color and the final 8 rows in the main color. For the back on the top left, I did almost the same thing, but I was running out of yarn at this point. So, I just threw in whatever looked good. You'll want to plan out your color choices beforehand.
I initially started with four skeins of Patons Classic Merino Wool. I was able to make all three bags, with very little remaining.
Row 1: Using the color of your choice, insert hook in either third dc of 4-dc group at short edge of Oval Base, yo, pull lp through, *insert hook in next dc, yo, pull lp through, rep from * until there are 34 lps on hook, close normally.
Rows 2-29: Sk first vertical bar, tks across, close normally, do not cut off after final row–34 sts.
Row 30: (Binding off) Sk first vertical bar, *insert hook as for tks in next st, yo, pull lp through, yo, pull through 2 lps on hook (sc bind off made), rep from * across, fasten off.
Repeat all steps for second side of Bag.
Finishing
With the inside of your bag facing you, seam the edges with your yarn needle.
Reverse Single Crochet Trim (optional)
With RS facing you and regular crochet hook, join color of your choice with sl st to any sc, rev sc around, join with sl st to first st, fasten off.
Attaching Handles
You will now be maneuvering the Handles into the spaces between the loops of your work. I counted down about 5 or 6 rows from the top and about 7 stitches from each side. Insert your Handle in two spots first on one side of the Bag, then the other.
Make a knot on the tip of the Handle on the front side. Make the knot as tightly as possible. You don't want it to come loose while felting.
To ensure that the Handles don't come loose during the felting process, pull the knots out away from the bag as far as they will go. You will return them to their proper position after the felting process when you position the bag for drying.
Now, for the Fun Part!
Before felting, your bag should measure about 10" high by 10" wide, more or less, depending on the Tunisian hook size you used. You are welcome to use a machine to felt your project and there are many instructions on the internet for machine felting. I prefer to manually felt my projects.
I have always felted in my kitchen sink or a large canning pan. I have never felted in a washing machine. I like the control I have when hand felting. And, it's a very pleasurable experience for me. I love watching every step of the process.
You will need hot water. Hot water right out of the tap is just fine. There is no need to boil water the way you may have heard. You can use your kitchen sink. Or, if you have a stopper that might snag your work, you can use a large pan, pail or bucket. Put about a dime size glob of dishwashing liquid in the water as you fill it. Place your project in there fully until it is completely soaked.
And, now it is time to ABUSE YOUR CROCHET! Seriously, I am not kidding. I grab a wooden spoon (check to make sure there is nothing to snag) and literally scrub it, twirl it, swish-swash it back and forth. I know of one person who used a bucket and a (clean!) plunger for the agitation process. Once the water cools down a little (or before, if you have rubber gloves), grab the project. Pick it up out of the water, plunge it back in. Do that a while. Rub it together like you're cleaning it. Pay attention to the handles as well! They are going to felt up beautifully.
When your water starts to change temperature, remove your project, empty the water and start all over again. I find that my project starts to fuzz up after only 5 or 10 minutes. Change the water when it starts to cool down. Place your bag in cold water. Now, repeat the hot water process. It usually takes 3 repeats in hot water to reach the felting I want. And, when the bag stops being a squishy bunch of wet wool, it will start getting stiff. And, trust me, you will know! Just be patient!
Because I am unable to stand for very long due to a fall I had about 9 years' ago, I will literally just leave my project in the hot water and walk away from it when I get tired. Then, I'll go back to it a few minutes later. It's really very, very easy. And, it is definitely one of the most fun things I've ever done with crochet.
After the Felting is Complete
Rinse your project well and squeeze it to make sure you've gotten out most of the water. Push the Handles back into their proper position while your project is wet. Now, you'll need to find something to position your project on for the drying process. For me, this time I used one of those large Folgers containers. Don't use something metal, though! You can use a pan. Or, a pitcher. Anything at all that is about the same size as your bag. Place a towel under everything to catch any excess water.
After felting and drying, the bag measures approximately 9" by 9" or so. There is never, ever anything exact about felting. There isn't an exact magical number. This is why I didn't offer a gauge for this design. It really isn't going to matter very much. Differences in the brand of yarn, even in the color of the yarn in the same brand, will felt differently.
By morning, your project should be completely, or almost completely dry. If the item you chose to position it on has left any unsightly bulges in your project, simply squirt it with a bit of water and lie it down to dry more.