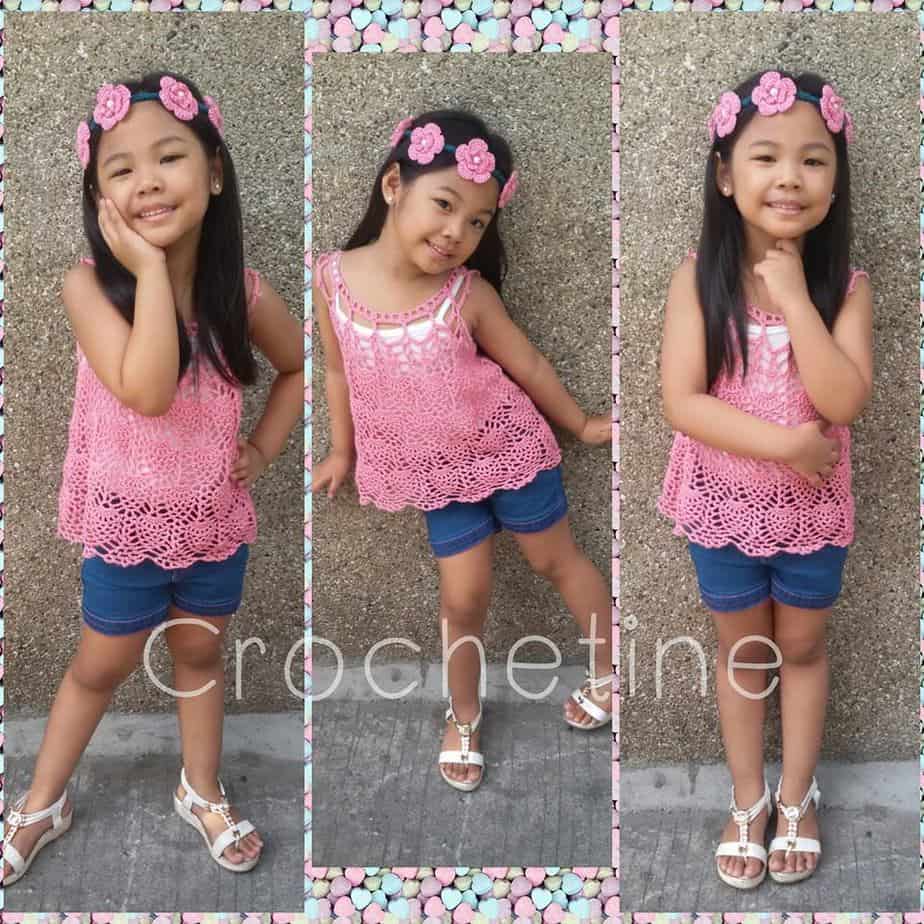 As a full-time crochet designer and pattern writer, I live a kind of lonely existence in my work so I can't tell you what it means to me when someone drops everything and makes one of the projects from my patterns. I like to make pretty things and then teach people to make those pretty things too! It's the reason I do what I do.
When I saw this incredible project from Marie of Crochetine, I couldn't even bear not being able to share it with others so I asked for her permission immediately to share this fabulous photo of her daughter in her new little top from my pattern. This beautiful little girl would make anything at all look good. She is just adorable. Thank you so much, Marie, for choosing CrochetKim for your latest project!
Notice and Disclaimer: All crochet patterns written by Kim Guzman at CrochetKim are in US terms. All photos not copyright to Kim Guzman are posted with permission. This website contains affiliate links.
Read Privacy Policy here.
Marie chose a slightly heavier weight yarn and a 4.5mm hook with a few extra chains at the armhole to create this preschool age size for her daughter. The pattern works wonderfully with experimentation to get different sizes.
Get the free crochet pattern HERE.
Ask Marie about her project HERE.
Enjoy!
Many of you have written to me to ask how you can help support CrochetKim. A Patreon account was suggested but I thought it would be better to provide ad-free PDFs of my patterns so you would get something in return. I'm steadily working on adding PDFs to all my patterns and I've also made this compilation available at a discounted price. You can, of course, view, print, paste to a word processor, convert to PDF, etc. on your own. This is just an extra feature so that people help out, if they want. Thank you to all of you for your overwhelming support and kindness these many years. Enjoy!