Have you seen the new Red Heart Soft Essentials yarn? This is my first time seeing it. It's a bulky weight so projects will go quickly. Heidi has bulked it up even further by doubling up the yarn in this project. I've checked it out and there are only 76 stitches in each round in the body of the bag. 76 stitches! That means this is going to be a fabulously quick project that you'll finish in no time.
I especially like the color play that's going on with this bag. It's just genius to use a stripes and a solid like this. I love that the tote is so sturdy. I wonder if my local shop carries the yarn? I may have to make one of these this weekend.
Notice and Disclaimer: All crochet patterns written by Kim Guzman at CrochetKim are in US terms. All photos not copyright to Kim Guzman are posted with permission. This website contains affiliate links.
Read Privacy Policy here.
Pick up your free crochet pattern at Snappy Tots HERE.
MY LATEST VIDEOS
Visit Heidi on Facebook HERE or on her Ravelry page HERE.
Giveaway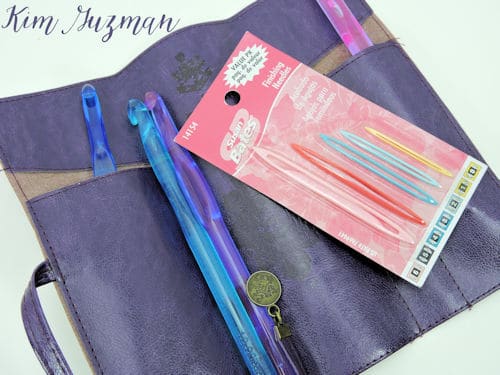 Open worldwide only where allowed by law. Void where prohibited.
I'll be giving away one faux leather crochet hook wallet, the 4-piece Red Heart Crystallite crochet hook set and the 5-piece finishing needle set (all shown). Please be aware that the hook wallet says "Twilight" in the scrolled portion. I don't know why. I don't think it has anything at all to do with the movies and I certainly never saw Bella with a crochet hobby. Perhaps it's a brand name, but it is pretty cool, especially if you also happen to be a fan.
One name will be chosen randomly from all names entered prior to close at 12:00am (CST) on April 18, 2017. The winner will be required to provide me with a mailing address. Leaving your email address is mandatory to enter. Choose any of the other options for additional entries. Good luck, everyone!
a Rafflecopter giveaway
You can rest assured that entering your email address for this prize drawing is safe. I won't use your email for anything except to notify the winners. You won't be signed up for my newsletter or anything else. The only way you can sign up for my newsletter is by actually signing up for my newsletter and then confirming your subscription through email. Nothing shady going on here.
Enjoy!
Many of you have written to me to ask how you can help support CrochetKim. A Patreon account was suggested but I thought it would be better to provide ad-free PDFs of my patterns so you would get something in return. I'm steadily working on adding PDFs to all my patterns and I've also made this compilation available at a discounted price. You can, of course, view, print, paste to a word processor, convert to PDF, etc. on your own. This is just an extra feature so that people help out, if they want. Thank you to all of you for your overwhelming support and kindness these many years. Enjoy!