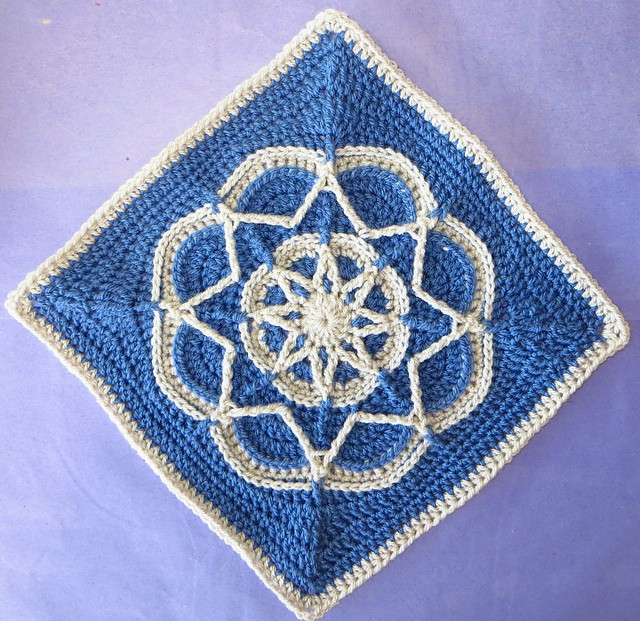 You guys don't know that Spirograph was one of my all-time favorite toys when I was little. I actually haven't thought about it in years. Before writing this, I had to window shop at Amazon for a little bit and I think it may be necessary for me to have another Spirograph set. Just sayin'. 🙂
This isn't the first time that a featured crochet pattern led me to buy something. ha! Remember, this design from Tamara of Moogly?
Notice and Disclaimer: All crochet patterns written by Kim Guzman at CrochetKim are in US terms. All photos not copyright to Kim Guzman are posted with permission. This website contains affiliate links.
Read Privacy Policy here.
Helen Shrimpton is the designer of this fantastic square that has made me walk down memory lane. Isn't it terrific?!
MY LATEST VIDEOS
Using a size 4 weight yarn, you should get about a 12″ square, 10″ if you use a size 3. Choose your favorite two colors for this geometric look or choose a different color for each round for more of a trendy mandala look.
This square is going to look absolutely amazing as an all-over repeat for an afghan. Imagine three or four different bright colors for the royal blue portion, but use one solid throughout for the neutral color. Seam them altogether and you've got an incredibly beautiful project!
Pick up your free crochet pattern download at Ravelry HERE.
If you would like to get to know the designer, please visit her Ravelry group HERE. This year, Helen hosted an incredibly gorgeous mandala crochet-along so she is readily available in her group.
Enjoy!
Many of you have written to me to ask how you can help support CrochetKim. A Patreon account was suggested but I thought it would be better to provide ad-free PDFs of my patterns so you would get something in return. I'm steadily working on adding PDFs to all my patterns and I've also made this compilation available at a discounted price. You can, of course, view, print, paste to a word processor, convert to PDF, etc. on your own. This is just an extra feature so that people help out, if they want. Thank you to all of you for your overwhelming support and kindness these many years. Enjoy!