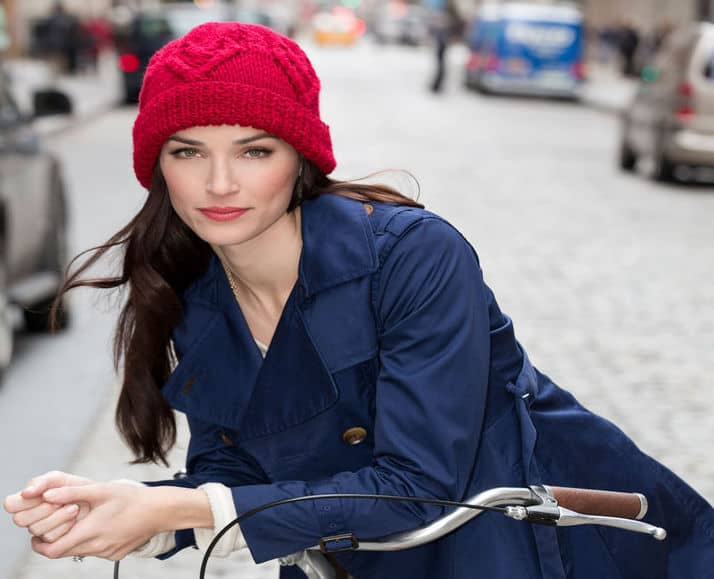 This brilliant hat is designed by Rebecca Venton and includes pretty cabled hearts around it. So clever! The cables here aren't difficult at all. They're not very wide so it would be very easy to make them without a cable needle. Unlike most cables which are usually 4, 6 or 8 stitches wide, these are only two or three stitches wide and a couple of stitch crossings aren't even. You'll have one stitch crossed over (or under) two.
I was able to find a terrific video from Linda of Purl Avenue to demonstrate knitting a small cable without a cable needle, which you can see below. Thank you, Linda! See Purl Avenue HERE for more of Linda's work.
Notice and Disclaimer: All crochet patterns written by Kim Guzman at CrochetKim are in US terms. All photos not copyright to Kim Guzman are posted with permission. This website contains affiliate links.
Read Privacy Policy here.
The hat is worked from bottom up and is worked flat then seamed. Although I wouldn't want to be the one to try to figure out how to make the hearts in a top-down variation, you can easily modify this to working in the round instead of flat for you DPN ninjas. Be sure to swatch since size 10 needles may be too big for your personal tension and feel free to use a smaller needle if you prefer a tighter rib at the beginning.
MY LATEST VIDEOS
The hat, as you might guess, has a very wide stitch repeat in order to make the heart. If you need a child size hat, you might simply decrease your stitch count by 17. If you need more fine tuning, you will want to plan out evenly-spaced increases between the hearts.
Pick up your free knit pattern download at Red Heart Yarns HERE.
Enjoy!
Many of you have written to me to ask how you can help support CrochetKim. A Patreon account was suggested but I thought it would be better to provide ad-free PDFs of my patterns so you would get something in return. I'm steadily working on adding PDFs to all my patterns and I've also made this compilation available at a discounted price. You can, of course, view, print, paste to a word processor, convert to PDF, etc. on your own. This is just an extra feature so that people help out, if they want. Thank you to all of you for your overwhelming support and kindness these many years. Enjoy!