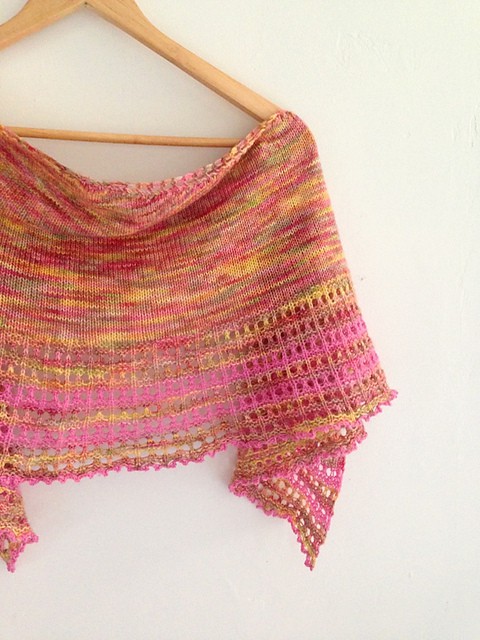 Cheryl of Little Church Knits has designed this beautiful semi-circle shawl in sock yarns from Manos del Uruguay and Regia. I was able to find both of these yarns currently available at LoveKnitting. I really needed to search a yarn source because my favorite part of this shawl is the incredible mixture of color. Who knew that orange and hot pink would look so amazing together?!
Let's take a look at the pattern. What I love about this construction is that you start off with a cast on of three. That's it. THREE. You'll increase by six stitches on every other row. The increases are yarn overs so you'll have little eyelets on the edges.
Once you've finished the solid section, you'll start with a darling little lace stitch pattern. I highly recommend this lace stitch pattern, even if it's your first lace. It's quick and painless. I promise.
While you could obviously stitch this entire beauty in one yarn, I really love what Cheryl has done by adding in the hot pink. It's an outstanding choice and complements the other yarn so perfectly that you would think they were made for each other. Simply gorgeous.
I really look forward to trying out the picot bind off Cheryl has used in her design and pattern. I've never done a picot bind off before and I look forward to giving it a try. It's a nice, decorative edge and will stretch perfectly in the blocking process. I've found a video to demonstrate this bind off on YouTube which appears to be exactly the same method described in Cheryl's pattern. (Thank you, Beth Richardson, for your video tutorial.)
Pick up your free knit pattern on Little Church Knits HERE.
See all of Cheryl's work on Ravelry HERE. Follow her on Facebook HERE.
Enjoy!