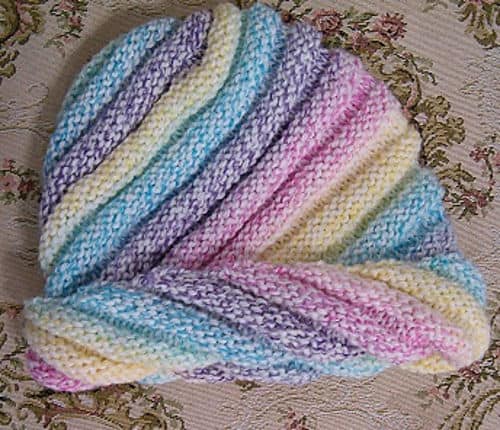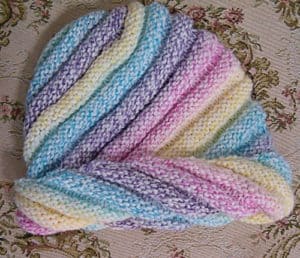 I love the look of this hat. The thing that really intrigues me about it is that it's a flat parallelogram. I kid you not. It's just a flat piece and you turn it into this fantastic hat. No DPNs were harmed in the making of this hat.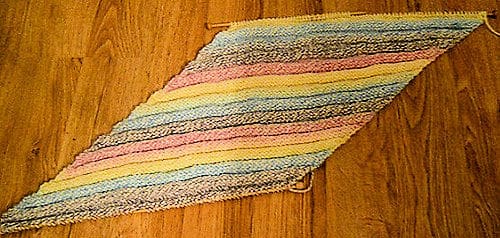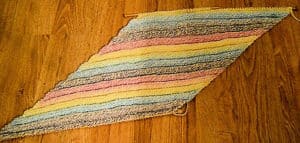 So, let's talk about the pattern. The first thing you will notice is, of course, the color striping. The yarn used here is Plymouth Colorspun. I've seen this in skeins and it looks like a variegated yarn to me. It's a pleasant surprise to discover that it's actually a self-striping. It's not one of the gradient striping yarns.
The color changes would be too far apart to get the same effect. Now that I know this about Colorspun, I'll definitely need to check it out. I love Plymouth yarns so I know I'm going to love this one.
The pattern recommends that you start your project with a provisional cast on. As scary as that sounds, it's just a crochet chain. You turn it over and pick up loops in the back horizontal bar of the chain as your cast on.
Why do we do that, you might ask?
It's because, when you pick up loops in the back horizontal bar, you can just "unzip" the chain when you get finished, removing it from the stitches which you will place on a needle. This allows you to painlessly seam the first row to the last row in kitchener stitch. Kitchener will give you a seamless look, like there's really no seam at all.
Now, let's talk about how to get those waves. It's really very easy and, for a beginner, you may be truly surprised at how easy it is.
To make them, you'll work in four rows of stockinette. You know stockinette already. You knit the right side and purl the wrong side. Easy.
You know how to get the waves? You simply start knitting the wrong side and purling the right side for four rows. I know what you're going to say: Mind. Blown. But, really, that's it.
Once you've seamed the first row to the last row, you'll just cinch up the top and boom! A hat is born!
Have a look at the video from Stitch Niche below for a complete class on the entire process of making your hat. Everything is covered from the cast on to the seaming.
Pick up your free knit pattern download at Plymouth Yarns HERE.
Enjoy!