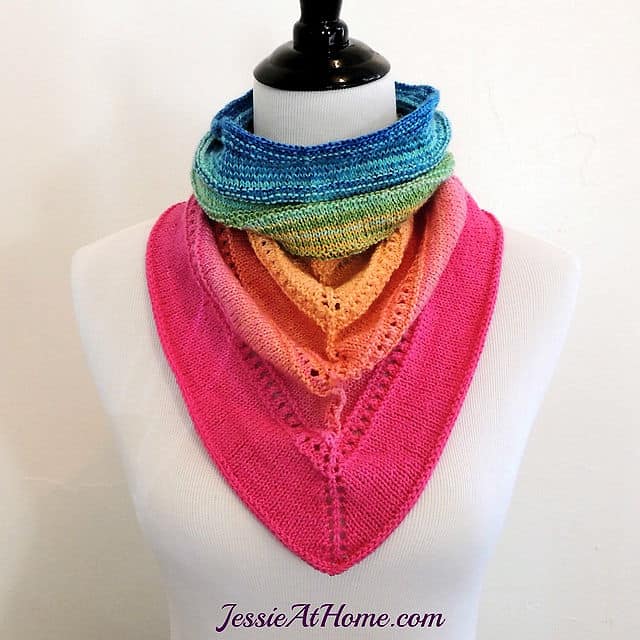 Bright, gradient yarns are so beautiful and this project suits them perfectly. Jessie Rayot of Jessie at Home has used two different fingering weight sock yarns for this project. I'm not sure that I've ever seen a project quite like this. If you take a close look, you've got a circular tube for the cowl, but there's also a point on it, resembling the point of a shawl. It's absolutely brilliant and I love it.
For this pattern, Jessie starts with the point, which is basically sort of a small shawl. I love that it includes garter stitch at the top. This portion has a center-out increase. If it turns out that you like it, there is no reason why you couldn't simply continue making a shawl like this, if you wanted. Jessie stops, though, because she purposely wanted the look of the center shawl drop in the front, without the worry of it falling off. So fun!
Once the triangle portion is complete, you will join it and pick up loops around the top side edge to work in the round. You will find that Jessie has provided the perfect technique of placing stitches evenly along the edges as well. This is a handy trick to have under your belt because this isn't the last time you will have to pick up and knit stitches evenly along the sides of your rows.
Once you have your stitches all picked up and on your circular needles, the tube is easy stockinette with intermittent garter stitch rounds. Super easy.
I know you'll want to get started on this right away to chase those winter blues away so I'll tell you that you will need about 800 yards of fingering weight gradient sock yarn. Jessie has linked to the two perfectly matched yarns she has used within the pattern, but you can certainly experiment with two of your favorite sock yarns I know you have in your stash already.
Pick up your free knit pattern at Jessie at Home HERE. This pattern is available to view, print or save at this link. If you prefer the designer to make a PDF for you, it is available for a minimal fee.
Enjoy!