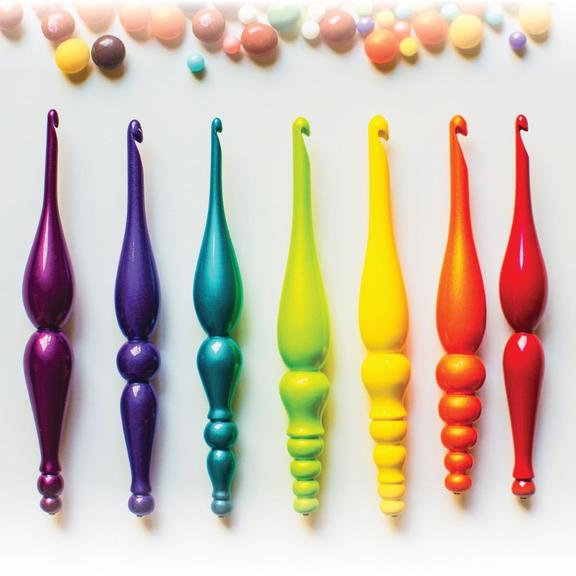 Many crocheters of all ages suffer from chronic pain from the repetitive motion of crocheting, but that pain needn't end your time with your hooks and yarn.
Instead, opt for an ergonomic crochet hook to improve your wrist and hand health.
In this article, we will examine the Furls Crochet Hook: what it is, why it is beneficial, the pros and cons of each model they offer, and much more.
Furls Fiberarts: Who and what are they?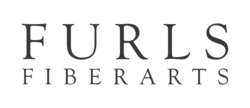 The Furls Fiberarts company was founded by Harrison Richards in his parent's garage when he carved his first ergonomic hook.
Since then, Furls has created six ergonomic crochet hooks and sent over 500,000 crochet hooks to over 94 countries.
Furls stand out because they provide an excellent product and incredible customer service. They offer each crocheter the opportunity to improve their hand and wrist health by researching the best shapes for a crochet hook.
Learn more about the Furls Fiberarts team here.
But what ARE ergonomics???
An ergonomic crochet hook is one that has been crafted to improve the overall comfort and productivity of the craftsperson. The improved shape helps prevent repetitive motion injuries and allows crocheters to stitch longer, with improved results.
Read our roundup of the best ergonomic crochet hooks if you want to see some other options.
How did I discover Furls hooks?
Storytime! Back in the dark ages of humanity – ok, about twelve years ago, I suffered an acute injury in both my hands.
As a musician, I spent countless hours each week practicing my instrument; as a customer service representative, I spent countless hours typing emails; and as a crocheter, I soothed the stress of life with countless hours stitching.
After experiencing excruciating pain in my wrists, my doctor demanded I rest my wrists entirely for at least two weeks. At the end of that time, I donated my yarn and hooks to protect my wrists from further damage.
Fast forward to the birth of my daughter, I wanted to make her a blanket, but my old injury flared with extended use. I began researching comfortable crochet hooks and stumbled across Furls.
I purchased my first Furls hook to complete a baby blanket. I cannot express my astonishment at the ease I experienced with my new hook. I was able to crochet for hours without pain!
What makes Furls hooks so comfortable?
Furls crochet hooks are comfortable for most crocheters because they consider the shape of the average hand and apply ergonomics to create the best tool for each craftsperson.
Furls hooks come in various weights, materials (i.e., wood, resin, metal, etc.), and hook shape. The combination of these features creates a crochet hook that almost any crocheter will love.
Shape
Furls hooks are designed to include a uniquely curved handle that fills the hand comfortably, providing a thicker place to grasp the hook for more comfortable maneuvering.
The most commonly used hook sizes range from G/4.00 mm to J/6.00 mm. Those are small measurements for a hand to grasp for hours on end.
With continued muscle strain from grasping the tiny hook, many crocheters experience repetitive motion injuries. However, when the hook's handle is increased, the hand is better supported, reducing muscle strain.
Weight
Furls offers several different hook weights from their lightest, the Streamline series, to the heaviest, the Odyssey series.
Lightest
The Streamline Wood series is the lightest weight and is incredibly easy to work with. This series is one of their most popular because any crocheter can easily adjust to working with these lightweight hooks.
The Middle Ground
The Streamline Swirl crochet hooks are slightly heavier than the wood series but are still incredibly comfortable and easy to use.
Heaviest
The Odyssey series, on the other hand, is often considered heavy for a crochet hook. However, with that weight comes a balance between both ends of the hook to provide a smooth and relaxing experience. Some people find that the Odyssey hooks take a little more "getting used to" before seeing their full benefits.
Material
Wood
The Furls Streamline and Alpha hooks are made from a variety of woods. Each wood hook is sanded smooth and finished with a clear polish.
Personally, I adore my wood hooks from Furls. I've never had an issue with the finish wearing thin or the wood splintering and catching my yarn.
These wood hooks are best for slippery yarns since wood naturally tends to have a little more grip. Wood hooks in sizes under G/4.00 mm can be prone to breaking.
Resin
The Streamline style of hooks is available in resin, a high-quality form of plastic.
These hooks are not your average plastic. Each one is finished beautifully, with no visible seams or burs. The resin is firm, without bending even at the narrowest point of the hook.
Plastic hooks tend to have a little more grip and sometimes squeak on acrylic or cotton yarns.
Metal
The Odyssey crochet hook is nickel-plated pewter, providing extra weight in the smoothest of hooks. The weight of the metal can be off-putting to some.
Hook Shape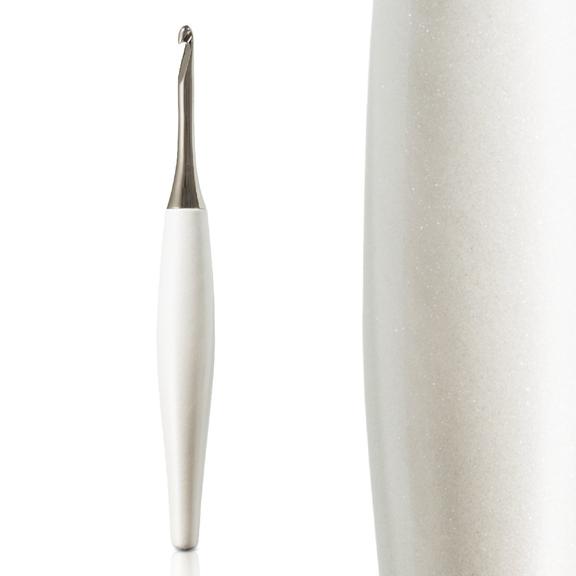 Most crocheters are familiar with tapered or inline hooks. The standard tapered hook looks like a Boye, while the inline hook mimics the Susan Bates hooks.
Furls Fiberarts hooks have a hybrid hook head, but some are more tapered, and others more inline.
Furls Hook Range
Furls Fiberarts offers six lines of ergonomic hooks. Each line possesses unique details to create a stunning, luxury tool for any crochet craftsperson.
Streamline Wood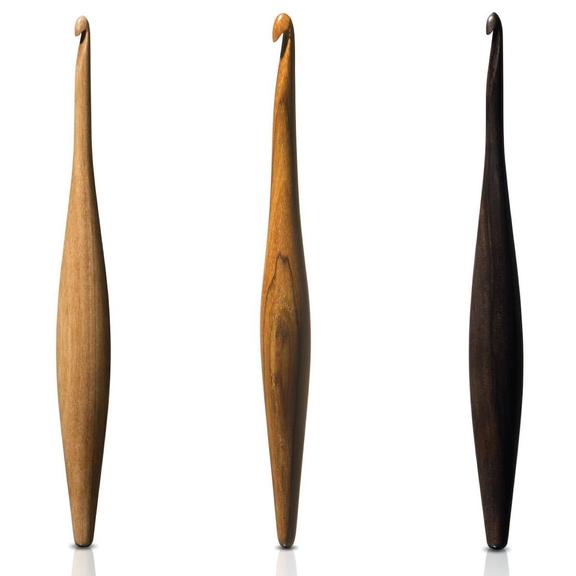 The classic Furls crochet hook (and the first one I purchased) is the Streamline Wood series.
This hook is their most affordable option, at $18.50 per crochet hook. This lightweight hook is polished to perfection, providing the naturally porous wood a smooth, even glide.
Wood hooks tend to have more grip than plastic or metal, so they are perfect for silk, nylon, and bamboo fibers.
The Streamline Wood is a hybrid hook head, bringing the best qualities of both the inline and tapered hook styles, making this the easiest hook to adjust to if you haven't used an ergonomic hook previously.
The wood hook is available in a full range of sizes, from D/3.25 mm – P/10.00 mm; however, I do not recommend using a wood hook under G/4 mm, especially for a tight stitcher, since the porous nature of wood carved to such a thin measurement makes them prone to breaking.
Pros
Lightest weight
Wide range of sizes
Hybrid hook head
Cons
Smaller sizes break easier
---
Streamline Resin
The classic Streamline hook shape is also available in resin.
These resin hooks are made from cosmetic-grade resin and pigments, which are hand-poured into a mold. They are then turned on a lathe to carve the beautiful and unique shape.
The Streamline Resin hooks mirror their wooden counterparts but are slightly heavier.
Each of the twelve color choices comes to you completely unique due to the handmade quality – no two hooks are the same!
These beautiful hooks come in a smaller size range, G/4mm – P/10mm, a higher price range, and are prone to squeaking.
Pros
Lightweight
Stunning colors
Hybrid hook head
Cons
---
Odyssey
People seem to love or hate the Odyssey hooks based on what I've seen in crochet Facebook groups.
Personally, the Odyssey is my favorite for almost all projects. The Odyssey hook is heavier than any of the other crochet hooks produced by Furls. Still, the weight is so evenly balanced throughout the tool that instead of creating tension, it allows me to relax into my stitches and allow the hook's momentum to carry the weight of working.
The smooth nickel finish glides through any yarn. The Odyssey crochet hooks are available in the widest range of sizes offered by Furls, B/2.25mm – P/10.00mm.
Due to the strength of the metal, I recommend this hook for the smaller sizes, especially for amigurumi.
While this is my favorite hook, it is not a one-size-fits-all. Many complain that the added weight exacerbates their hand and wrist pain, while many insist the weight helps.
At $36.00 per hook, maybe wait until they go on sale before splurging.
Pros
Smoothest stitches
Wide range of sizes
Strong for tight stitches
Cons
Heavier than most crochet hooks
---
Candy Shop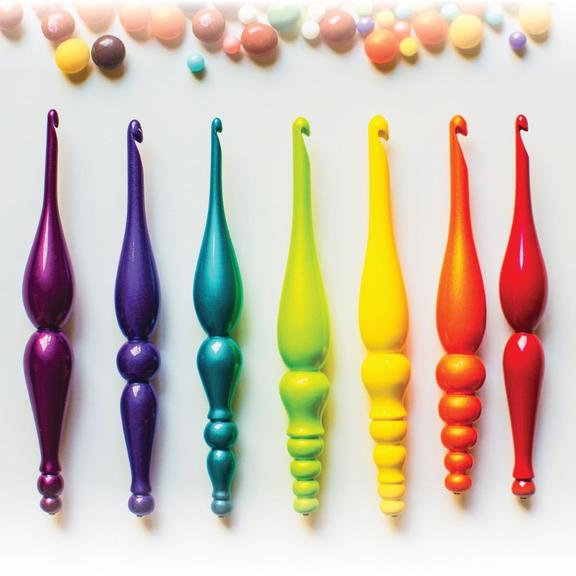 While I don't currently own a Candy Shop hook, these lighter than wood PolyResin hooks are on my wishlist!
Each hook is coated with a bright, sparkly sports car finish and several layers of clear coat.
These hooks are pricey, at $52 each, and are offered in a narrow range of sizes and colors. Each color is uniquely shaped, so each hook in the series is slightly different.
I worry that the ridges caused by the shape of the hook will create uncomfortable pressure on my fingers as I grip the hook. I've also heard complaints that the 5.75" length of the hook is too short for the average hand.
For comparison, the Streamline series is a full 7" long. The Candy Shop hooks feature the classic hybrid shape of the inline and tapered hooks but lean a little more toward the inline family if that is your preference.
Pros
Uniquely beautiful
Lighter than wood
Smooth stitches
Cons
Short length is uncomfortable for some
---
Alpha
This is where it all began! The Alpha hook is the first one hand-turned by Harrison so many years ago. To this day, each Alpha hook is handcrafted from start to finish.
This hook is the epitome of luxury crocheting, from the ethically sourced exotic woods to the professional, hand-turned finish.
At $84 per hook, the Alpha series is one to treasure. I recently acquired my first Alpha hook, but I have to admit, I rarely use it. I find the inline hook head slightly obnoxious since I prefer tapered hooks.
The edge of the hook itself often caught my yarn, causing splits, slowing my crocheting progress. I feel like the Alpha crochet hooks are beautiful but are definitely not for everyone.
Pros
Ethically sourced
Handcrafted
Smooth stitches
Cons
---
Limited Edition
Furls Fiberarts also offers a series of Limited Edition hooks. Each hook in this series is unique. Only a few are made, and once they are sold, they are gone!
They range in price from $129 – $189, making them the perfect gift for a special occasion.
Occasionally, a limited edition hook will make a comeback, but as a general rule, if you see one you love, it might not be available for long!
Pros
Very limited and unique
Handcrafted
Beautiful gift
Cons
---
Final Thoughts
Personally, I think every craftsperson should invest in quality tools.
With the right hook, you can create a masterpiece in comfort. Hand and wrist health is of the utmost priority to Furls Fiberarts, so much so that each of their hooks is backed by a $500 hand health warranty.
I believe the investment I have made into purchasing the Furls crochet hooks has improved my productivity as a maker and deepened my appreciation for my craft.
Related
Want more hooks? See our general guide to the best Tunisian crochet hooks.