The Kenzie cowl showcases two different weights and types of yarns for a truly unique look.
It introduces the use of a double-ended hook to learn Tunisian crochet in-the-round in a spiraling technique. It is worked in continuous rounds and there are no seams.
Kenzie Cowl
designed by Kim Guzman © Oct. 2016 (rewritten and republished from original publish date of Oct. 2012)
Please read my Terms of Use
Technique: Double-Ended Tunisian Crochet
Finished Size
approx. 12" x 40" circumference
To increase the circumference of this project, add 15 chains to starting chain for an increase of 4".
This item is stretchy and will fit a range of sizes, but for an exact look as shown, you may need extra circumference for size large or above. I recommend a starting chain of 180 for a larger size, which produces a 48" circumference.
Remember that even as the bust and belly will grow for a larger size, our shoulders change very little. This increase may require an extra hank of the Alpaca Silk.
Materials
Color A: Blue Sky Fibers' Alpaca Silk (3 oz/50 g/133m, 146 yds): 2 hanks #143 papaya
Color B: Rowan's Kidsilk Haze Stripe (50 g/425m, 465 yds): 1 ball #205 Circus
Suggested hook size: Size 8mm [US L-11] double-ended Tunisian Afghan Hook (10" hook recommended but any length can be used)
Needle (for weaving ends)
Stitch marker (optional)
Gauge
In stitch pattern, 15 stitches for 11 rows = 4".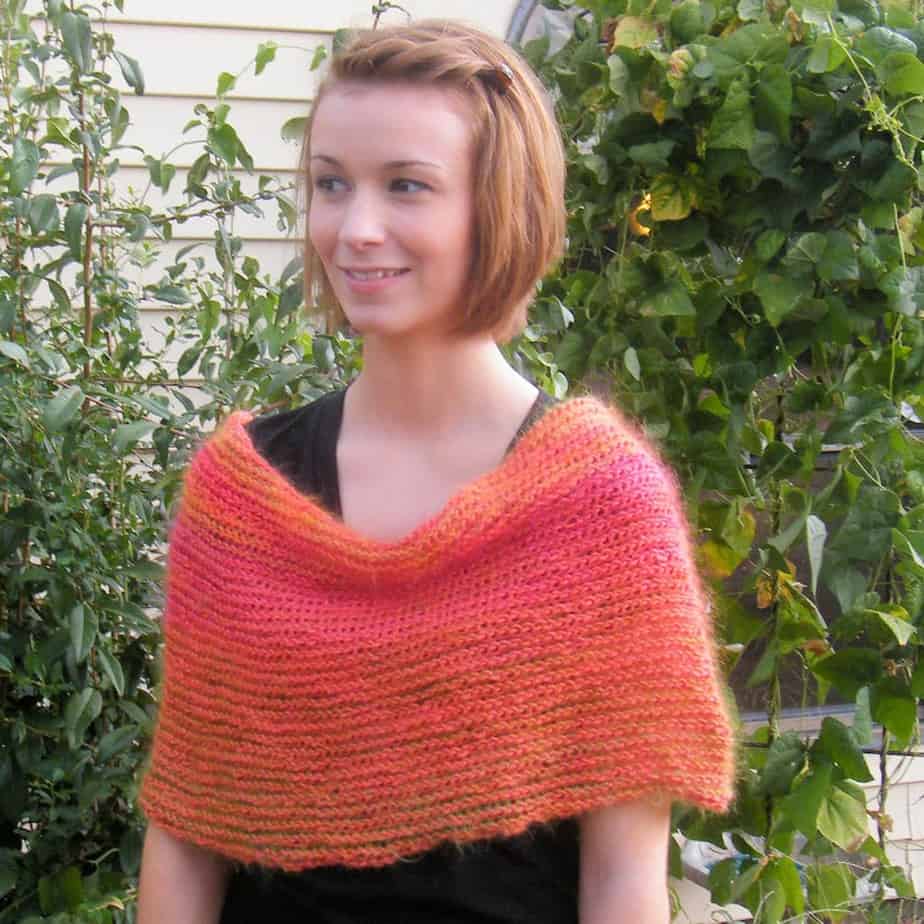 Special Stitches
Modified Tunisian Simple Stitch (mod-tss): Insert hook under front vertical bar of stitch and in top horizontal bar of closing chain behind it, yarn over, pull a loop through. Right-Handed Video | Left-Handed Video
Other Abbreviations
ch=chain; lp(s)=loop(s); sk=skip; st(s)=stitch(es); yo=yarn over
Other Helpful Videos
Tunisian Foundation Row: Right-Handed Video | Left-Handed Video
Mardi Gras Cowl: This is a separate project on my website in double-ended technique. Review it to familiarize yourself with the technique itself. The stitches are different, but the concept and technique is the same. Each video has two parts. Right-Handed Video | Left-Handed Video
Variation
If you are familiar with the mobius technique, this design can easily be worked in this way as well so you will have the little twist that you can wear in the front or back, as you desire.
Instructions
Foundation Row
Step 1: With A, ch 149, drop A, with B, pull up one more ch, sk 1 ch (the one made with B), continuing with B, insert hook in back horizontal bar of next ch, yo, pull lp through, *insert hook in horizontal bar of next ch, yo, pull lp through, repeat from * only until you have enough lps to comfortably fill the hook. Do not work all the way across the entire foundation chain.
Step 2: Turn your work to begin working with the opposite hook. Push the lps toward that opposite hook. Now with A, ch 1 to close the first lp. [Yo, pull through 2 lps on hook] across, closing each st up to the last 2 or 3 sts. Always close to the last 2 or 3 sts. Closing all of them will cause a loss of tension and you can lose stitches.
Step 3: Turn your work to begin again with first end of the hook. Push the lps toward that hook. Continue pulling up lps as for Step 1 until the lps comfortably fill the hook.
Step 4: Turn your work and close the lps up to the last 2 or 3.
Repeat the steps until you have worked completely across the chain. Close all up to the last 2 or 3 lps. At the end of the foundation row, you will have 4 total lps on your hook—1 of Color A and 2 (or 3) of Color B.
Join
Form a large circle with the Foundation Row of your work, being very careful that there are no twists. Bring the first stitch close to the last stitch. To form a tube, begin stitching into the next stitch. (optional moebius) To form a moebius, twist the edge one time 180 degrees.
Grasp the edge of the first stitch, place the ends together and work mod-tss in the first stitch of the Foundation Row. If you like, mark this first stitch with a stitch marker to keep your place.
If this is difficult to envision, imagine that you have worked one row of single crochet for something circular like a hat. Once you've completed the row, you will join the first stitch to the last stitch. However, for a moebius twist, you will need to simply twist one side of the row 180 degrees. Just one little twist.
Working in A Spiral
Step 1: Working in mod-tss (see Special Stitches above), pull up lps only until they will comfortably fill the hook as for Step 1 of Foundation Row. Do not ever go around the entire round, even if you have a cabled double-ended hook and they will fit. If you go too far, you're going to be knitting. Knitting is beautiful as well. It just won't be the same.
Step 2: Turn your work and close the lps up to the last 2 or 3. Always leave 2 or 3 sts.
Continue working Steps 1 and 2. You will work around and around and around. If you have decided to use a stitch marker, move it up as each round is completed. I chose not to use a stitch marker and simply worked to the specified height. In truth, it will never matter if one side of your cowl has one round extra than the other side. No one will ever notice. It's really unnecessary to be so careful with marking your rounds.
Continue working in one continuous spiralling round in mod-tss until piece measures 12" high or until desired height or until yarn ends.
Bind Off
Once you've reached the height you desire, you will need to bind off all the stitches. To begin, work off all loops on your hook except one loop of Color A. This is the only time you will close all loops (even the last 2 or 3 that have always remained previously).
You will bind off in Color A. While there is one loop on your hook, insert hook as you would for mod-tss, yarn over and pull loop through, but pull it through the loop on the hook as well. You are creating a slip stitch with a mod-tss insertion. Keep in mind that it's just a slip stitch and it will be easy to do. Slip stitch around the entire project with mod-tss insertion. Fasten off.
Finishing
Once complete, use a yarn needle to weave in all ends. Block as desired.
Pin It