Here are the finished fingerless mitts in Red Heart's Hopscotch yarn. I designed these with a thumb gusset for a better fit. I love them! They are super stretchy, by working slip stitch in the back loops only.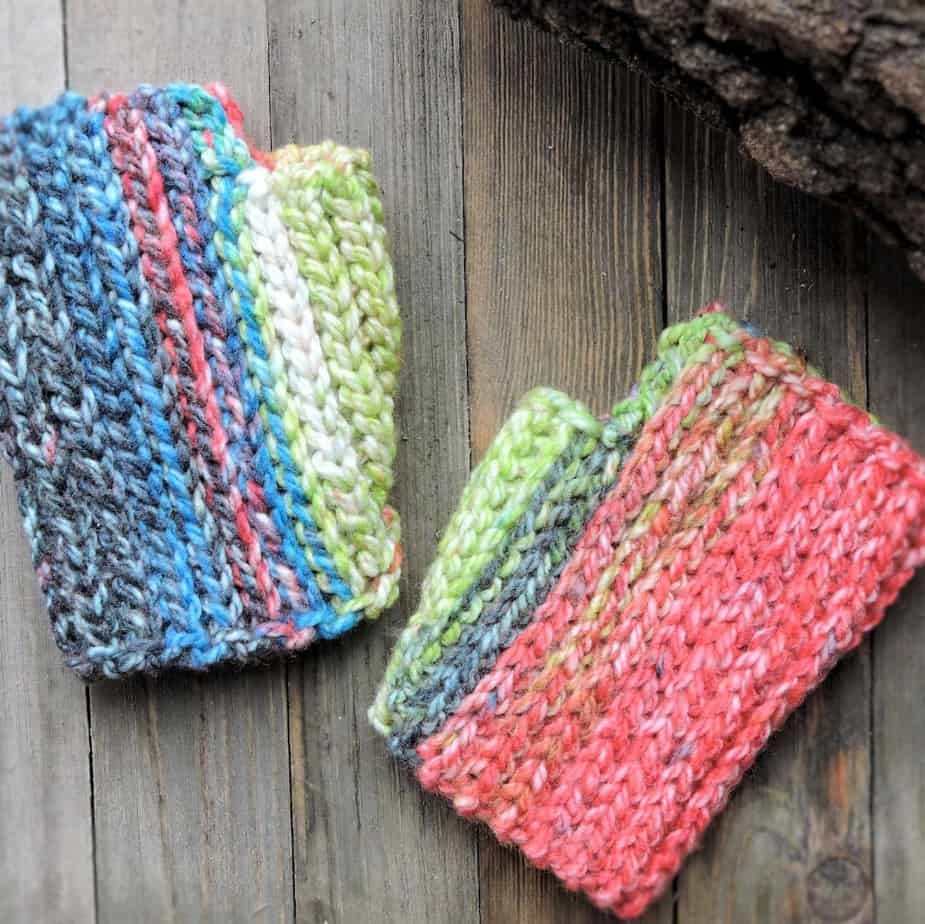 Last Minute Hopscotch Fingerless Mitts
designed by Kim Guzman © Jan. 2019
Please read my Terms of Use
Technique: Regular Crochet
Finished Size
Adult (and teen) XS/S with M/L in parenthesis
Flat Measurements
Widest point (with thumb): 8″ (9″) across
Across the bottom (without thumb): 6.25″ (7″) across
Full height: 5.5″ (6.5″)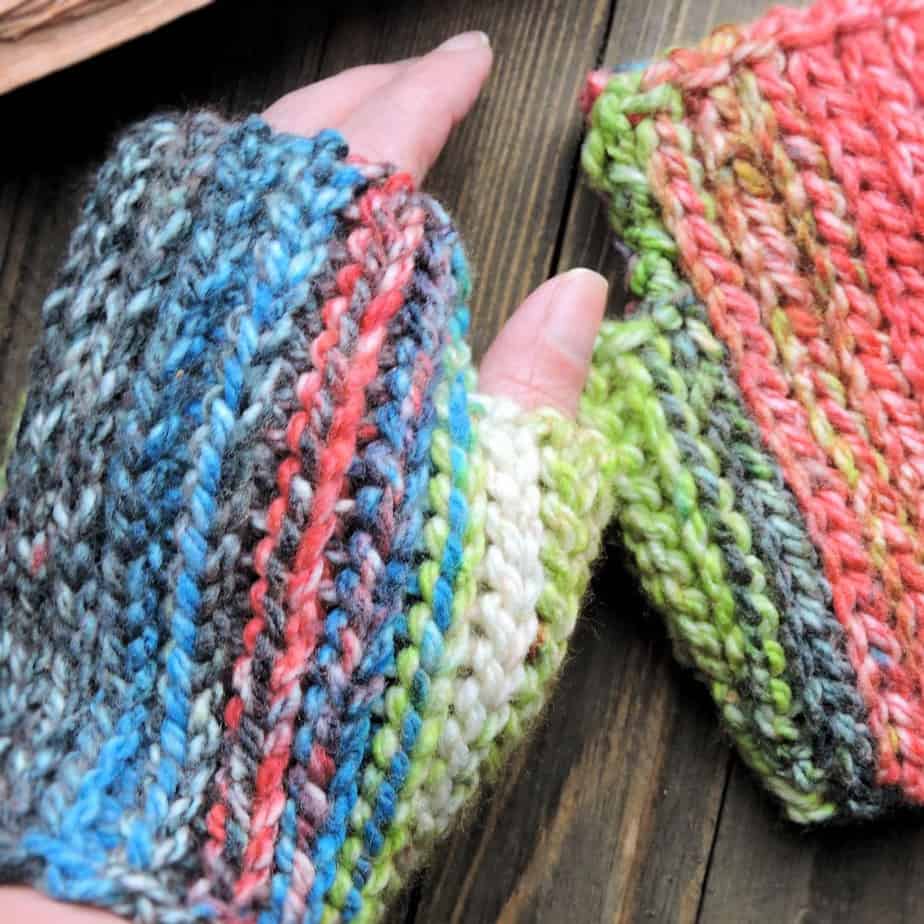 Materials
Red Heart Hopscotch* (100%, 210 yards per 4 oz): approx 90 (100) yards required (shown in color Bicycle)
Suggested hook size: N-13 [9mm]
Needle (for weaving ends and seaming)
*Yarn Note: Although this yarn is classified as aran weight it feels like this is bigger than aran and I would call it a light bulky. You can use an aran or worsted, but you will need to add a few extra stitches and rows.
Thank you to Red Heart Yarns for providing the yarn used in this project.
Notes
The way these mitts are worked, there is a lot of stretch from side to side. They are intentionally worked the same or smaller than actual hand measurements. The mitts are made flat and seamed.
There is no turning chain. It isn't necessary for this stitch pattern.
Be careful to count your stitches on each row until you are accustomed to working in every stitch. It is easy to lose stitches until you become comfortable.
You will be intentionally working loosely throughout. It may appear very loose at first, but that is the intention and it won't look at all loose once you get several rows worked.
Tip: The shape of the unseamed mitt may make it difficult to visualize how to seam it. Fold around your hand to better see the shaping prior to seaming.
Gauge
15 sts for 19 rows measures 4″
Crochet Pattern Instructions
Row 1: Ch 20 (24), working in back horizontal bar of each ch, sl st across, turn: 20 (24) sts. (You will not be skipping a stitch at the beginning; you work directly into the first chain.)
Row 2: Working in back lps only, throughout, sl st in each sl st across, turn: 20 (24) sts.
Rep row 2 until project measures 6.25″ (7″) [approx. 30 (34) rows]. Do not cut off.
Thumb Gusset
Row 1: Working in back lps only, throughout, sl st up to last 4 (6) sts, turn, leaving last 4 (6) sts unworked: 16 (18) sts.
Row 2: Sl st up to last st, turn, leaving last st unworked: 15 (17) sts.
Row 3: Sk first st, sl st across, turn: 14 (16) sts.
Rows 4-11 (13): Rep rows 2-3. 6 (6) sts on final row.R
Row 12 (14): Sl st across in each st and stepping down as you go, into each of the unworked sts from prior rows: 16 (18) sts. Cut off.
Finishing
With yarn needle, seam the first row to the last row for the thumb and seam the remaining stitches for top of mitt, leaving thumb hole open. Weave in ends carefully.
Pin It: