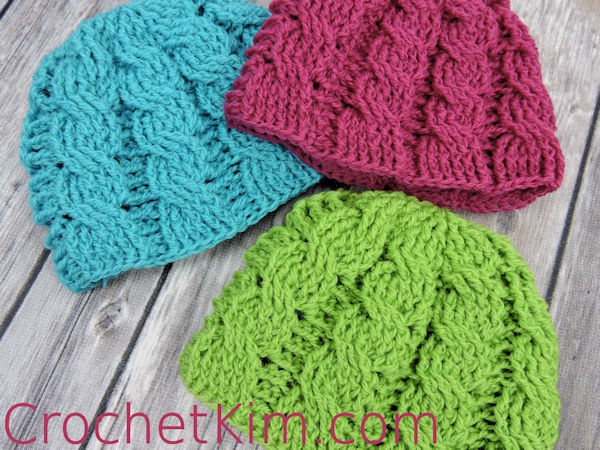 20 years ago, when I first started designing, I remember that most all baby clothing, booties, hats, sweaters, etc. were all made in baby yarn. This means the finer yarns: fingering weight and sport weight. I remember there being a big thing about Annie's Attic or Leisure Arts releasing a book of baby clothing in worsted weights. Everyone just freaked! "You can't put a baby in heavy yarn like that, they'll overheat!" was what I heard quite a bit over that book.
These days, almost everything I see is in worsted or aran weight yarns. What's changed? Do babies no longer overheat? I still occasionally see someone post a question because the adorable dress they made for their baby makes her sweat a swimming pool.
Notice and Disclaimer: All crochet patterns written by Kim Guzman at CrochetKim are in US terms. All photos not copyright to Kim Guzman are posted with permission. This website contains affiliate links.
Read Privacy Policy here.
Something has definitely changed in our patterns in the last 20 years and I'm not absolutely certain that it's been for the best. You guys still go crazy over the fine weight patterns you see from Russia and South America and you still lament that we don't get those kinds of patterns here. Just this morning, I saw someone post a pattern request for a thread dress and, even if it was found, I'm sure that it won't be worked in thread and then there will be confusion about why it's not the same.
MY LATEST VIDEOS
I can't be absolutely certain what happened to our patterns in the US. Do Americans no longer have the time to make baby things with finer weight yarns and they've started making them in heavier weights solely because of that lack of time? You can browse some baby patterns from other parts of the world and see that they're still using fine weights for baby. I know that the craft stores here in the US have almost completely stopped selling fine weights because no one is buying them.
It may be a mystery that I'm never able to solve, but it's certainly not something we need to continue to adhere. I've designed several things in finer weights for baby and it's not because I'm trying to break rules. I just think it is more practical for baby. Here's your chance to give it a try with these fabulous beanies!
I've used Cascade Fingering Weight yarn. Cascade is a wonderful yarn and is available at yarn shops or you can purchase it online easily. One hank of this yarn is only $4.75 at Webs. I used the same balls of yarn that I used for the Jersey Mitts free crochet pattern AND the Turquoise Mandala Hat free crochet pattern from my website too! One ball of yarn goes further than expected. You can see all of my free patterns in Cascade Fingering HERE (including the new Newborn Cable Beanie shown above).
I strongly encourage you to try out some finer weight yarn at least once. You may fall in love with it just as much as I have.
Many of you have written to me to ask how you can help support CrochetKim. A Patreon account was suggested but I thought it would be better to provide ad-free PDFs of my patterns so you would get something in return. I'm steadily working on adding PDFs to all my patterns and I've also made this compilation available at a discounted price. You can, of course, view, print, paste to a word processor, convert to PDF, etc. on your own. This is just an extra feature so that people help out, if they want. Thank you to all of you for your overwhelming support and kindness these many years. Enjoy!