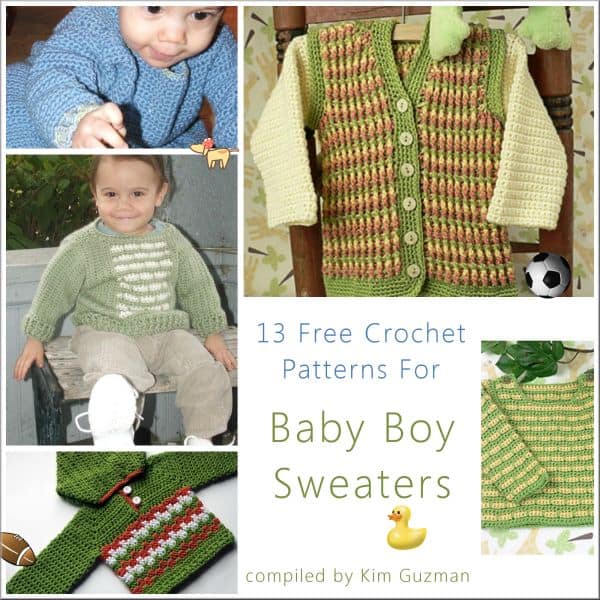 I know you want some baby boy sweaters and there really are some free ones available!
1. Baby Jogging Suit by Kim Guzman of CrochetKim
Notice and Disclaimer: All crochet patterns written by Kim Guzman at CrochetKim are in US terms. All photos not copyright to Kim Guzman are posted with permission. This website contains affiliate links.
Read Privacy Policy here.
2. Baby Pullover by Kim Guzman of CrochetKim
MY LATEST VIDEOS
3. Striped Crochet Cardigan and Hat by Gail Tanquary
4. My Little Man Baby Sweater by Mandy Nihiser
5. Versicolor Pullover by Kim Guzman of CrochetKim
6. Devon Striped Pullover by Kim Guzman of CrochetKim
7. Turning Stone Baby Hoodie by Kim Guzman of CrochetKim
8. Leaping Crochet Baby Hoodie by Tamara Kelly of Moogly Blog
9. David Peacoat by Melissa Mall
10. Baby Hoodie by Michele Maks of Coats & Clark
11. Every Day is a New Day Sweater from Yarny Days (web archive link)
12. Sue's Hexagon Sweater from Needle Workers Room
13. Sweet Potato Baby Sweater by Erica Jackofsky
Enjoy! 🙂
Many of you have written to me to ask how you can help support CrochetKim. A Patreon account was suggested but I thought it would be better to provide ad-free PDFs of my patterns so you would get something in return. I'm steadily working on adding PDFs to all my patterns and I've also made this compilation available at a discounted price. You can, of course, view, print, paste to a word processor, convert to PDF, etc. on your own. This is just an extra feature so that people help out, if they want. Thank you to all of you for your overwhelming support and kindness these many years. Enjoy!