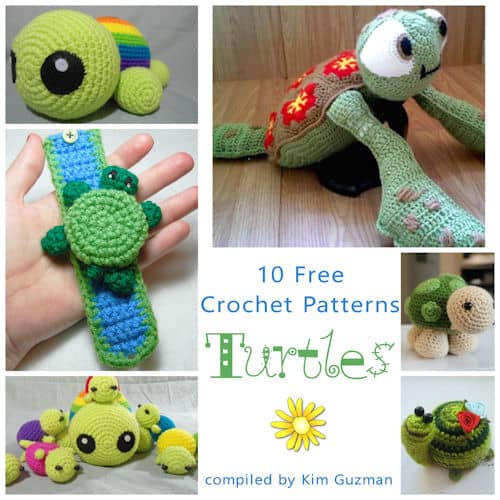 10 Fabulous and free crochet turtle patterns for your enjoyment! From sea turtles to gorgeous rainbow bay turtles you're sure to find something to inspire!
Crochet Turtle Patterns
Shown (left to right, top to bottom)
1. Rainbow Mama Turtle from Duchess' Hands (scroll down for mama)
2. Sea Turtle from Brandi Isham
3. Turtle Cuff Bracelet by Karla Fitch
4. Rainbow Baby Turtles from Duchess' Hands
5. Sheldon Turtle from Little Muggles
6. Luck Turtle from Amigurumi Fair
Not Shown
7. Turtle Coaster from Melody's Makings (carefully read the instructions for your pattern download)
8. Sea Turtle Tote Bag by Sarah Zimmerman for Yarnspirations
9. Tortoise for the Innocent Big Knit by Val Pierce
10. Tessa the Turtle from Crochet Ever After
We hope you enjoyed these free crochet turtle patterns and please get in touch if you want to be add your pattern to this roundup.