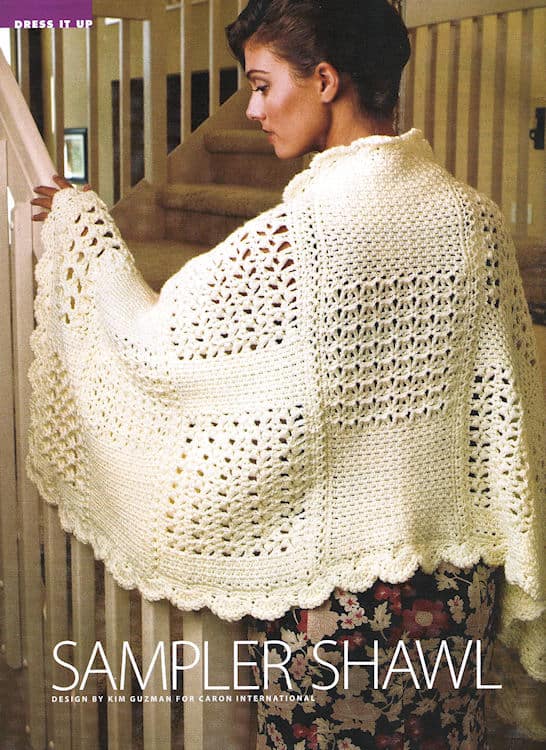 Sampler Shawl
designed by Kim Guzman
Technique: Regular Crochet
The Sampler Shawl was originally published in Crochet! magazine in the January 2009 edition. After about a year, the rights reverted back to Caron yarns and they posted it on their website as Aran Wrap. After Spinrite purchased Caron yarns, the pattern was moved to Yarnspirations. With all that moving around and republishing, there are bound to be mistakes here and there. Here is errata to help out with the pattern.
Hook Size
Note that the hook size has been omitted from the PDF. Suggested hook size is I (5.5mm), but it may be necessary to go up to a J or K to meet gauge.
Errata
In Strip 2, row 42 ends with a row 28 repeat. Row 43 should read as follows:
Row 43: Ch 1, sc in first sc, ch 1, sk dc, sc in next ch-1 sp, [ch 1, sc in next ch-1 sp] across, ch 1, sc in last st, turn.
For Pattern Writers
After looking at this pattern, I realize now what happened and why my instructions were changed. I'm noting this information here for pattern writers as my learning experience.
In this pattern, I have the following:
Rows 30–42: Repeat Rows 28 and 29.
Believe it or not, that was the cause of the change in row 43. It looks so innocent, doesn't it? What the tech editor didn't notice is that this repeat ends with a row 28 (not row 29). When she decided that it ended with row 29, she tried to "fix" row 43, never realizing her mistake. Row 43 should have never been changed.
Now, for the pattern writers: Here is the way I should have written this instruction so that there would have been no confusion or "fixing."
Rows 30-41: Repeat Rows 28 and 29.
Row 42: Repeat Row 28.
See that change? I've made it very clear that the repeat ends with a row 28. Either way is obviously correct but, the second way would have been more clear for the tech editor and she wouldn't have changed row 43.
Just to be clear, this was a super easy mistake to make. I completely get it. When I pulled out my yarn tonight and tried to find this error, I made exactly the same mistake at first. I'm just providing this information because it's helpful to pattern writers to know where to look for mistakes and how to deal with them or, alternatively, how to avoid them.