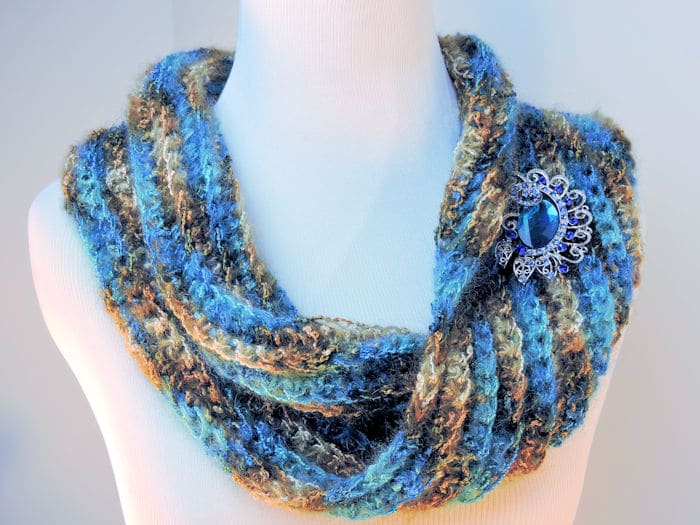 Sea Bling Cowl
designed by Kim Guzman © Nov. 2014
Please read my Terms of Use
Technique: Regular Crochet
Finished size
15 x 7″ measured flat, after seaming
Materials
One hank "La Boheme" from Fiesta Yarns (165 yards) (shown in color Taos)
Suggested hook: L-11 (8mm) (or size to meet gauge)
Gauge
11 sts x 12 rows measures 4″ square
The key with this project is a loose tension. You aren't trying to make an afghan or a doily or amigurumi. You want loose and you want drape.
Skill Level
The actual pattern has a skill level of "Just About The Easiest Thing You'll Ever Make". The particular yarn used will increase the skill level just because it's something more unique with unique properties.
Yarn Information
According to the Fiesta Yarns website, La Boheme is one of their most popular yarns and it has been for over 30 years.
It's a luxury yarn. It's the kind of yarn that you find at a local yarn shop and covet. You just want to take the hank of yarn and wind it around your neck and call it a cowl. It really is *that* pretty.
But, it's also the kind of yarn that you may only want to buy one hank. It's on the expensive side. This is why I designed this project. I am one of those people who bought one hank of La Boheme. It was so amazingly beautiful that it had to come home with me.
This gorgeous yarn comes with its own set of rules. I suggest that you put it on a chair back or swift then wind it by hand into a ball. It didn't play nicely with the yarn winder.
Take note that it is two strands together, not plied. You have to use care and wind it into a ball lovingly. When crocheting with it, always work loosely. If the mohair gets sticky, put it in the freezer for awhile. Ha! I'll bet you never heard that one before. 🙂
This yarn is listed as an aran weight. But, the tension is loose. I can't stress enough that you want a loose tension. Relax and enjoy the beauty!
I was really surprised to hear that this yarn was discontinued. After being so popular for so long, it comes as a shock.
You will probably still be able to find some hanks of it available at local yarn shops. And, you can use any aran weight yarn you like. I really recommend some aran yarn with a bit of bling and a bit of a halo because it really is lovely when used in this pattern.
The yarn is still very much readily available, though. Just do a Google search for it and you'll find lots of vendors.
For example here is a seller on Etsy.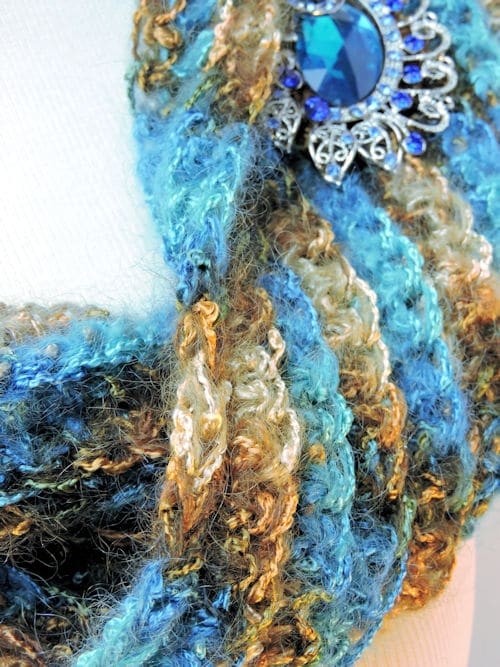 Pattern Note
In order to achieve the look of this stitch pattern, I had to work the project flat then seam. I could not achieve the same look when working in the round.
When working a project in all back loops, I will usually work the last stitch of the row under both loops because that last stitch gets a little loopy. You can feel free to use this technique as well, if you like.
The goal is to achieve a flat piece of fabric of about 31″. Feel free to add or deduct the number of stitches to start in order to achieve this measurement.
Crochet Pattern Instructions
Row 1: Ch 85, sk first ch, sc in each rem ch, turn–84 sc. (I used a foundation single crochet so please feel free to use a foundation single crochet, if you prefer. You'll just need to end with 84 sc.)
Row 2: Ch 1, working in back loops only, sc across, turn.
Rows 3-21: Rep row 2 (or until desired height), fasten off, leaving about 15″ of yarn for seaming.
Assembly
Form a ring with your fabric by placing your cowl row-to-row. Take one side of the fabric for the cowl and turn it upside down. This will form the moebius twist. Note that the beginning yarn strand and the ending yarn strand will now be together. With yarn needle, seam the ends of the rows together. Weave in the ends carefully and it's ready to use!