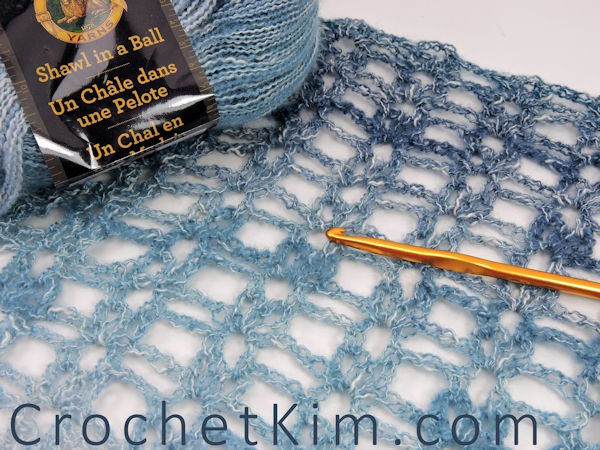 I recently needed to purchase some yarn for a baby blanket I had in mind. I wanted some more of the Lion Brand Ice Cream yarn that I used in the Patchwork Baby Blanket HERE.
While I was browsing the Ice Cream yarn, I happened to notice this new Shawl in a Ball yarn, also from Lion Brand. I decided to purchase two balls of it in addition to the Ice Cream.
I wasn't really sure about the yarn. It states on the packaging "shawl in a ball" which means that you're supposed to have enough to complete a shawl. With just over 500 yards of yarn, I wasn't sure at all that I could get a crochet shawl out of it. My shawls are usually at least 600 yards. So, what did I do? I bought two different colors, thinking that I could combine them if I needed.
My challenge was to make two complete full-size shawls out of these balls of yarn. No cheating.
When I received the yarn, I decided to look at it as a challenge. I've been challenged many times by editors and publishers in my 20-year designing career. Why not give myself my own challenge for a change? As the designer, I get to be the guinea pig. I'm the one who tells you how much yarn you'll need for a project. It's my job. So, off I went to design and create two shawls, each only with 500 yards of yarn.
I knew there would be some requirements. I needed a loose tension. I needed a stitch pattern that didn't involve textured stitches. I needed lots of lace and nothing super fancy.
Yesterday, I posted the first shawl pattern: Berry Bubblegum Fling HERE.
I have to admit that I am pretty pleased with the shawl. It's everything I needed it to be in order to say that I can indeed get a full-size shawl out of just one ball of yarn. And, I've got to admit, that yarn is a show-stopper!
Now, I'm working on the second one, the blue one at the top and I'll have it ready for you this week.
I really enjoyed working with this fabulous self-striping yarn and I hope you do as well.