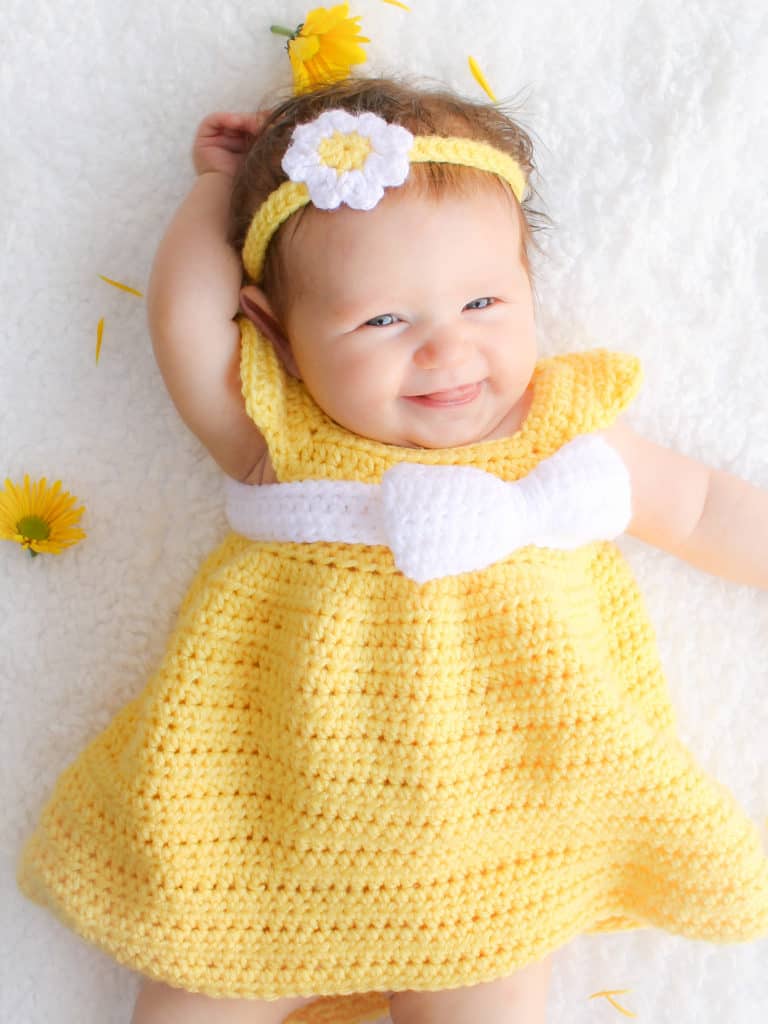 This adorable little baby dress is from Lindsey of Winding Road Crochet. This is my first time featuring Lindsey here so I wanted to start off with my favorite crochet category: baby dresses.
This little baby dress is made in Red Heart Baby Hugs. I've used this yarn and it's so soft and comfy. And, it comes in beautiful, vibrant colors. So fun.
Notice and Disclaimer: All crochet patterns written by Kim Guzman at CrochetKim are in US terms. All photos not copyright to Kim Guzman are posted with permission. This website contains affiliate links.
Read Privacy Policy here.
The link below is for the newborn to 6 months size. You'll find a link for the next size range of 12 months to 18 months.
Lindsey rates this pattern at easy for beginners to experts so it's going to be a terrific first time garment project for you, if you're still intimidated by garments. And, what better way to learn to make garments than with a super small size like this? Excellent! Get ready, get set, Go!
Pick up your free crochet pattern at Winding Road Crochet HERE.
See Lindsey's designs on her Ravelry page HERE. Lindsey has just started adding her pattern information on Ravelry so there is more to see at her website right now. Or, visit her on Facebook HERE.
If you prefer to get notification of updates to CrochetKim by email, including new patterns and giveaways, sign up
HERE
.
Giveaway
Open worldwide only where allowed by law. Void where prohibited.
This giveaway is for a book entitled "Crochet One-Skein Wonders® for Babies: 101 Projects for Infants & Toddlers" It will be mailed to the winner.
One name will be chosen randomly from all names entered prior to close at 11:59pm (CST) on July 2, 2018. Sign in through Facebook or with your email address to enter. Choose any of the other options for additional entries, including a daily bonus entry. Good luck, everyone!
The entry form will load immediately below these words. Wait for it to load. If it doesn't load, you may need to break out your laptop because some devices (I'm looking at you, iPad) strip the code sometimes.
06.26.18 Weekly Newsletter
Your privacy is important. Please see our privacy policy HERE.
Enjoy and good luck in the drawing!
Many of you have written to me to ask how you can help support CrochetKim. A Patreon account was suggested but I thought it would be better to provide ad-free PDFs of my patterns so you would get something in return. I'm steadily working on adding PDFs to all my patterns and I've also made this compilation available at a discounted price. You can, of course, view, print, paste to a word processor, convert to PDF, etc. on your own. This is just an extra feature so that people help out, if they want. Thank you to all of you for your overwhelming support and kindness these many years. Enjoy!