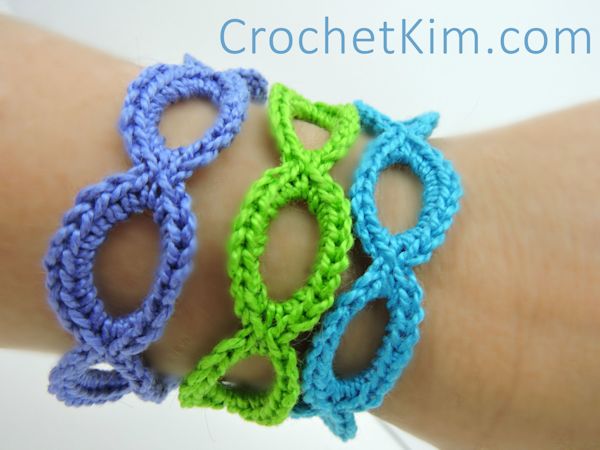 Stretchy Bracelets
designed by Kim Guzman © Aug. 2015
Please read my Terms of Use
Technique: Regular Crochet
Materials
Notice and Disclaimer: All crochet patterns written by Kim Guzman at CrochetKim are in US terms. All photos not copyright to Kim Guzman are posted with permission. This website contains affiliate links.
Read Privacy Policy here.
Loom bracelet rubber bands (5-8 bands, depending on size)
Size D-3 [3.25mm]
Needle (for weaving ends)

Buy Omega Cotton Thread Size 5 Online
Notes
The bracelet is a bit stretchy and is meant to fit snuggly on the wrist. It will appear small. The number of rubber bands will directly relate to the size of the wrist. When you've added the number of bands you think are about right, simply wrap it around the wrist to check it out. I made these three for me with seven rubber bands, but my wrists are tinier than average. I suspect that one or two more would be necessary for an average wrist. Probably one more. I made one for my 10-year-old (because he begged me LOL) and I used five rubber bands. It seemed crazy small but fit him perfectly.
If you've never worked single crochet around something, it's very easy. Just insert your hook into the center of the rubber band, yarn over, pull a loop through, yarn over and pull through two loops on hook. The single crochet will be worked directly onto and around the rubber band.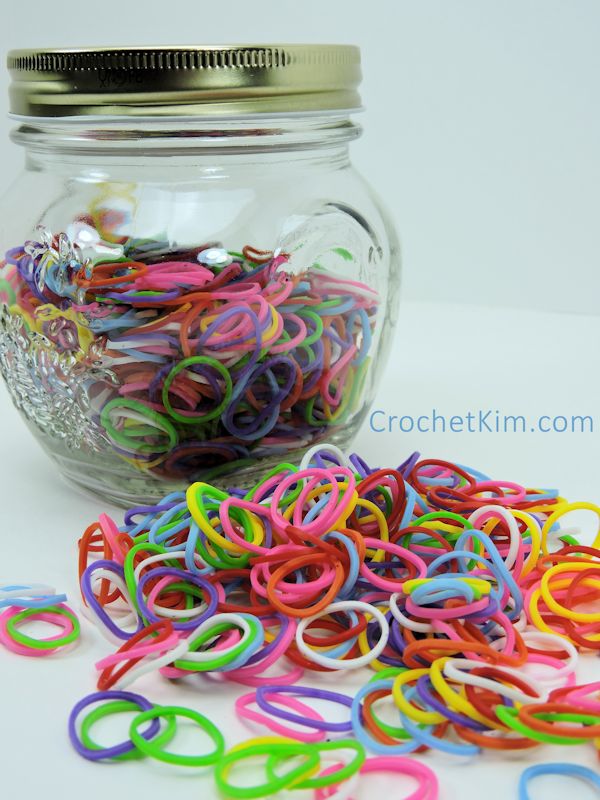 Instructions
First Rubberband: Join thread with sl st around band, ch 1, 10 sc around band (the goal here is to cover the band half way, use more stitches if you happen to be using a finer thread).
Second Rubberband: Bring second rubberband up close to work, 10 sc around second band.
Repeat as for second rubberband until you have the number required.
Without twisting bracelet, join with sl st to first sc of first band.
Opposite side of rubberband: Going back to the last rubberband worked, 10 sc in opposite side of rubberband (entire band covered now).
Repeat for opposite side of all remaining bands, sl st again to first sc, fasten off.
Finishing
With yarn needle, weave in ends securely.
Many of you have written to me to ask how you can help support CrochetKim. A Patreon account was suggested but I thought it would be better to provide ad-free PDFs of my patterns so you would get something in return. I'm steadily working on adding PDFs to all my patterns and I've also made this compilation available at a discounted price. You can, of course, view, print, paste to a word processor, convert to PDF, etc. on your own. This is just an extra feature so that people help out, if they want. Thank you to all of you for your overwhelming support and kindness these many years. Enjoy!