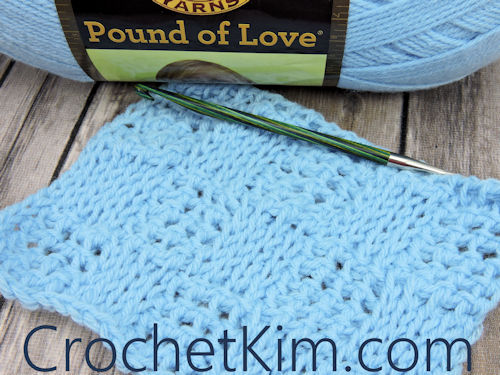 I'm still working on a baby blanket which I've almost got finished, but I decided to pull out a ball of Lion Brand Pound of Love and start swatching for a new baby blanket. There are over 1000 yards in one ball of yarn. I think it will be plenty for a baby blanket.
I was thrilled to find blue since my daughter is having a boy. The baby could arrive anytime now, but it will be perfectly fine for the blanket to arrive a little later than his introduction to the world.
I've been working out a swatch in my head and I simply couldn't wait any longer to see how it would work out. Since I create a lot of my stitch patterns in my head, I don't have a reference to see how it's going to look until I grab some yarn and hook and just get to it.
I'm pretty happy with this stitch pattern and it will make a terrific blanket for a boy. I'm looking forward to getting started on the "real thing".
The pattern will be available on my website once I get it finished. Writing the pattern will be the easy part. Stitching it up will take a tad longer.