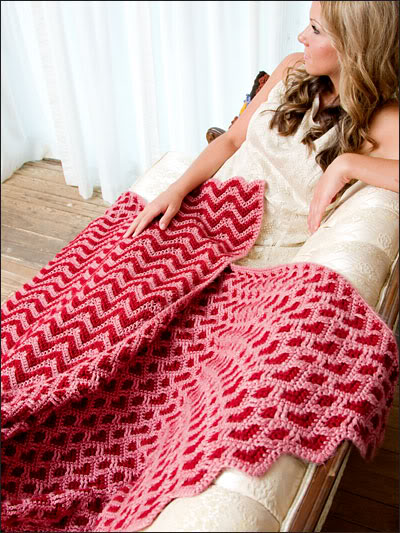 Thank you for your interest in the Sweetheart Ripple Afghan. I designed this afghan several years ago and it is currently only available in a PDF download from the publisher at the link below.

Reversible Ripple Afghans Crochet Patterns – Electronic Download
Notice and Disclaimer: All crochet patterns written by Kim Guzman at CrochetKim are in US terms. All photos not copyright to Kim Guzman are posted with permission. This website contains affiliate links.
Read Privacy Policy here.
MY LATEST VIDEOS
This project is the most sought-after and most popular design I have ever created. There are several copycat designs and, I'm sorry, they're just not the same. I can't help you with those.
Most people have a problem with positioning the post stitches. When you get to the row for the post stitches, skip two rows and look in the next row. Look for the three stitches at the top of the rise of the ripple. The post stitches go in the two stitches before and the two stitches after those three stitches.
Another popular question is: "Is there a video?" No, I'm sorry. There is no video. I can't do it because the copyright owner wouldn't be very happy about a video that would negate the need to purchase one of their top-selling books. The publisher is kind of "my boss," so I can't do it and no one else can, either. The above paragraph should help, though.
The last most popular question is "I'd like to make this a baby blanket size; how many chains?" For an exact amount, just add or subtract multiples of 13 from the initial stitch count showing for the pattern. Alternatively, I've been told that 155 is the golden number for a baby size blanket.
I hope this helps!
Update 2/8/17: I've just discovered tonight that Annie's has made a video which is available HERE. Use care when using this video because it's not entirely correct. The initial post stitch placement on the first side of the 3-sc rise isn't correct. The stitch is too far over and is in fact in the first of the 3-sc rise when it should be right before it. I'm not sure why the demonstrator consistently mentions that you will stitch both before and after the 3-sc rise but only points out two of the stitches in the rise and then stitches directly into the first sc of the 3-sc rise. The rest of the video looks fine so, with my tips above, you should be able to get around these incorrect portions of the video.
| | |
| --- | --- |
| | |
Many of you have written to me to ask how you can help support CrochetKim. A Patreon account was suggested but I thought it would be better to provide ad-free PDFs of my patterns so you would get something in return. I'm steadily working on adding PDFs to all my patterns and I've also made this compilation available at a discounted price. You can, of course, view, print, paste to a word processor, convert to PDF, etc. on your own. This is just an extra feature so that people help out, if they want. Thank you to all of you for your overwhelming support and kindness these many years. Enjoy!