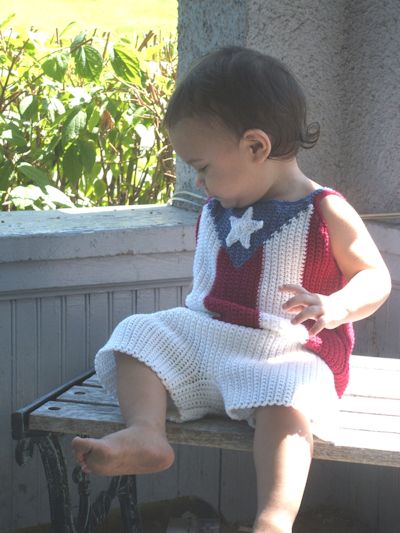 Add this project to your Ravelry favorites HERE.
To print or convert to PDF click the green "Print Friendly" button below the pattern.
Boricua Baby Shorts and Top Set
Puerto Rico Flag
designed by Kim Guzman © Feb. 2014
Please read my Terms of Use
Technique: Regular Crochet
Although the tank top can be made alone, if you would like the set as shown in the photo above, here are the links you will need. Be certain to also print your graph for the tank top, in both front and back, in the size you need.
Boricua Patriotic Tank Top (sizes 9 months through 18 months)
Boricua Patriotic Infant Shorts (sizes 9 months through 18 months)
Materials
Red Heart Luster Sheen (335 yards per 4 ounces): 1 (1, 2) skeins (or approximately 310 (330, 350) yards
Suggested hook sizes: G (4mm) and F (3.75mm) (or sizes needed to meet gauge)
Tapestry needle (for weaving ends)
The yarn used in this project (Red Heart Luster Sheen) has been discontinued. I believe Patons Grace would be a good substitute.
Finished Sizes
Instructions are written for size 9 months (with 12 and 18 months written in parenthesis).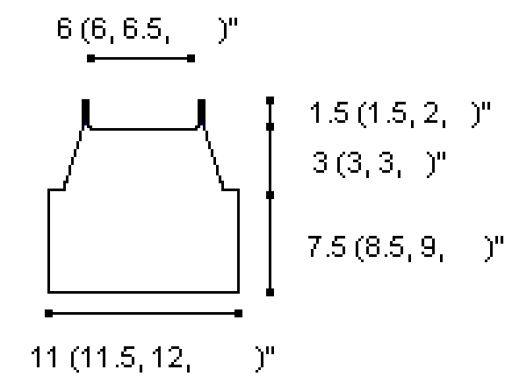 Gauge
A swatch worked with larger hook in single crochet across 17 stitches for 22 rows equals approximately 4″ square.
Notes
Tank top is worked from side-to-side, vertically, in two pieces, starting at one side seam and working toward opposite side seam.
Free Crochet Pattern Begins Here
General Instructions
Print the charts for the size you need.
You will need a front chart and a back chart. Alternatively, you can print the blank chart to make your own flag or other decorative feature.
Each square of the chart represents a single crochet. As depicted on the chart, all increasing and decreasing takes place at only the top of the garment.
When increasing at the end of a row, work 2 sc in the last st.
When increasing at the beginning of a row, ch 2 instead of ch 1 turning ch, sc in second ch from hook and each remaining sc across.
When decreasing at end of a row, leave the last stitch unworked, ch 1, turn.
When decreasing at the beginning of a row, sl st into the first st, then continue with sc in the row. On the next row, remember not to count the sl st as a st.
The charts are all that you will need. Count the blocks necessary for your size and crochet the number of single crochet necessary for each row. (Due to the nature of this project, I will not be providing step-by-step written instructions for all sizes.)
When changing colors, insert hook in sc, yarn over, pull up a loop of first color, drop first color, yarn over and complete your sc with second color.Further Instructions

With larger hook and color of your choice, ch 35 (38, 41), sk first ch, sc in each rem ch.

Using General Instructions above and your chart, increasing and decreasing as shown on the chart, complete all rows, changing colors as necessary.

Unless otherwise advised in General Instructions, "ch 1, turn" at end of each row. Cut off all yarn when chart is complete. Make both a front and back chart.

With yarn needle, seam front and back together along sides.

Straps

Armhole With right side facing with smaller hook and color of your choice, join yarn with sl st to any highest point at top of garment, ch 14 (14, 18), sl st to opposite side, sc evenly around armhole. When you reach the position of the first sl st, sc in each ch,sl st to first sc, sc in each sc around, sl st to first sc, fasten off. Rep for opposite armhole.

Neckline With right side facing with smaller hook and color of your choice, join yarn with sl st at side of neckline, ch 1, sc evenly around entire neckline. Where you meet the straps, work sc in the unused lps of original ch of straps, sl st to first sc, ch 1, sc in each sc around, sl st to first sc, fasten off. With needle, weave in all ends securely.

Charts

9 months

12 months

18 months

These charts are also used for Floral Baby Set and Tuxedo Baby Set
Pin It