A few years' ago, I started making available some online videos at YouTube for more difficult stitches that you may find in my patterns. These videos have been quite a success and have been used by many to learn these more unique stitches.
One of the most unique stitches is the Tunisian Purled Knit Stitch. As much as it sounds like a typo, it's not. Through my research into stitches, I realized that the Tunisian Purl Stitch, as used in modern publications, is actually a "wrapped" stitch. If you really think about it, it is a Wrapped Tunisian Simple Stitch. The yarn goes around the front vertical bar, wrapping it and creating what looks similar to a purl bump in hand-knitting.
Notice and Disclaimer: All crochet patterns written by Kim Guzman at CrochetKim are in US terms. All photos not copyright to Kim Guzman are posted with permission. This website contains affiliate links.
Read Privacy Policy here.
Once I really gave this stitch some serious thought, I realized that you could actually Purl any stitch. Here is an example of a Purled (or Wrapped) Tunisian Knit Stitch.
If you would like to learn Tunisian crochet, I have now organized all of my free videos in the order I feel is best for learning. You can be enjoying Tunisian crochet in as little as 15 minutes with my videos! Right- and Left-Handed Videos are available.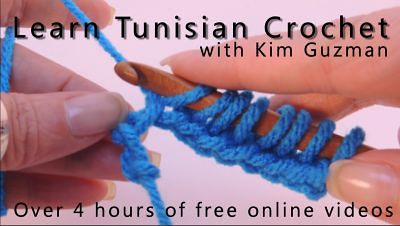 Enjoy!
Many of you have written to me to ask how you can help support CrochetKim. A Patreon account was suggested but I thought it would be better to provide ad-free PDFs of my patterns so you would get something in return. I'm steadily working on adding PDFs to all my patterns and I've also made this compilation available at a discounted price. You can, of course, view, print, paste to a word processor, convert to PDF, etc. on your own. This is just an extra feature so that people help out, if they want. Thank you to all of you for your overwhelming support and kindness these many years. Enjoy!