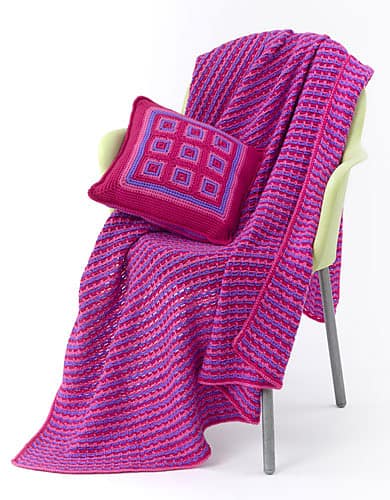 Tween Blanket and Pillow
designed by Kim Guzman
Notice and Disclaimer: All crochet patterns written by Kim Guzman at CrochetKim are in US terms. All photos not copyright to Kim Guzman are posted with permission. This website contains affiliate links.
Read Privacy Policy here.
Technique: Regular Crochet
This blanket is deceptively easy. It is beginner level. You would never be able to guess that it is only made up of chains and single crochets. The pillow is a bit more difficult. It turned out to be a really nice pillow and doesn't get nearly the attention it would get if there had been more photographs taken. It is different on each side. Really pretty cool.
Tween Throw Download
243 KB
Many of you have written to me to ask how you can help support CrochetKim. A Patreon account was suggested but I thought it would be better to provide ad-free PDFs of my patterns so you would get something in return. I'm steadily working on adding PDFs to all my patterns and I've also made this compilation available at a discounted price. You can, of course, view, print, paste to a word processor, convert to PDF, etc. on your own. This is just an extra feature so that people help out, if they want. Thank you to all of you for your overwhelming support and kindness these many years. Enjoy!