Crochet is not only a comforting and relaxing pastime, it is also one of the most widely varied.
This beautiful handicraft can be performed in so many different ways, you will never get bored with it. In this article, we will explore different types of crochet.
Colorwork Techniques
---
One of the most exciting ways to add newness to your crochet projects is by incorporating color.
Mosaic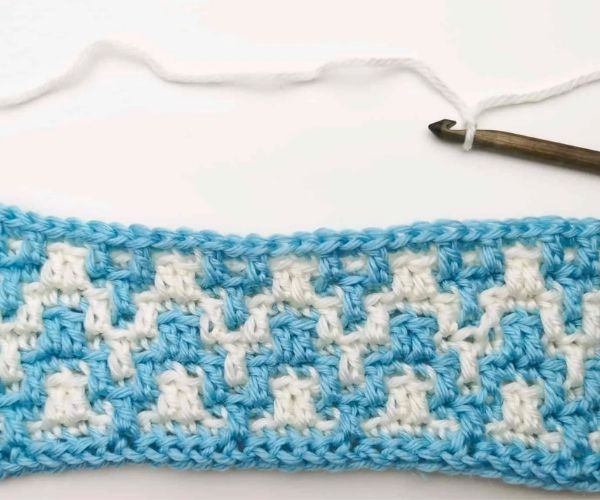 Mosaic crochet is often used to form unique geometric shapes in your work. Mosaic patterns are worked over two rows, first working over the row in your main color, then following up with the second color.
We love mosaic crochet for the unique double thickness and reversible color patterns it forms.
Check it out on Joy of Motion Crochet
---
Stripes
The simplest form of colorwork, stripes are made by alternating colors in every other row of the project.
We love crocheting stripes because it is such an easy way to change up an otherwise boring pattern.
---
Tapestry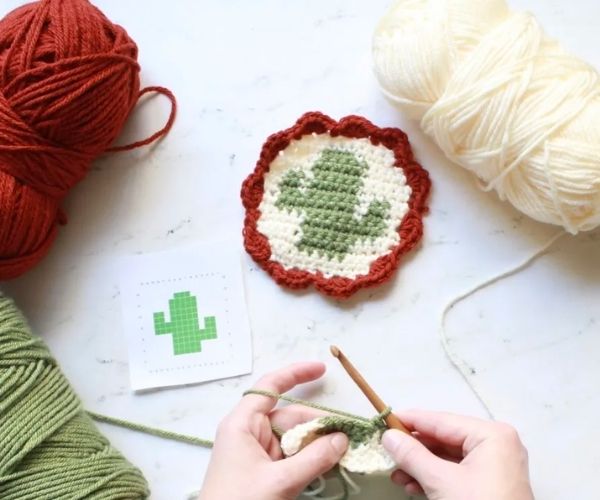 Tapestry crochet is a gorgeous technique of alternating colors to form pictures within your work. This technique is often used to create a crochet pattern from a photograph or to add other decorative elements to a project.
We love tapestry crochet for the intricate details it achieves.
Check it out on E'Claire Makery
---
Reversible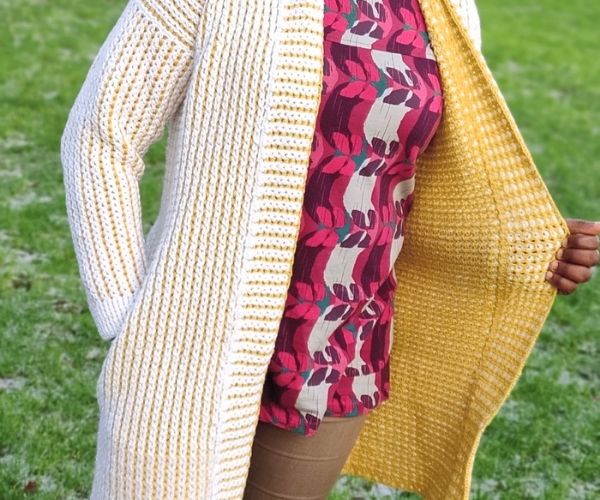 Reversible crochet patterns have a unique look on both the right and wrong side of the project. Both sides have a different look, depending on the pattern.
We love reversible crochet because it's like making two different things at the same time since both sides are different and beautiful to look at!
---
Double or Multi-Strand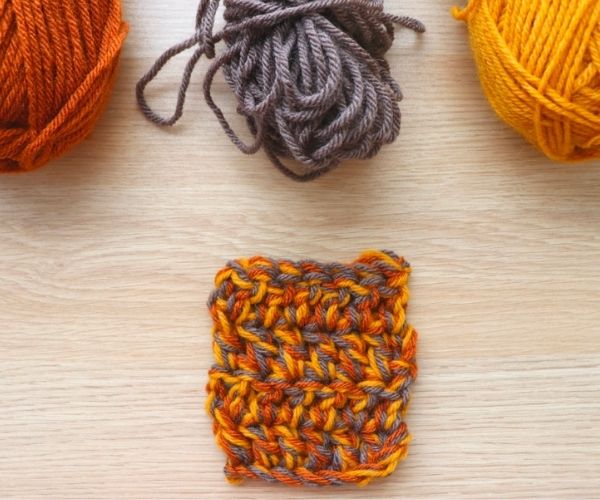 A fun way to add color to your crochet projects is by holding multiple strands of yarn together. Many crocheters enjoy holding a strand of mohair with their yarn to add to the texture of the project.
Alternatively, you can wind multiple colors of worsted weight yarn together to make a new, unique color for a bulky project.
We love multi-strand crochet because each finished object is unique to the maker.
Check it out on Sigoni Macaroni
---
Overlay Crochet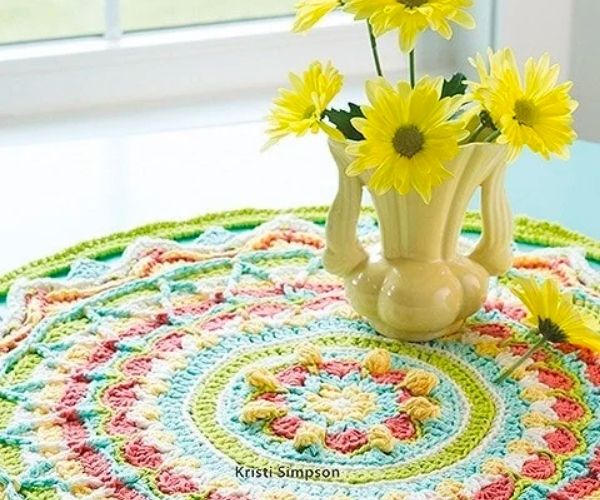 Overlay crochet creates layers of color and texture by working stitches over or in front of the stitches in the previous row.
We love overlay crochet because it creates unique designs by layering colors on top of each other.
Check it out on Oombawka Design Crochet
---
Corner to Corner (C2C)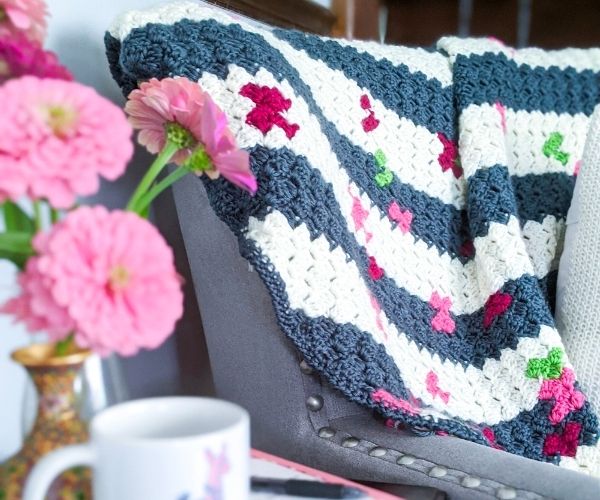 Corner to corner crochet is worked in rows, but instead of long rows across the full width of the project, the rows start with a single stitch.
Continue by gradually increasing at the beginning and end of each row until you reach the full width of the project, then decrease at the beginning and end of each row until you are back to a single stitch.
We love corner to corner crochet for the speed that it works up and the fun colorwork designs it is used for.
---
Fair Isle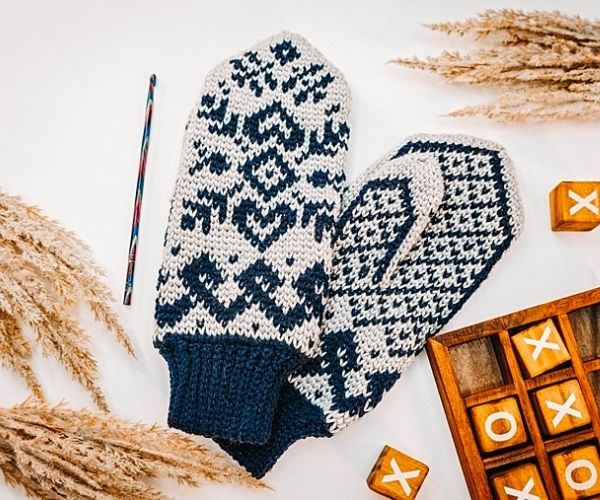 The term "fair isle" is borrowed from knitting and refers to a form of colorwork very similar to tapestry crochet. With fair isle, you use the split single crochet stitch to mimic the look of knitting. These projects are thick and warm with traditional style colorwork.
We love fair isle for its warmth and beauty.
Check it out on Briana K Designs
---
Brioche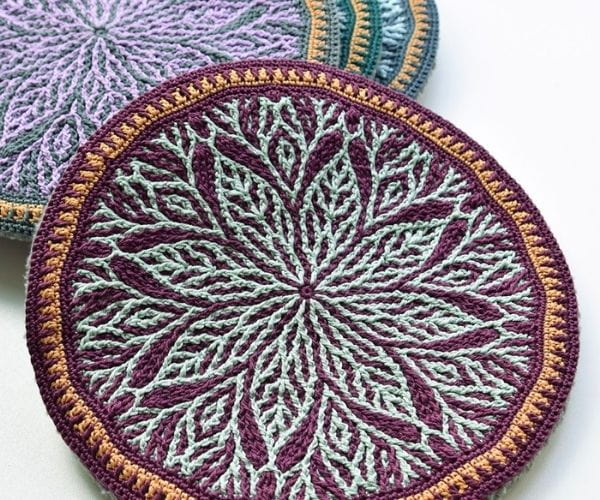 Brioche is another term borrowed from knitting and refers to a ribbing pattern with unique colorwork. In brioche crochet, the pattern is worked with front and back post stitches, alternating colors to form unique patterns.
We love brioche crochet for its intricate layering of colors and stitches.
Check it out on Lilla Björn Crochet
---
Lace Techniques
Lace crochet is characterized by open spaces between the stitches. These patterns are delicate and romantic.
Irish Crochet
First developed in the mid-1800s, this technique was employed during the Irish Potato Famine and helped many farmers improve their livelihood during hard times.
Irish Crochet is characterized by many small crocheted motifs that are connected with chain mesh lace.
We love Irish crochet for its rich history and uniquely beautiful motifs.
---
Filet Crochet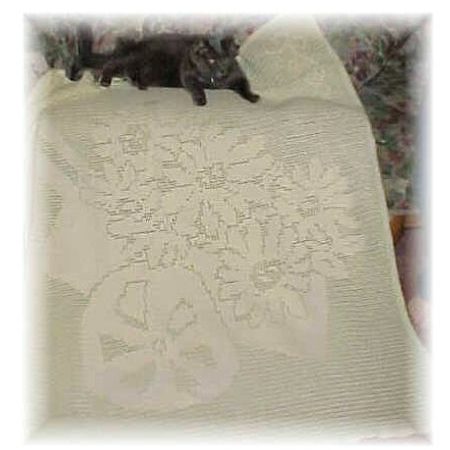 This simple lace technique is made with single crochets and chain spaces. The chain spaces create unique little pictures in the finished items. This technique was popularized during the Edwardian era and used to make the yokes of ladies' chemises.
We love filet crochet for the beautiful little pictures it makes.
---
Hairpin Lace
To make hairpin lace, you need a loom in addition to your crochet hook.
This technique wraps the yarn around the two pegs of the loom while you crochet up the middle, leaving long loops on each side. It is worked in long strips that are joined together to make bigger projects.
We love hairpin lace for its unique texture.
Check it out on Raffamusa Designs
---
Broomstick Lace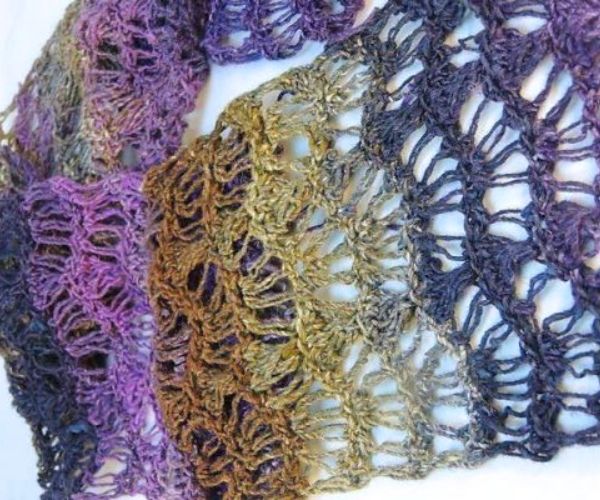 Broomstick lace was developed in the 19th century using a broomstick to stretch out the loops before crocheting the tops of them together to form eyelets.
These days, we use a large knitting needle to form the eyelets. The bigger the needle you use, the larger the eyelets will be.
We love broomstick lace because it looks so complex, but is actually very easy to use.
---
Solomon's Knot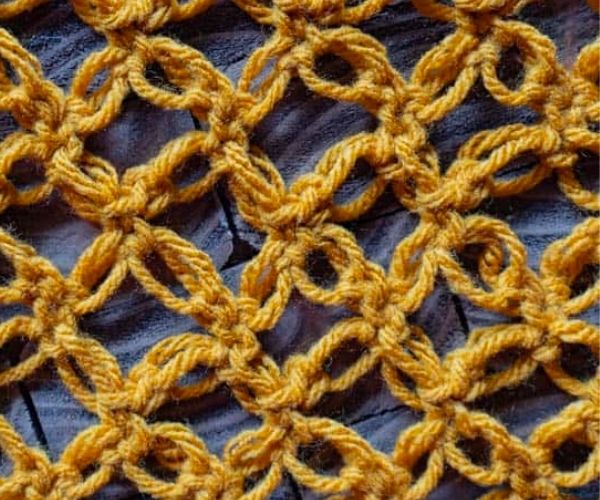 Also called Lover's Knot, this unique crochet lace stitch is challenging but beautifully historic. This technique is made by stretching out a long chain stitch and single crocheting in the same chain.
We love Solomon's Knot crochet because it is a beautiful technique that stands out among laces.
Check it out on Heart Hook Home
---
Beaded Lace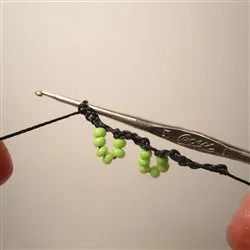 Beaded lace is crocheted with small thread and beads are added for extra embellishment. These patterns are generally used for jewelry.
We love beaded crochet for the extra emphasis it gives the lace.
---
Circle Lace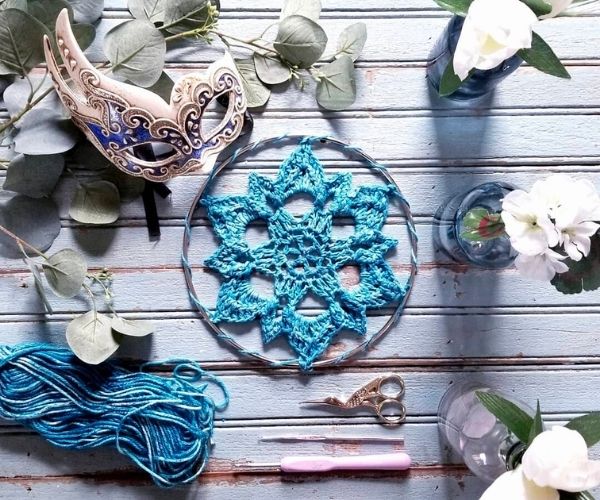 Used to make doilies or wall hangings, this circle lace technique is incredibly popular and versatile. These patterns can also employ other techniques, like filet or overlay crochet to create unique patterns.
We love circle lace, since it is a great technique for exploring crochet.
---
Alternative Materials
Fiber artists often take their work to the next level by using unusual materials. Sometimes the material is used for practical purposes, but other times it is an artistic choice.
Wire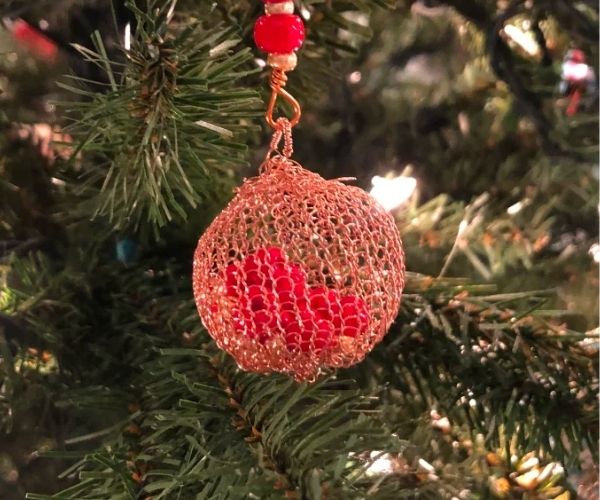 Wire crochet has become a popular form of art. These free-form crocheted structures stand without much assistance and have been used as art installations.
Wire is very hard to crochet with because it is, well, hard. We recommend wearing gloves if you experiment with certain types of wire crochet.
We love crocheting with wire for the artistic possibilities it offers.
---
Twine or Jute
Twine, jute, or other forms of rope are used to crochet hard-wearing household goods like rugs, baskets, and mats. These fibers are rough and sturdy, but hard on the hands.
We love twine and jute crochet for its sturdy functionality.
Check it out on Crochet Concupiscence
---
T-Shirt
T-shirt yarn crochet is a wonderful way to upcycle t-shirts or sheets into yarn that can be used to make sturdy items, like baskets, ottomans, and rugs.
We love t-shirt crochet because it is eco-friendly and useful.
Check it out on Heart Hook Home
---
Beaded
Different from beaded lace, beaded crochet features a long string of beads. A small hook is used to make crochet stitches between the beads to hold them in place, forming a piece of material or fabric of beaded mesh.
We love beaded crochet for its elegance and vintage feel.
---
Rag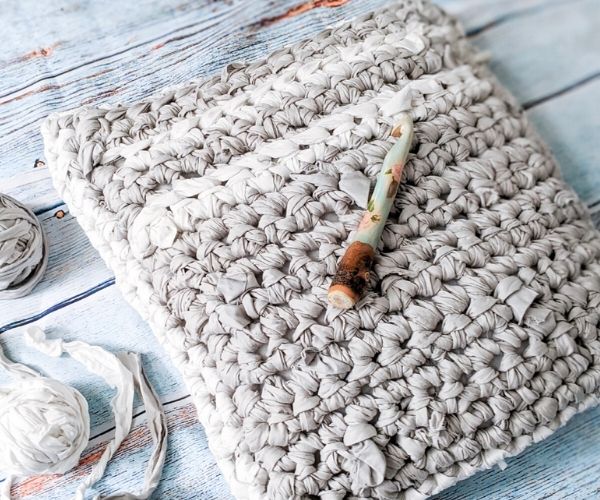 Another great way to upcycle old sheets or clothes, tear the material into strips. Using a regular yarn, crochet over the rags to form thick, rope-like rows of crochet. We love rag crochet because it is eco-friendly.
---
Plarn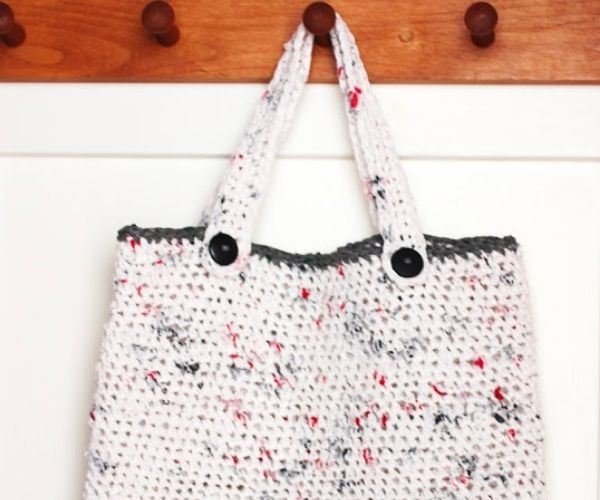 Plarn is yarn made from plastic grocery bags. The bags are cut into long strips and used in the place of yarn.
People often use plarn to make sturdy, reusable grocery bags or sleeping mats for the homeless.
We love plarn crochet because it gives new life to old things.
Check it out on Repeat Crafter Me
---
Alternative Tools
Crocheting can also take different forms when different tools are used.
Tunisian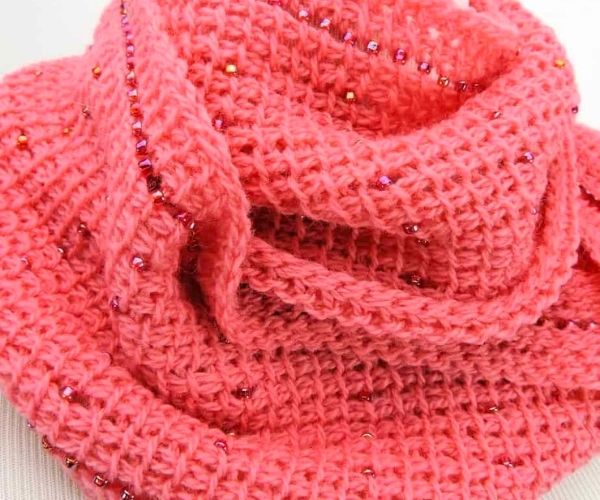 Tunisian crochet is an interesting blend of knitting and crochet. You work each row in passes, pulling up loops and working them off the hook in a unique way.
We love Tunisian crochet for its blend of techniques to create something new.
---
Cro-tatting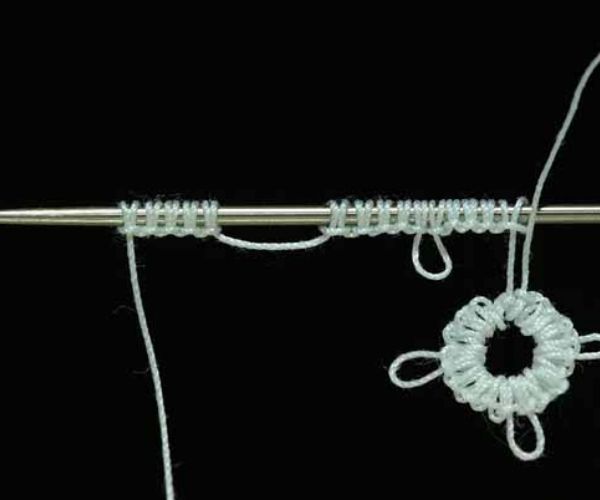 Tatting is a vintage form of lacemaking that uses a shuttle and thread. Cro-tatting creates a similar lace but uses a small hook and the stitches are worked onto the shank of the hook.
We love cro-tatting for how easy it is to make vintage lace.
Check it out on Needle Pointers
---
Cro-knitting or Cro-hooking
These terms are used interchangeably to refer to knitting with double-ended crochet hooks. This is an evolution of Tunisian crochet.
The cro-hook can also be used to Tunisian crochet in the round.
We love cro-knitting or cro-hooking for its unique blend of knitting and crochet.
---
Finger Crochet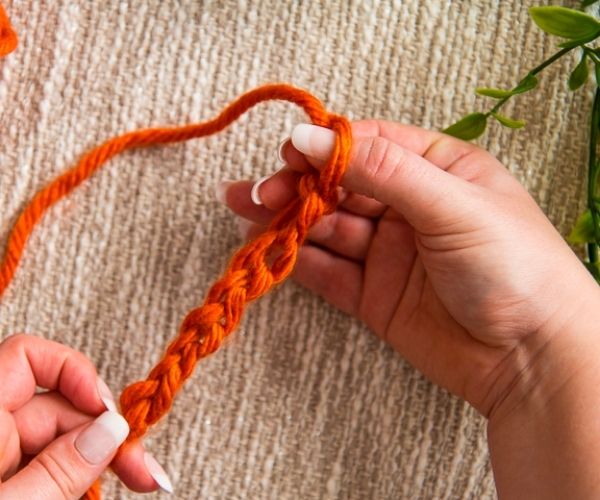 Crocheting doesn't require tools at all since simple stitches can be made with just your fingers. You can make simple projects using your fingers and jumbo-sized yarn to create rugs, ottomans, and baskets.
We love finger crochet because it is so easy and doesn't require any new tools.
Check it out on Nicki's Homemade
---
Alternative Techniques
Crochet is a craft full of endless techniques and variations. These are some of the most popular.
Amigurumi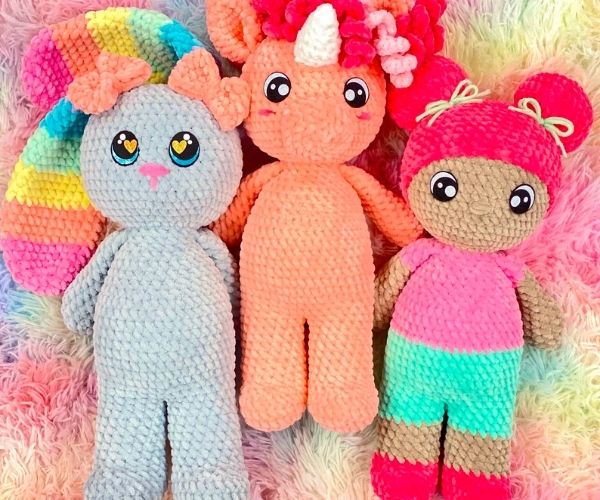 Originating in ancient China, this technique creates round shapes that are stuffed and assembled to form cute stuffed animals. This technique is incredibly popular today. We love amigurumi because it is both easy and fun!
Read about the best amigurumi yarns.
---
Entrelac
Entrelac is both a knitting and crochet technique that creates blocks of color by connecting them as you go. To make an entrelac crochet pattern, you need to first understand the basics of Tunisian crochet.
We love entrelac for its patchwork appearance and ease of making.
---
Bavarian
Bavarian crochet is another technique that forms beautifully colorful squares, but in a different way than we have seen before.
Patterns made with Bavarian crochet look incredibly complex but are very easy to make.
We love Bavarian for its unique appearance and detailed colorwork.
Check it out on I Like Crochet
---
Hyperbolic
Hyperbolic crochet creates a long, ruffled texture. This technique went popular several years ago and hyperbolic crochet scarves flooded the market.
We love hyperbolic crochet because it is simple, but yields incredible results.
Check it out on Maggie's Crochet
---
Freeform
Freeform crochet takes the artistic properties of crochet to a whole new level. Without patterns, crochet artists use this technique to create portraits, tapestries, even models and exhibits.
We love freeform crochet because it truly expresses the art in this craft.
Check it out on Cypress Textiles
---
Try them all!
With such a wide variety of techniques combined into a single craft, you will never get bored of crocheting! When you master one technique, simply move on to the next as you explore the creative process of crocheting.