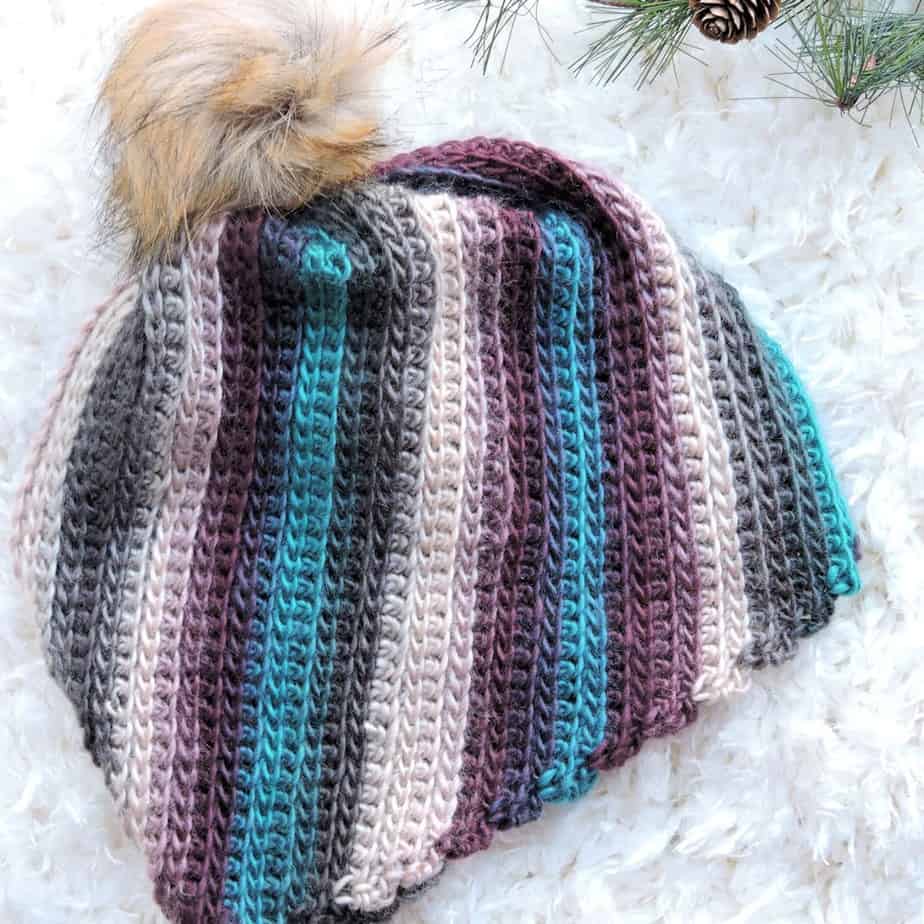 Unforgettable Spiral Beanie
by Kim Guzman © Feb. 2017. All rights reserved.
Please read my Terms of Use
Technique: Regular Crochet
Materials
Red Heart's Unforgettable (click to view), 100% acrylic, size 4 medium weight yarn, 270 yds per 100g: one of color Tealberry
Size K 6.5mm (10-1/2) crochet hook (or size necessary to obtain gauge)
Finished Measurements
21″ wide by 8″ high, measured flat before seaming. There is an intentional bias. Actual finished measurements are measured flat. For example, before seaming, you have a parallelogram. You measure the lower edge as the circumference and from top-to-bottom for the actual hat height. When measuring gauge, however, you measure the individual rows and stitches as they appear.
Gauge
17 sc for 17 rows = 4″
Notes
This hat is purposely worked at a loose tension so it's nice and drapey and easy to cinch at the top. With this much drape, you can expect the edges to curl a bit which will be alleviated once seamed.
When complete, it will not be a perfect rectangle. It will have an intentional bias, or diagonal slant, forming a parallelogram.
Special Stitches
Short Single Crochet (ssc): Insert hook from bottom to top in the loop in the actual back of the stitch which is below the normal top two loops of a stitch, yarn over, pull loop through, yarn over, pull through two loops on hook. This stitch has also been called third loop single crochet.
Back Loop Single Crochet: Insert hook in the top loop that is furthest from you at the time of stitching, yarn over, pull loop through, yarn over, pull through two loops on hook.
Crochet Pattern Instructions
Row 1: Ch 41, sk first ch, sc in each rem ch, turn: 40 sc.
Row 2: Ch 2, sc in second ch from hook, ssc in each sc to last 2 sc, sc in both lps of next sc, turn, leaving last sc unworked: 40 sc.
Row 3 (RS): Ch 1, working in back loops only, sc in each sc to last sc, in last sc, working in both lps, sc in last sc, turn: 40 sc.
Rows 4-63: Rep rows 2-3.
Row 64: Rep row 2, fasten off, leaving a long enough strand for seaming.
Finishing
With yarn needle, seam row 1 to row 64. Working along either side edge (choose the side you prefer), weave a strand of yarn loosely across the entire side edge. Carefully cinch the stitches together and fasten the strand securely.
Because of the delicate nature of this yarn, you have to be careful with the cinching of the top. You could use a coordinating color of a different yarn if you want to be safe. Weave in all ends.