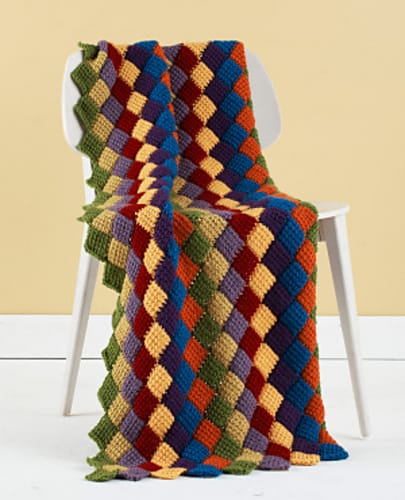 In one of my hosted crochet-alongs, group members chose Tunisian Entrelac as the subject of our crochet along. It's always important to me to try to get people motivated to learn something new when participating in my crochet-alongs whenever possible. It's a win-win for everyone!
For this one, the pattern chosen was from Lion Brand here.
Notice and Disclaimer: All crochet patterns written by Kim Guzman at CrochetKim are in US terms. All photos not copyright to Kim Guzman are posted with permission. This website contains affiliate links.
Read Privacy Policy here.
I wanted to help as much as possible so I made some videos. It was pretty funny because I had never done entrelac before and just went with it. There were some hiccups and some lady bugs! ha! But, if I can do it on the first try under a camera, everyone should be able to do it. 🙂
Please check my channel here for the left-handed videos.
Tunisian Crochet Entrelac Part 1
Tunisian Crochet Entrelac Part 2
Tunisian Crochet Entrelac Part 3
Enjoy!
Many of you have written to me to ask how you can help support CrochetKim. A Patreon account was suggested but I thought it would be better to provide ad-free PDFs of my patterns so you would get something in return. I'm steadily working on adding PDFs to all my patterns and I've also made this compilation available at a discounted price. You can, of course, view, print, paste to a word processor, convert to PDF, etc. on your own. This is just an extra feature so that people help out, if they want. Thank you to all of you for your overwhelming support and kindness these many years. Enjoy!