While yarn comes in many different thicknesses, worsted weight yarn is the most commonly used by crocheters.
In this article, we will discuss;
What is worsted weight yarn?
Mostly used to describe the thickness, commonly called the weight, of the yarn, the word "worsted" refers to a medium weight yarn: not too thin, not too thick.
History of Worsted
The word "worsted" is a derivative from the English city Worstead, where a high-quality woolen yarn was spun around 1250-1300. While the term worsted no longer refers to wool specifically, it still describes a medium-thickness yarn.
Other terms
While worsted is the most common term for medium-weight yarn, it has several other names. Usually, these terms describe a slight variation in thickness, whether lighter or heavier.
Light worsted: Just a little thinner than standard worsted yarn, but still thicker than a 3/DK yarn
Aran: Generally a little thicker than most 4/worsted weight yarns, but thinner than a 5/bulky
Afghan: Another name for a standard 4/worsted weight yarn
Yarn weights
The thickness of yarn is referred to as its weight since skeins of yarn are measured in grams or ounces. A number describes each weight of yarn from 0-6 or a term.
Worsted weight yarn is labeled as a 4 weight yarn. Most yarn labels will list the number weight instead of the term, so look for the number four on your yarn label to ensure you have the right one.
Yarn substitutes
Of course, if you want to do a project that calls for worsted weight yarn, but you prefer to use something already in your stash, you can hold several different weights of yarn together to achieve the same thickness.
Hold a 3/DK and a 1/fingering together
Hold two strands of 2/sport together
Hold three strands of 1/fingering together
Types of worsted weight yarn
Worsted describes the thickness of the yarn, but there are many different styles of this type of yarn.
4 ply
When four thin strands of yarn are spun tightly together, a 4 ply worsted weight yarn is formed. This style is the most commonly found in craft stores. Think about Red Heart Super Saver or We Crochet Brava.
Sometimes splits
Tightly wound
Doesn't fray easily
Medium softness
Good for hard-wearing projects like blankets and sweaters
---
Z-Twist
Z-twist is also a form of 4 ply worsted, but it is spun in the opposite direction to traditional yarn.
Z-twist yarn resists splitting more for crocheters since the act of crocheting works with the twist instead of against it. Lion Brand ZZ Twist is an excellent example.
Splits less
Tightly wound
Doesn't fray easily
Medium softness
Good for hard-wearing projects like blankets and sweaters
---
Single Ply
A single strand of yarn is spun to form a soft yarn. These single-ply yarns are usually softer than most, but they fray and pill easily.
These yarns lack structure and don't hold up too long for hard use. Chroma Worsted by We Crochet presents a beautiful example of single-ply yarn.
Splits easily
Loosely wound
Frays and pills easily
Extremely soft
Suitable for light use projects, like specialty hats
---
2 ply
As with 4 ply, 2 ply yarn is two strands of thin yarn wound together to add more structure. The more plies you add, the stronger the yarn is. A 2 ply yarn is very soft but frays and splits more than a 4 ply yarn.
Splits easier
Wound to a medium tightness
Frays and pills easier
Extremely soft
Suitable for medium use projects, like hats and shawls
---
Uses for worsted weight yarns
Worsted weight yarn is a durable, hard-wearing yarn that will stand up to heavy use without fraying or pilling a lot (of course, it will still somewhat fray and pill with use and washing).
This makes the yarn perfect for household use items or hard-wearing cardigans and accessories.
Blankets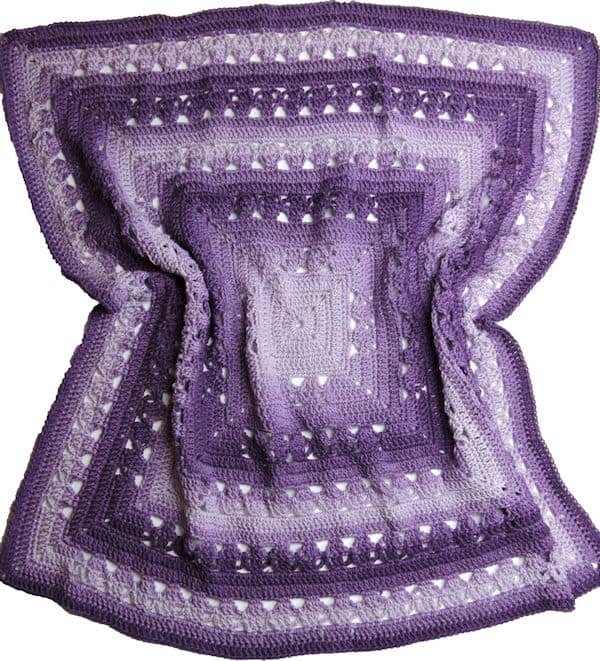 Blankets work up quickly in worsted weight yarn. They are soft enough to cuddle but strong enough to be heirloom pieces.
I adore the thirty+ year old blanket my great aunt crocheted for me. It has held up well, and now my children cherish it!
Check out our wide variety of free blanket patterns here.
---
Sweaters
When you use worsted weight yarn to crochet a sweater, it will often have that chunky cardigan look.
Because crochet stitches are thicker than knitting stitches, a crocheted cardigan will look bulkier when crocheted with worsted yarn. Definitely use a softer yarn, like a 2 ply or an extra soft 4 ply.
Check out our free sweater patterns.
---
Kitchen and bath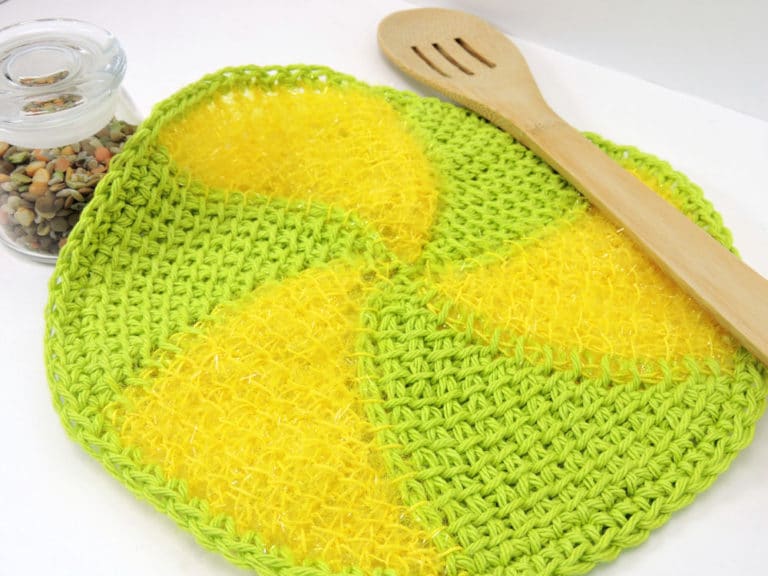 The strength of a 4 ply yarn makes it perfect for all kinds of kitchen and bath accessories, from towels to scrubbies.
Check out our free Kitchen and bath patterns.
---
Accessories
While a classic 4 ply worsted yarn works great for hats and scarves, put a fun twist on them by using a unique single or 2 ply yarn for an even softer accessory.
Check out our free hat patterns and scarf patterns.
---
Best worsted weight yarns
Brava 500
A ride or die yarn that is budget-friendly. The large skeins make it perfect for blankets and oversized cardigans.
Acrylic
Good for blankets
Soft and smooth
500 yds per skein
Affordable
Machine washable, dryer safe
---
Mighty Stitch Worsted
My personal favorite, this wool and acrylic blend is an incredibly soft and warm yarn perfect for sweaters, blankets, hats, and more.
80% Acrylic, 20% Worsted
Good for blankets, sweaters, hats
Very soft and a little shiny
208 yds per skein
Mid-price range
Machine washable, dryer safe
---
Wool of the Andes
This rustic wool yarn is perfect for sweaters, blankets, or accessories. Personally, I find it a little scratchy, but it softens up with use and washing.
100% Peruvian highland wool
Suitable for blankets and sweaters
A little rustic/scratchy
110 yds per skein
Upper-mid price range
Machine washable, lay flat to dry
---
Dishie Cotton
The perfect cotton yarn for washcloths or face scrubbies! This soft but sturdy cotton yarn comes in a wide variety of colors to match any home decor.
100% Cotton
Suitable for kitchen and bath items
A little rustic/scratchy
190 yds per skein
Affordable
Machine washable, dryer safe
---
Comfy Worsted
Another personal favorite, this cotton and acrylic blend, is perfect for lightweight blankets or summer garments. I've used this yarn for soft, summer afghans.
75% Pima Cotton, 25% Acrylic
Suitable for kitchen and bath items or lightweight blankets and garments
Soft and smooth
109 yds per skein
Upper-mid price range
Machine washable, dryer safe
---
What hook should I use with worsted weight yarn?
Most yarn labels record the yarn weight and the suggested hook size. However, you can use whichever hook will get you the fabric you want.
If you are looking for a good hook set, check out these reviews.
Smaller hook
If you want tight stitches, like amigurumi or dishcloths, definitely go down a hook size. You will want to use something between a D/3.25 mm – G/4.00 mm hook for this style of project.
Middle size hook
For a comfortable stitch, stick with a H/5.0 – J/6.5 mm hook. This is the most commonly recommended hook size for worsted weight yarn.
Larger hook
If the yarn you are using tends to be a little rough or scratchy, a larger hook can help it feel softer. This will give the yarn room to spread out and be more fluffy. I recommend a K/6.5 mm – N/8.0 mm for this type of yarn.
Getting gauge
If you follow a crochet pattern, you will want to use whichever size hook will help you keep the recommended gauge for the project.
Learn about how to read crochet patterns.
Conclusion
Worsted weight yarns are the most common and some of the easiest to use. With a wide variety of types and fibers of yarn available, you will be sure to find something perfect for your next project.