Meet the Crochet Kim Team
CrochetKim is home to over 400 Crochet Patterns written and designed by the award-winning Kim Guzman.
Designer – Kim Guzman
Kim is an award-winning teacher and crochet pattern designer. She writes a variety of patterns including garments, home decor, accessories and gift items.
Kim has authored nearly two dozen crochet pattern and technique books, most of them in her favorite form of crochet–Tunisian crochet.
Kim started this website back in 1998 to allow her to share her free and paid patterns with crochet lovers all over the world. After many happy years of running CrochetKim, she passed over the reins to Paul and Nicola Simpson in 2019.
Our patterns and stitches are available in the following places:
---
Contributing Writer – Rebekah Haas
Rebekah Haas is a budding crochet designer, blogger, and YouTuber who enjoys exploring new techniques and tools to improve her craft.
You can find her articles here on CrochetKim and explore her work at www.rebekahhaas.com.
---
Chief Editors – Nicola and Paul Simpson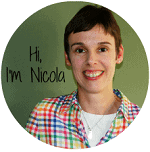 Paul and Nicola are a husband and wife duo, who are here to keep the spotlight shining on Kim's amazing designs and patterns.
We look forward to sharing Kim's fabulous designs and patterns with you and would love it if you could let us know when you have made up one of the designs from this website.
Share your work with us via Instagram using the tag @crochetkimdotcom or use the #crochetkim hashtag.
Upload your work to the Weekly Thread over on our Facebook Page.
Tag us on Twitter @CrochetKim or use the #crochetkim hashtag.
Happy Crocheting!