Naka Pillman introduced a series of books in a technique called "Camel Crochet" which included a Getting Started Book and several subsections such as patterns for babies and patterns for afghans/blankets.
What is Camel Crochet?
The term "Camel™ Crochet" is the name given to a technique in crochet.
The term is used by author/designer Naka Pillman for a series of books which are long out-of-print.
I've seen the following titles:
Camel Crochet Basic Instruction Book
Camel Crochet 2, Designs and Patterns
Camel Crochet for Babies
Camel Afghans #1
Camel Afghans #2
There may be more out there. But, these are all I could find.
These books were available at a website called Lone Star Yarns, but that website is now out of business, later at a website called Pretty Impressive Stuff. I believe that the copyright has been sold to several different people over the years.
Since the initial writing of this article, it has come to my attention that some of the books are now available for download on Amazon HERE.
Naka Pillman, according to this website (written in April of 2009), was 90 years' old at the time of the writing and was living in South Africa. She has also written fictional books, apparently, "The African Cameo" being reviewed on the site.
I have been told that all copyrights to her books are owned by Valerie Thornton, but I don't have anything official saying that. It is only word of mouth.
I was able to find reference to Valerie Thornton as an editor of Naka's books which can also be seen on the book cover above. And, Valerie taught a class on the subject at the 1996 Chain Link conference.
As I understand, there is some controversy about Camel™ Crochet and the ownership of the books and trademark.
My investigation has revealed that several books were published, starting in 1990, all credited to Naka Pillman. They were published by N.S.D. Products.
As is customary for a publisher/editor, Gordon Goss registered the trademark in 1990. It was cancelled in 1998 and I find no further re-registration (although it could be registered and I couldn't find it).
Anything further would be pure speculation on my part. I know nothing about the "goings on" between the editor/pubisher and the author.
Camel Crochet is a Technique not a Stitch
If you have been confused by the term, camel, the technique is not really a stitch, per se.
It is the act of making the stitch in a different loop than you would when you normally crochet.
For instance, when you make a single crochet, you would normally insert your hook under the top two loops, under the front loop or under the back loop. For this, though, you're working into the back back loop.
Using Camel Crochet Technique in My Designs
I learned how to crochet a basic granny square from my grandmother. She didn't teach me anything more, but I continued experimenting on my own.
I discovered that, if I worked into that "back back" horizontal bar of a stitch, it would flip the top loops over and make it look like knit. I found that fascinating!
I showed it to her and, being the stickler for correctness that she was, she ripped it out and said I did it incorrectly.
Once I began my designing journey, I wanted to use the stitch in my work, but, also the stickler for correctness as my grandmother taught me, I knew I couldn't do it unless I could find it in publications.
After searching for nearly a decade, I finally found a vintage British book that used the term "short double crochet" (remember, that's single crochet in the US) for working a single crochet in that back back bar. I was overjoyed and immediately began submitting my designs for publication.
My Designs in Camel Crochet
I did eventually see reference to Camel Crochet and I suspected that it was the same stitch I had been using all along but I didn't have any way to confirm it at the time. So, when I began designing and publishing, I continued to use the term I had discovered of "short" stitches.
Since camel crochet isn't a stitch but rather a technique, the actual technique can be done with any crochet stitch by working into the back-back loop of the stitch, causing the top two loops to be pushed to the front of the work.
This design was in one of those little magazines from Annie's Attic. It was called Spring Pullover and was in the October 2002 issue of Annie's Favorite Crochet.
A Ribbed Pullover made with short stitches, published in the November 2001 issue of Quick & Easy Crochet.
And, still in the time of the dinosaurs, here is the envelope with the introductory offer to be the first to get on the subscriber list of the brand new Crochet! magazine, which we all know now, of course. But, this was the first introduction. Right there, on the cover is my own design featuring, of course, "short" stitches.
Trying to find reference to some of my designs for 20+ years ago is difficult after all this time and I know I'm leaving some out. If I remember them, I'll update.
More recently, and most importantly, after Ravelry was born so there were more records kept, I published several designs in "short" stitches.
Here is the Mock Cable Sweater I submitted to Joanne Seiff's book "Fiber Gathering".
The editor of Interweave Crochet liked the one I did for Joanne's book so well, she asked me to design one for them as well. This is from the December 2009 issue of Interweave Crochet.
I believe the most recent use of the term "short" in one of my patterns was from the September 2012 issue of Crochet 1-2-3 magazine for the teal hat in this photo.
Trademark on Camel Crochet
The term "Camel™ Crochet" is (or was) a trademarked term and can only be used by the author/publisher in the books. Therefore, it becomes very difficult to find patterns using the technique since there is no universal name for it. As noted, I have several designs published using the term "short single crochet" and I've used that term in my patterns for about 20 years.
Third Loop in Modern Publications
In 2014, Tamara Kelly of Moogly introduced another name for it: Third Loop.
Rather than simply describing the stitch as working into the third loop, Third Loop became the actual term for working into that back back bar.
Because of her popularity, the name quickly took off and seems to now be the predominant name for it. You could essentially use either term, but Third Loop really does seem like the way to go for current publications.
My patterns had easy abbreviations of "sh sc" and "sh hdc" for short single crochet and short half double crochet and some were simply "Ssc" and "Shdc".
I don't believe I've seen a widely-used abbreviation for Third Loop but I'm sure it will evolve and become even more commonplace in the near future. Or, maybe someone else will jump into the fray with an entirely different term. We just have to hide and watch.
This isn't the first time this has happened in crochet and I'm sure it won't be the last. Look at how many different names we have for the moss stitch.
Or, take a look at the unceremoniously named Crazy Stitch which, when worked at a bias, from one corner to the other corner has been gratuitously called C2C stitch, even though it's not a stitch but a direction of work. Any stitch can be worked from one corner to the other.
Practice Short Single Crochet, or Third Loop Single Crochet
Here is Christian in a little jumper I made in various single crochet techniques, including Short Single Crochet. Versicolor Baby Pullover is available in four sizes of 9 months, 12 months, 18 months and 24 months.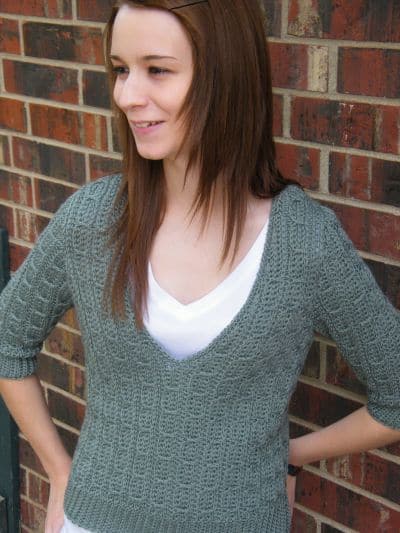 And here is Brianna, modeling the Mock Cable Pullover.
This page is solely for informational purposes and historical data for Camel Crochet.