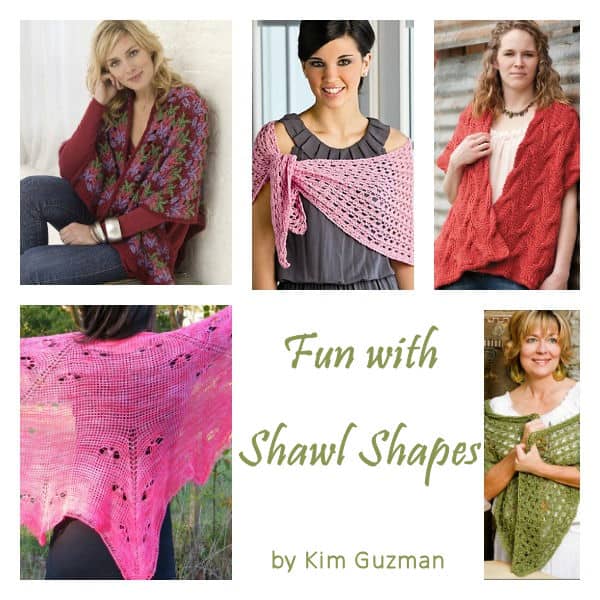 I'm not a huge fan of wearing shawls. Having a shawl can come in handy during the winter, though, when it's just a tad cool in the house, propane bills being what they are. I've found that I prefer some shawl shapes over others.
For instance, one of the most popular shawl shapes is the plain rectangle. I'm not too keen on designing the plain rectangle shawl. They're beautiful, to be sure but, they're not nearly as exciting as a more unusual shape.
I have discovered that I prefer to design and wear shawls made of different, more unusual shapes. Experimenting with different shapes has helped me discover which shapes suit me best for staying around my shoulders as well.
I love this shape. It starts off like a triangle shawl, but ends before you get to the point.
I used this shape in the Rolled Collar Wrap from my book, Learn to Do Tunisian Lace Stitches. When I wear it, I wear it more around my neck, more like a scarf. The long edge closest to my neck. And, just let it hang down in the front. I love the look of how it has points at the bottom when worn that way. More visual interest.
The next shawl shape I've enjoyed is more of an "L" shape. I first discovered this shape when ponchos were so popular, about 10+ years ago. You would actually seam another of the sides in order to have a poncho.
But, I discovered that I rather liked the shape for a shawl and I especially love how it hangs in the front and how it stays on the shoulders! Staying power is most desirable for me.
I used this shawl shape when designing the Christmas Country Wrap for Caron International Yarns.
It's got a really unique stitch pattern that I just love. And, even though it seems really detailed, I found it to be very easy and quick-to-stitch.
Another really nice design that I love to wear is the ruana. This ruana especially, has wonderful shoulder staying power. I used a slightly different approach than I've done with other ruanas and I really love the shape of it. With other ruanas, I've left an opening around the back of the neck. The slit seemed to stay around the shoulders better than neck shaping.
The design is made from Plymouth Alpaca Grande. Really gorgeous yarn. So soft. So amazing. You almost don't want to put it down.
This design is the Verona Ruana from my book, Tunisian Cables to Crochet.
Here is a unique twist to the regular triangle shawl.
The nice thing about this shape is that it has a wonderful long skinny bit that it is perfect for tying. Here is an example of a design where I used this shape.
This is from my online video classes from Annie's Crafts, Tunisian Cables & Lace.
This last one has a really unique edging; not really handkerchief edging, but something similar.
You can find this shawl, Mariposa, on my website HERE.
I will continue to explore and experiment with different shawl shapes. I find it fascinating to come up with new and unique shapes. It's in my nature to be adventuresome in my designing. 🙂