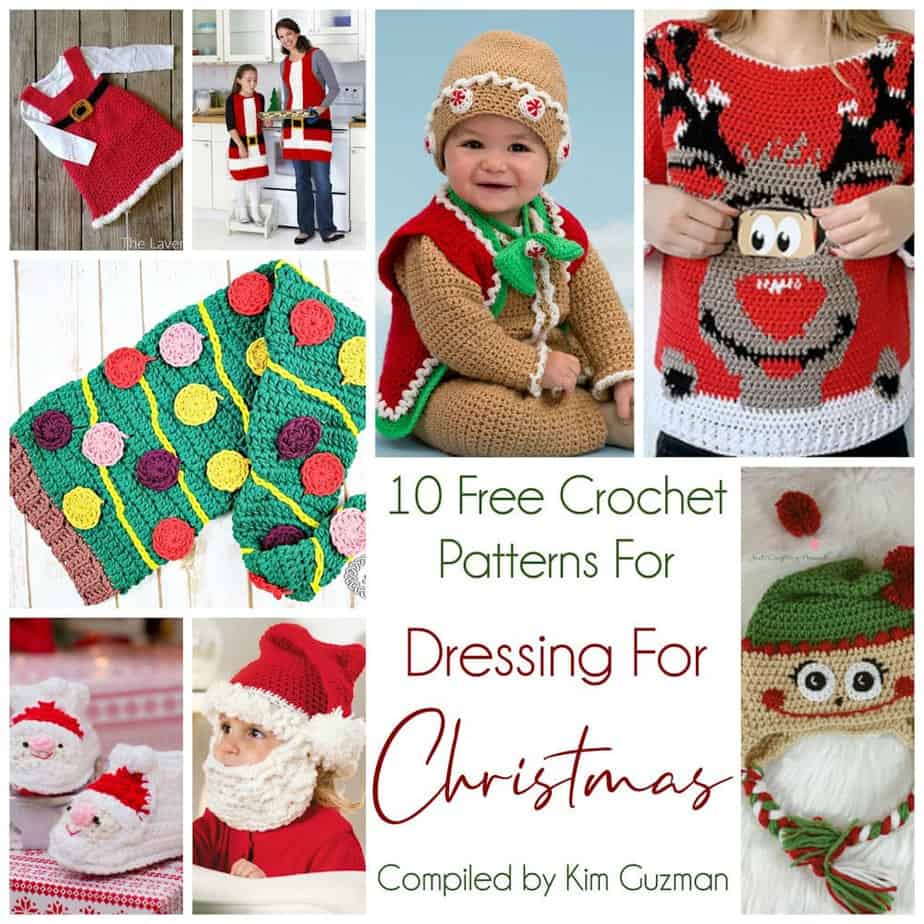 I was asked to find some fun Christmas outfits and Wilma's new Reindeer Sweater came immediately to mind. Her design was the starting point to this fun pattern round up for dressing for the Christmas holiday.
Shown (left to right, top to bottom)
Notice and Disclaimer: All crochet patterns written by Kim Guzman at CrochetKim are in US terms. All photos not copyright to Kim Guzman are posted with permission. This website contains affiliate links.
Read Privacy Policy here.
1. Mrs. Claus' Winter Dress by Dorianna Rivelli of The Lavender Chair
2. Santa's Aprons by Urmie D. Seenarine for Red Heart Yarns
3. Gingerbread Baby Set by Tammy Hildebrand for Red Heart Yarns
4. Reindeer Christmas Sweater by Wilma Westenberg of Wilmade
5. Christmas Tree Hat Scarf by Nicole Riley of Nicki's Homemade Crafts
6. Child's Santa Slippers by Michele Wilcox for Red Heart Yarns
7. Santa Hat and Beard for Kids by Karen McKenna for JoAnn Fabric Stores
8. Holiday Elf Hat by Tawnya Myers of Just Crafting Around
Not Shown in Collage
9. Tacky Christmas Sweater by Melissa Mall of Inner Child Crochet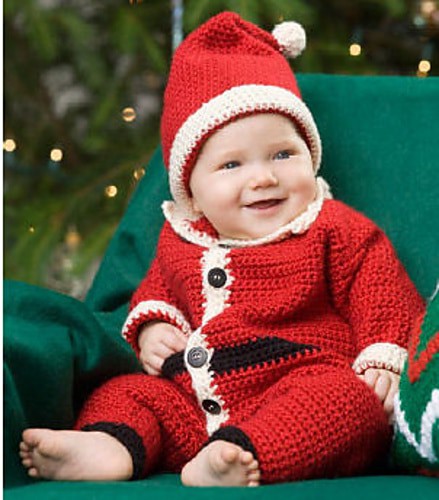 10. Infant Santa Suit & Hat by Kim Guzman for Red Heart Yarns
This concludes your Link Blast! Enjoy!
Many of you have written to me to ask how you can help support CrochetKim. A Patreon account was suggested but I thought it would be better to provide ad-free PDFs of my patterns so you would get something in return. I'm steadily working on adding PDFs to all my patterns and I've also made this compilation available at a discounted price. You can, of course, view, print, paste to a word processor, convert to PDF, etc. on your own. This is just an extra feature so that people help out, if they want. Thank you to all of you for your overwhelming support and kindness these many years. Enjoy!