All crochet patterns written by Kim Guzman at CrochetKim are in US terms. All photos not copyright to Kim Guzman are posted with permission. This website contains affiliate links. Any purchases through affiliate links will provide me with the income necessary to keep this site available at no extra cost to you.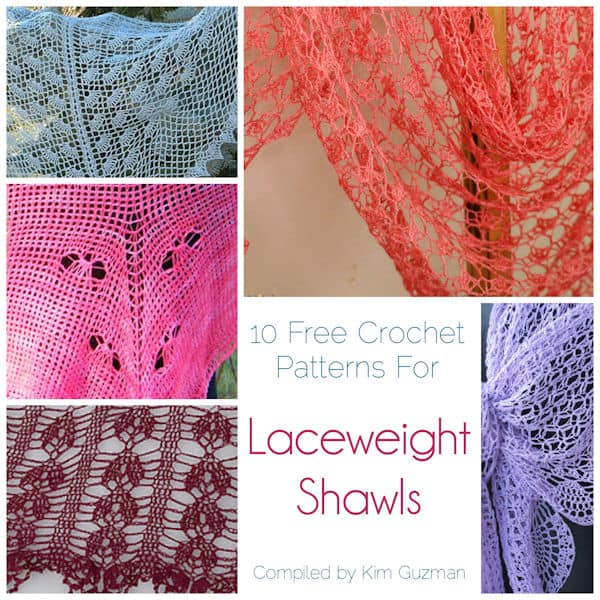 Shown:
1. Fantasm by Cheri McEwen
2. Peach Hana Triangle Shawl by Stacey Williams of Busting Stitches
MY LATEST VIDEOS
3. Mariposa by Kim Guzman of CrochetKim
4. Aleatha Shawl by Tracey McCorkle of Homegrown and Homespun
5. Dreams Shawl by Kim Guzman of CrochetKim
Not Shown:
6. Summer Sprigs Lace Scarf by Esther Chandler from Make My Day Creative
7. Justine Shawl by Marie Segares of Underground Crafter
8. Starling by Brenda Grobler
9. Solaris Shawl by Kim Guzman of CrochetKim
10. Mediterranean Lace Shawl by Esther Chandler from Make My Day Creative
Enjoy!
Many of you have written to me to ask how you can help support CrochetKim. A Patreon account was suggested but I thought it would be better to provide ad-free PDFs of my patterns so you would get something in return. I'm steadily working on adding PDFs to all my patterns and I've also made this compilation available at a discounted price. You can, of course, view, print, paste to a word processor, convert to PDF, etc. on your own. This is just an extra feature so that people help out, if they want. Thank you to all of you for your overwhelming support and kindness these many years. Enjoy!