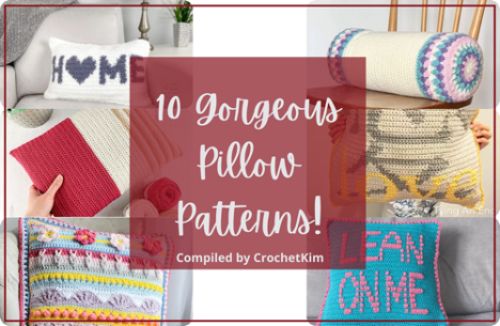 Have you ever been watching a really suspenseful movie and grabbed the nearest pillow to hold close to your racing heartbeat? Or to cover your eyes in case a horror film is on and the monster is about to show up?
Was the nearest pillow a gorgeous, fabulously crocheted one?
If not, there's no need to fret because we have 10 amazing crochet pillow patterns for you which will brighten up any sofa, bed, or loveseat in your house.
The Crochet Granny Square Pillow by Raffamusa Designs
We're starting off with the classic granny square but this one has a cool twist! There are three types of granny squares and one of them even looks like an adorable ladybug. Bring a touch of the garden into your home with this crochet pillow.
---
The Pocket Pillow by Posh Pooch Designs
Is this a pillow that doubles as a purse or a purse that doubles as a pillow? You decide.
With this pocket pillow, you can carry around your books and essentials while you find a comfortable spot for the afternoon.
---
The Herringbone Half Double Crochet Pillow by Grace and Yarn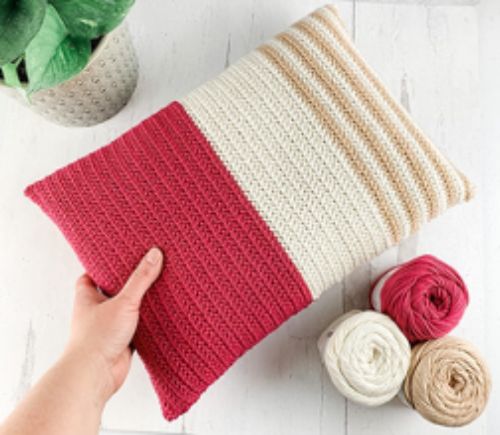 This simple yet chic pillow is perfect to add just the right amount of color to your sofa. While it's fun to have crazy colors in your cushions, a few neutrals here and there can also liven up the place.
---
The Lean on Me – Supportive Crochet Cushion by Dora Does
This cushion is sure to stay right by your side on those not-so-bright days, offering support in the sweetest way. And it also makes a great gift for a friend who needs some comfort.
---
The Stitch Sampler Spring Rhapsody Pillow by Nana's Crafty Home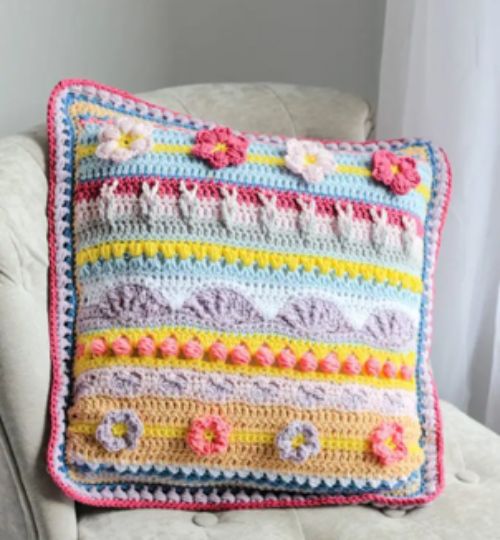 Look at all of those colors and stitches! If you're looking for a super enjoyable project to dive into where you'll make all sorts of stitches and patterns, this is the one for you. It's also great for using up those scrap yarns in your collection.
---
The Crochet Bolster Pillow by Cosy Rosie UK
We've got square pillows, we've got rectangular pillows, and now, we even have round pillows. This pillow incorporates the granny square stitches and can be a lovely addition to your dining room chairs.
---
The Sideways Granny Square Pillow by Madame Stitch
This is a beginner-friendly pattern which you can make up in no time. With all of the colors and cute pompoms at the ends, this pillow would be the perfect gift for anyone with a cool side and love for granny squares.
---
The Home Pillow Cover by Jo to the World Creations
It's rightly been said that home is where the heart is and this pillow embodies exactly that. With a heart literally in the home lettering, you can make this cushion for any corner of the house.
---
The Free Heart Crochet Cushion by Hooked on Patterns
Another adorable cushion with a heart on it, this one is actually reversible. There's a different pattern on the back which allows you to simply turn it over if you're looking to change things up a bit every now and then.
---
The Love Crochet Throw Pillow by Tying an End
This pillow is for those who are looking for a challenge. It has a unique fusion of Japanese and English and if you like watching anime while you crochet, this looks like the project for you!
---