Nothing beats the heat quite like having on a gorgeous, flowy crochet crop top.
Not only do they set you apart from the crowd, but they can also be super quick and easy to make.
You can sport one to a backyard barbecue, a quick trip to the grocery store, a family vacation down to the beach, or just about anywhere you'd like.
So, if you want to get your hands on one of these beauties for summer, have a look at these spectacular crochet crop top patterns.
The Islamorada Festival Top by Stitch & Hustle
Do you have a dream festival you've always wanted to go to on your bucket list? And are you looking for the perfect outfit to wear to it? This is the crochet pattern for you to add that extra touch of personalization to your memories.
---
The Jasmine Top by OffTheHookApparelUk
This gorgeous piece is for all of those out there who love a ribbed texture, some shells, and are looking for an easy breezy pattern for a seemingly complicated-looping crop top. This top is adjustable so if you feel the wind a little too much for your liking, you can loosen the strings and make it a tad longer.
---
The Ophelia Top by Mermaisyarns
With changing seasons comes changing fashion and this is one elegant summer top which will fit right into any chic wardrobe. You can make it in whichever colors you'd like and have it all ready for your special occasions.
---
The Townsville Top by Stitch & Hustle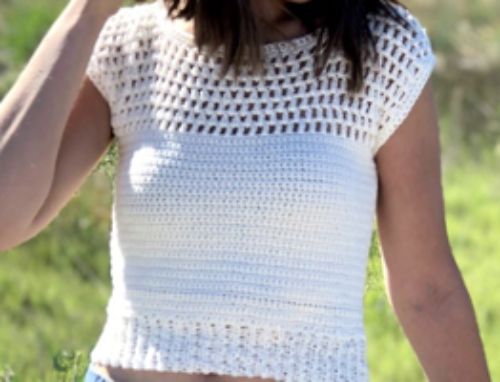 This summer top has some unique touches to it with a mesh upper and peekaboo sleeves, it'll definitely set you apart from everyone else. It's just right for those transitioning months where you want something light which will keep out the wind too.
---
The Cosmos Crop Top by KAYpatterns
The Cosmos Crop Top has a gorgeous granny square which gives it the look (and feel, if you're using super soft yarn) of a field of flowers. You can make it in neutral shade or even brighten it up with all sorts of hues.
---
The Earth Mother Bralette by Carroway Crochet
Rightly named as so, this top has an earthy aura and is just right for your beach day, festival day, or laze-about-in-the-backyard day wear. Using a combination of stitches, this top may be an intermediate pattern but if you're looking for a challenge, this could be just right for you.
---
The Gianna Top by TheEasyDesign
Here's another fabulous crochet summer top and the best part about this one is that there's not a lot of seaming! You can work it up in continuous rounds and add cute little buttons on it without the worry of having to seam it all together at the end.
---
The Wrap Top by MutoCrochetDesigns
This top has a lot going on for it. It's got some solid panels, a little bit of mesh and v-stitches, the option of wrapping it around you, and some cute frills on the sleeves too. You can achieve all of this with just your basic crochet stitches.
---
The Blossom Top by OrenCrochet
A light and quick summer top, this is a perfect addition to your wardrobe or as a gift for a near and dear one. You can style it as you like because it's reversible and it'll be by your side during those warm months.
---