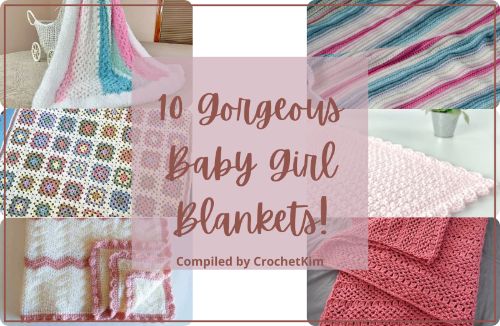 Having a daughter is one of the sweetest miracles and it's a treat to get everything ready for her, from her shoes and dresses to teddy bears and building blocks.
While her crib is being set up, a perfect addition would be a hand-crocheted baby blanket just for her.
It can be difficult to spend hours surfing on the internet for the right one (or three) to make which is why we've rounded up 10 free crochet baby girl blanket patterns with a variety of stitches, skill levels, and yarnages for you to easily find just what you're looking for.
The Soothing Stripes Blanket by Han Jan Crochet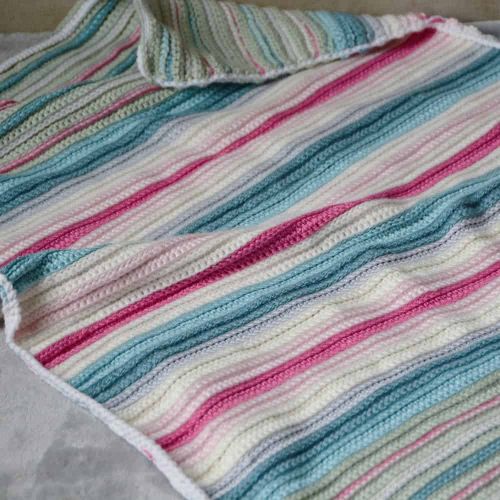 It's time to put all of that scrap yarn to good use with this baby girl blanket. You can add as many colors as you'd like – a gradient or just any random ol' combination. The best part is that it'll go with any theme for the nursery and can match whichever sheets you put down in the crib.
---
The Elegant Crochet Baby Blanket by Meladora's Crochet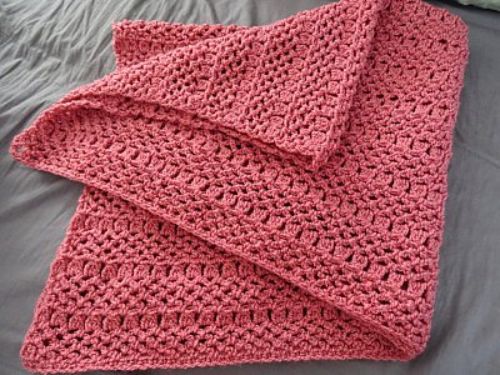 This pattern is perfect if you're looking for a nice lacy touch where the holes aren't too big for your baby's finger to get entangled in. It's also big enough to last for all of the baby's initial years so you won't have to worry about crocheting another one any time soon.
---
The Beehive Baby Blanket by Raffamusa Designs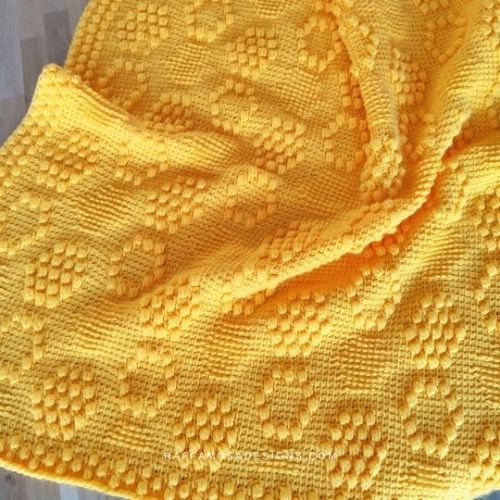 This baby blanket is a great challenge to dive into because not only is it worked up in Tunisian crochet, it's got a few stitch variations to give it that fresh, poppin', sweet texture!
---
The Simple Baby Blanket by Jo to the World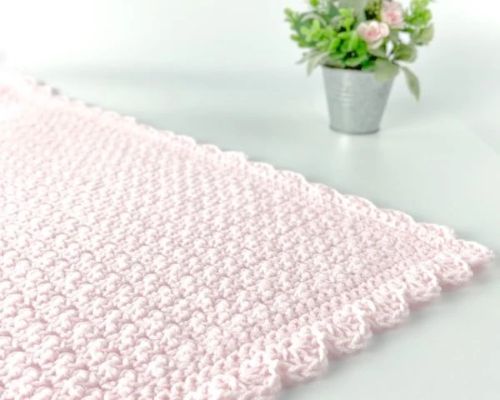 This crochet baby girl blanket has a gorgeous texture and border and although it looks like it may have some spaces in between, it's actually quite solid. But no need to worry about it being suffocating because the blanket was made to be breathable, light, and easy to crochet!
---
The C2C Heart Baby Blanket by Madame Stitch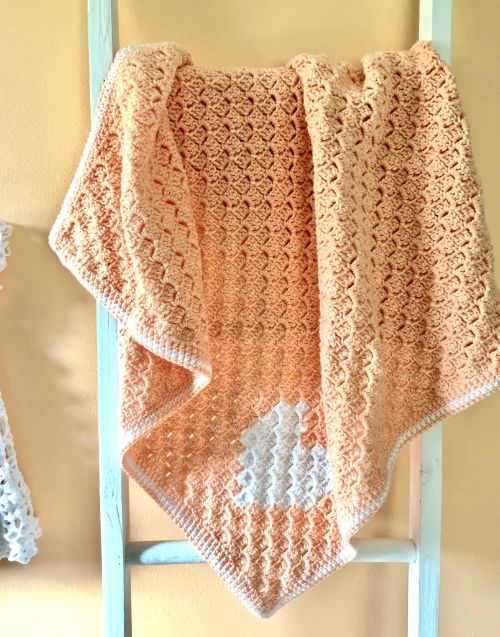 This corner-to-corner blanket has so many little personalized touches to it! You can work up the main piece quickly then add some striped borders and work in an adorable heart to express your love for your baby girl.
---
The Snuggles and Waves Blanket by Crafting Each Day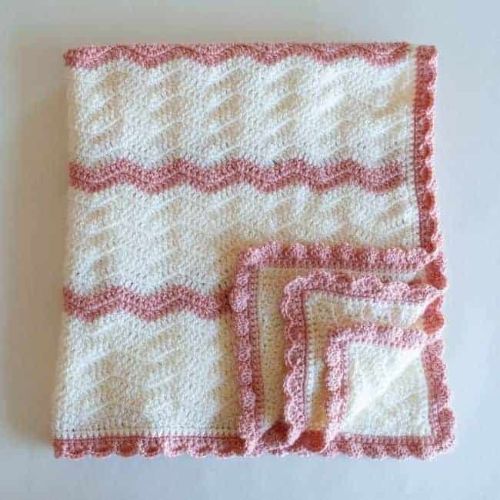 Rightly named so, this blanket is perfectly snuggly and warm. The soft waves give it a unique look apart from the usual straight lines and solids. You can also add hints of your favorite colors in between.
---
The Modern Flower Meadow Blanket by Nana's Crafty Home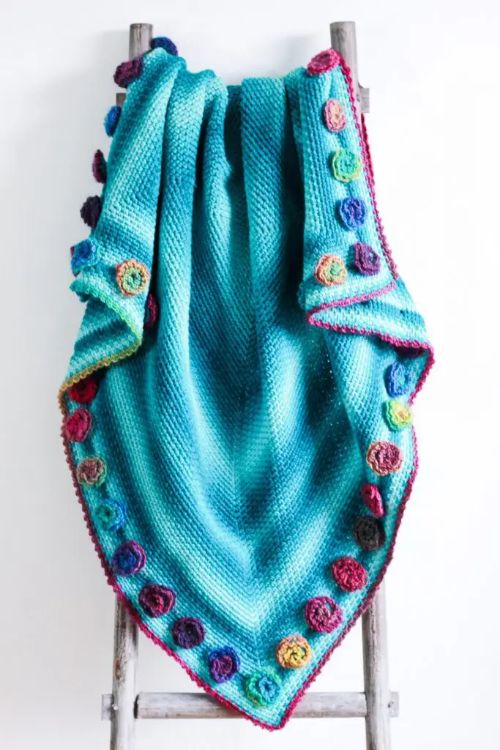 This blanket calls for some beautiful gradient yarn (or a solid color if you'd like that better) and has a colorful flower border which will allow you to add up an entire garden to the baby girl's blanket.
---
The Katie Baby Blanket by Two Brothers' Blankets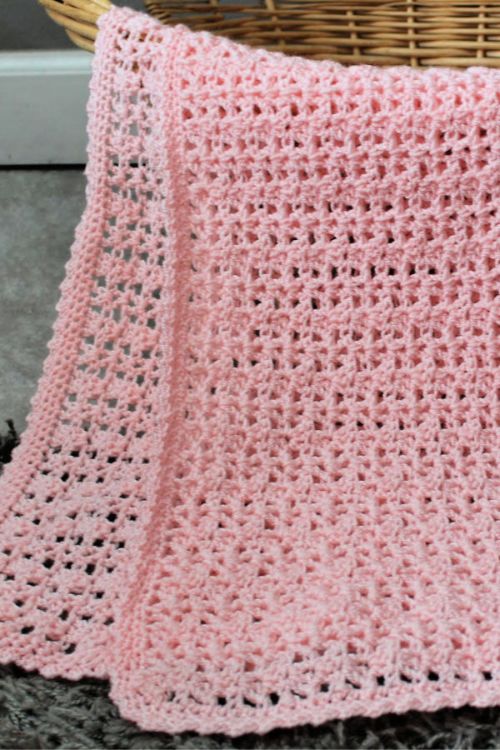 Here's another simple yet sweet pattern with a vintage twist to it with that texture. It's got a nice lacy stitch repeat and can be worked up quickly.
---
The Fuzzy Mesh Blanket by Zamiguz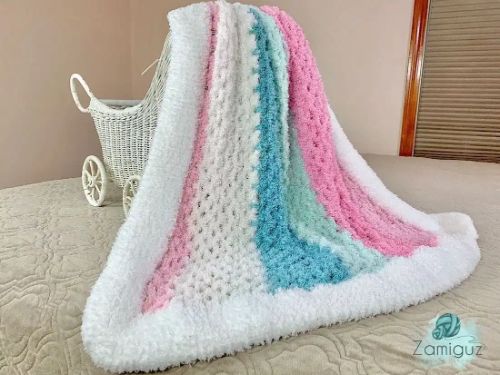 This baby blanket comes with a detailed size chart allowing you to adjust it according to your needs. Want a blanket for the stroller? One for the crib? Or to use as a swaddle? This pattern will let you know how to make each one! And it's made with fuzzy yarn to give it that extra snuggle factor.
---
The Farmhouse Granny Square Baby Blanket by Madame Stitch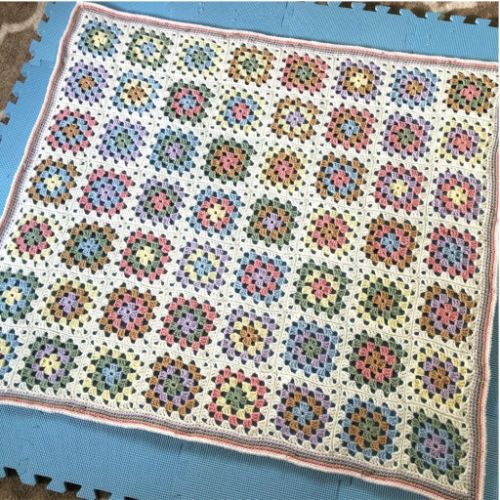 If you're on the go and can't travel with a big blanket under your arm, this pattern is just right for you. You can crochet the little squares anywhere you are and, once you have as many as you need, patch them all together in one sitting!
---
Related
Also see our easy crochet baby blankets roundup.