Avast, ye lubbers, when the Pirate Wench comes aboard the Halloween ship! Her fetching attire will attract all eyes as she swashbuckles through the Halloween festivities.
Halloween Wench Costume
designed by Kim Guzman
Technique: Regular Crochet
Behind the Crochet Design
I have a few favorite parts to this pattern. I really love the beanie with the tie in the back.
I had never designed anything at all that even closely resembled a corset.
Funny Little Story
When I first started designing for Red Heart, I submitted a design that was a tank top with a split down the front below the bodice. So, it was belly showing. I was told that Red Heart didn't really accept designs like that since they were a tad (just a tad) risque. Imagine my surprise when the submission director at Red Heart asked me for a CORSET! ha!
The stitch pattern I created for the texture and colorwork for the corset was something that I felt kind of resembled the strings used to draw corsets tightly on the body.
There are drawstrings in the back to get a form fit. There are cute little wrist warmers as well to complete the set.
These pieces could easily be used separately and they don't need to be Halloween theme.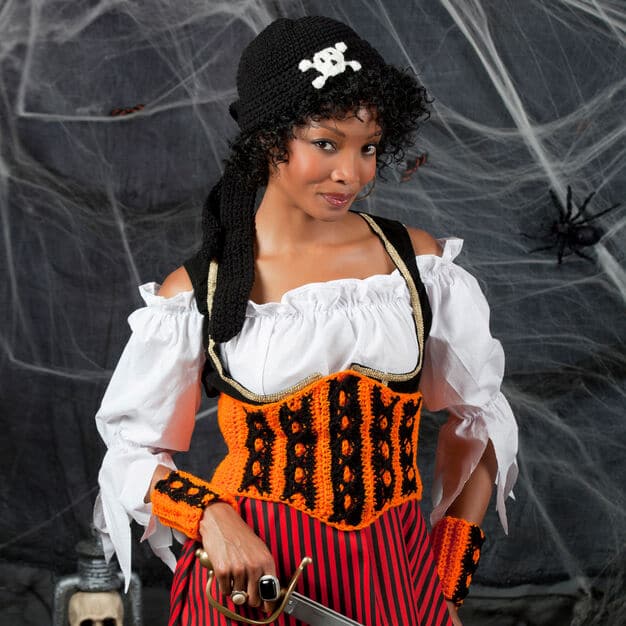 Supplies:
RED HEART® Super Saver®: 1 skein each 312 Black A, 254 Pumpkin B and 316 Soft White C
Susan Bates® Crochet Hooks: 4mm G-6, 5.5mm US I-9, 6.5mm US K-10½
Stitch marker, yarn needle.
Size:
Wristbands measure 5" 13 cm long x 8" 20 cm around. Hat circumference: 22" 56 cm. Directions for Corset are for size small; changes for sizes medium and large are in parentheses.
Gauge/Tension:
GAUGES: Hat: 11 sc = 4" 10 cm; Rounds 1-5 = 3½" 9 cm across with medium hook. Corset: 6 sts = 3" 8 cm; 8 rows = 3" 8 cm in sc with largest hook. CHECK YOUR GAUGE. Use any size hook to obtain the gauges.
See also Halloween pirate costume.