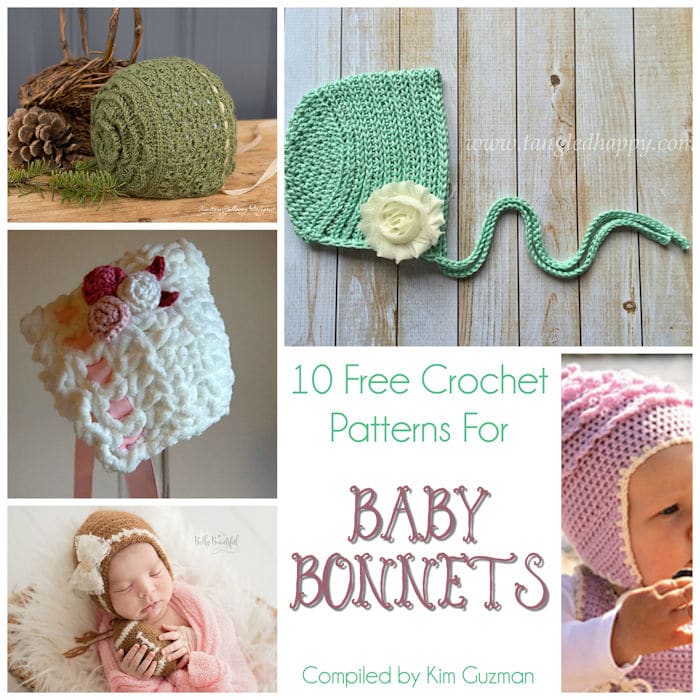 When I first starting designing and writing patterns, I don't remember there being many baby bonnets available in the current magazines and books during that time. In the last few years, there has been a trend of making fun and creative newborn photo props. I think it's this trend that has brought back the lovely crocheted baby bonnet. Here are a few of my favorite free crochet patterns.
Shown:
1. Rosemary Green Baby Bonnet by Kirsten Holloway of Kirsten Holloway Designs
2. Ribbed Baby Bonnet by Sara Freisberg of Tangled Happy
3. Toot Sweet Newborn Bonnet by Tamara Kelly of Moogly
4. Football Bonnet and Stuffie Set by Melody Rogers of Melody's Makings
5. Sweet Little Cupcake Hat by DROPS design at Garnstudio
Not Shown:
6. Blathnáid Bonnet by Athena Field on Ravelry
7. Sunflower Bonnet by Doroteja of Croby Patterns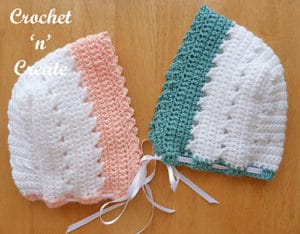 8. CrissCross Bonnet by Heather Davidson of Crochet N Create
9. Ruffled Keyhole Bonnet by Heartmade Crafts on Ravelry
10. Button Back Bonnet by Tera Kulling of Trifles & Treasures
As always, the ones not shown in the collage are usually not shown because I don't have permission from the copyright holder to show their photo. Once they give me permission, I will come back and update the page, as time allows.
Enjoy!