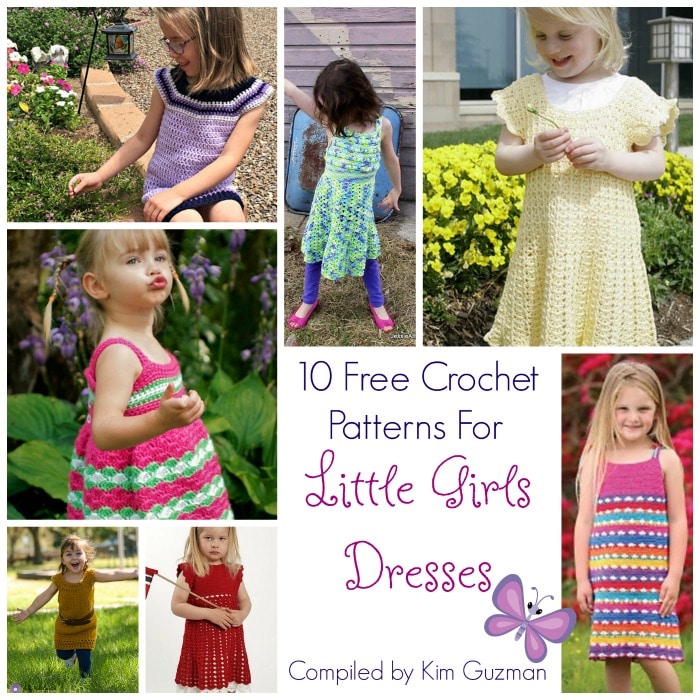 Shown:
1. Pretty in Purple Dress by Breann Mauldin of Hooked on Homemade Happiness
Notice and Disclaimer: All crochet patterns written by Kim Guzman at CrochetKim are in US terms. All photos not copyright to Kim Guzman are posted with permission. This website contains affiliate links.
Read Privacy Policy here.
2. Child's Puff Stitch Halter Dress by Jessie Rayot of Jessie at Home
MY LATEST VIDEOS
3. Sunny Day Girl's Dress by Joyce Nordstrom (direct PDF only)
4. Garden Party Baby Dress by Celina Lane of Simply Collectible Crochet
5. Dandelion Tunic Dress by Katie Clary of Salty Pearl Crochet
6. Princess Matilde Dress by DROPS design
7. Girls' Dress by Brenda Grobler for Elle Yarns (requires free registration and login)
Not Shown:
8. Caprice Girl's Dress by N.Y. Yarns (direct PDF only)
9. Granny Square Fabric Dress by Vita Apala of Mon Petit Violon
10. Garden Teal Dress by Stacey Williams for The Lavender Chair
Enjoy!
Many of you have written to me to ask how you can help support CrochetKim. A Patreon account was suggested but I thought it would be better to provide ad-free PDFs of my patterns so you would get something in return. I'm steadily working on adding PDFs to all my patterns and I've also made this compilation available at a discounted price. You can, of course, view, print, paste to a word processor, convert to PDF, etc. on your own. This is just an extra feature so that people help out, if they want. Thank you to all of you for your overwhelming support and kindness these many years. Enjoy!